Ericsson Profit Misses Estimates on Margins, Job-Cut Costs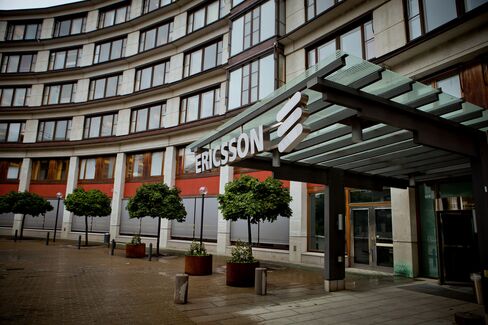 Ericsson AB, the largest maker of wireless networks, reported profit that missed analysts' estimates on a job-cut charge and said U.S. spending was slowing, sending the stock to its biggest drop since 2009.
Second-quarter net income was 3.12 billion kronor ($488 million), missing the 3.88 billion-kronor average estimate of analysts. Ericsson had costs of 1.3 billion kronor to eliminate jobs in Sweden. Gross profit margin dropped 1.2 percentage points to 37.8 percent, the Stockholm-based company said today.
Sales of networks in the U.S. were "somewhat slower" after high investments to expand networks for the growth of smartphones, Chief Executive Officer Hans Vestberg said on a webcast. Ericsson expanded its job cut program after employees signed up in larger than anticipated numbers, he added. The stock fell as much as 10 percent in Stockholm trading.
The "shares had a bit of an overreaction to the restructuring charge," said James Crawshaw, a London-based equity analyst with Standard & Poor's. "People are also reacting to comments about the U.S. market being a little bit weaker. In typical Swedish style they're being conservative about the outlook and flagging the risks rather than the upside."
Ericsson shares fell as much as 9.35 kronor to 82.55 kronor, the biggest decline since October 2009, and traded at 83.5 kronor as of 11:18 a.m. in Stockholm.
Margins Peaking?
Sales in North America, Ericsson's biggest market, fell 6 percent, while revenue in India and northeast Asia including China almost doubled on mobile broadband roll-outs. Spending may be muted as companies wait for the outcome of the merger agreement between AT&T Inc. and T-Mobile USA Inc., Vestberg said.
The company forecast that network modernization projects in Europe, which are less profitable than new build-outs, will form a bigger part of sales for the rest of the year.
"These results suggest that gross margins are peaking for Ericsson," Goldman Sachs Group Inc. analysts led by Tim Boddy wrote in a note. "We see earnings growth and earnings momentum slowing sharply" in the second half.
Market Mix
Revenue rose 14 percent to 54.7 billion kronor in the period. Analysts had predicted sales of 54.5 billion kronor. Revenue for managed services, where Ericsson runs entire networks for clients, declined 16 percent, hurt by contract changeovers, Vestberg said on a webcast. The segment gained nine new contracts and had 15 renewed or extended, he said.
"In the quarter we saw a change in market mix where Brazil, China, Germany, Korea, and Russia showed especially strong growth both year-over-year and sequentially," Vestberg said in a statement.
Ericsson said today its full-year restructuring expenses will be about 3 billion kronor, compared with previous guidance of 2 billion kronor.
Ericsson bolstered its U.S. sales when it bought Nortel's North American wireless unit in 2009 as the Canadian former rival started to break up. That made the U.S. the company's biggest market, ahead of China and India.
The U.S. market has been profitable for Ericsson as AT&T Inc. and Verizon Wireless add capacity to keep up with data demand from smartphone and tablet customers.
Ericsson announced orders in the quarter for fourth-generation networks for Rogers Communications Inc. in Canada, LG Uplus Corp. in South Korea and the Australian government's NBN Co. broadband-network developer.
Before it's here, it's on the Bloomberg Terminal.
LEARN MORE