'Harry Potter' Finale Sets Record $168.6 Million at Box Office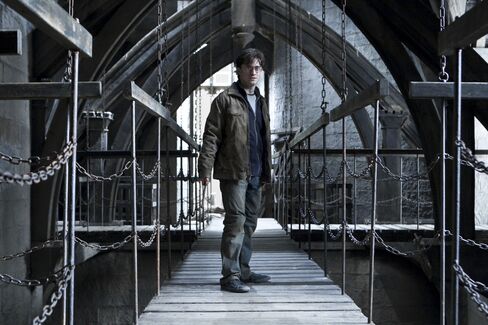 "Harry Potter and the Deathly Hallows, Part 2," the final movie in the series based on J.K. Rowling's books about a boy wizard, opened with a record $168.6 million in weekend ticket sales.
The film, in which the title character meet his nemesis Lord Voldemort in a final showdown, also set records of $43.5 million for midnight showings and $92.1 million in single-day sales, researcher Hollywood.com Box-Office said today in an e-mailed statement.
"Deathly Hallows 2" ends a series that has generated more than $6.62 billion in worldwide ticket sales for Warner Bros. as of July 15, according to Box Office Mojo. The film, the first in the series to be shown completely in 3-D, is getting a lift from higher prices charged for the three-dimensional format and its placement in more Imax theaters.
The movie was expected to have weekend sales of $151 million, the forecast of Box Office Media LLC.
"Deathly Hallows 2" opened in 4,375 locations, the most of any Potter movie, said the studio, a unit of Time Warner Inc. The film played in 3-D at more than 3,000 of the locations, where customers pay about $3 more to see the movie.
The movie is the eighth film from the series of seven books, the last having been split into two parts. In Part 2, war breaks out within the magical world, climaxing in a final pyrotechnic confrontation between Harry and the dark lord Voldemort.