Bulb Ban Opposed by Republicans Said to Save $12.5 Billion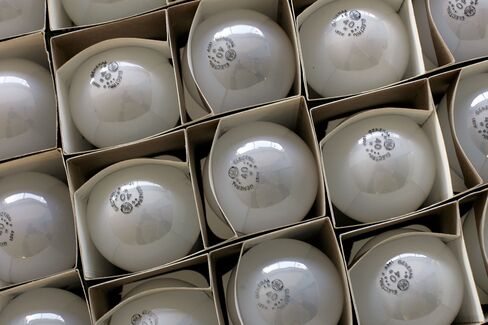 Pulling the plug on a phase-out of traditional incandescent light bulbs, as a U.S. House bill requires, would jeopardize $12.5 billion in consumer savings by 2020, according to a study by efficiency-advocacy groups.
The average household's energy costs would be cut by 7 percent, or $85 a year, when the standards are fully in place, according to the analysis released today in Washington. The report was part of a defense of the efficiency standards against the House bill that would repeal them. Lawmakers may vote on the proposal next week.
Republicans are moving to block a provision in a 2007 energy law that effectively bans the 100-watt incandescent bulb next year and other versions subsequently. Representative Joe Barton, a Texas Republican, has said the standards are government overreach akin to President Barack Obama's health-care overhaul.
"Clearly, consumers, the economy and the environment will suffer if these standards are repealed," Jim Presswood, federal energy policy director for the Natural Resources Defense Council, said in a statement.
The light-bulb section of the energy law, signed by Republican President George W. Bush, will reduce air pollution by eliminating the need for 33 power plants while saving homes and businesses money, supporters said.
Fans of Incandescents
The American Council for an Energy-Efficient Economy, based in Washington, and the Appliance Standards Awareness Project, a Boston Group co-founded by the council and NRDC, researched and wrote the report.
Critics of the bulb ban say replacements don't illuminate as well as traditional incandescent bulbs and don't last as long as advertised, which undercuts savings claims.
Representative Michael Burgess, a Texas Republican and supporter of blocking the bulb ban, has said he's worried that using more of the new compact-fluorescent bulbs, which contain mercury, may harm the environment.
"Traditional incandescent bulbs are cheap and reliable," Barton said in a statement when he introduced his bill in January. Alternatives "are more expensive and health hazards, so why force them on the American people?"
Opponents of the efficiency law want to give consumers an opportunity to "waste their own money," Energy Secretary Steven Chu said on a conference call today with reporters. "We're helping Americans save money."
Warner Supports Change
Former Senator John Warner, a Virginia Republican who voted for the 2007 energy law, joined Chu in defending the light-bulb changes.
The 2007 law requires bulbs to be about 30 percent more efficient than the traditional incandescent, said Kyle Pitsor, vice president of the National Electrical Manufacturers Association in Arlington, Virginia.
Lighting companies have already retooled their manufacturing plants to make compact-fluorescent, light-emitting-diode and halogen products that comply with the law.
The association, which includes Fairfield, Connecticut-based General Electric Co., is lobbying against the push to prevent the light-bulb changes.
While compact-fluorescent bulbs cost more than incandescents, the average household saves as much as $105 using the newer technology because of its 4 1/2-year lifetime, according to the Energy Department.
Before it's here, it's on the Bloomberg Terminal.
LEARN MORE