Stocks, Commodities Rally on U.S. Job Growth; Euro Strengthens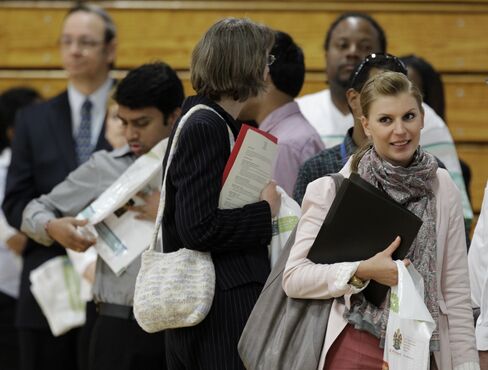 Stocks rallied, sending U.S. benchmark indexes to two-month highs, and commodities rose as data on jobs and retail sales bolstered optimism in the economy. The euro climbed versus the dollar after the European Central Bank signaled more interest-rate increases.
The Standard & Poor's 500 Index gained 1.1 percent to 1,353.22 at 4 p.m. in New York, its highest close since May 10. The S&P GSCI index of commodities surged 2.6 percent as oil rose above $98 a barrel. The euro added 0.2 percent to $1.4354, reversing a drop of as much as 0.7 percent and rebounding from two days of losses. Ten-year Treasury notes snapped a two-day gain, sending yields up four basis points to 3.15 percent.
The S&P 500 Retailing Index climbed 2.4 percent to a record in data going back to 1989 as lower gasoline prices helped boost June sales. Eight of the 10 main industry groups in the S&P 500 advanced after companies in the U.S. added 157,000 workers to their payrolls in June, according to figures from ADP Employer Services, bolstering confidence in the labor market before tomorrow's government employment report.
"A lot of people were concerned we were in a recession," said Mike Ryan, the New York-based chief investment strategist at UBS Wealth Management Americas, which manages more than $700 billion. "Now we have a sense that the ADP report looks like we're going to see a better payroll report. All these things reflected that this was no more than a soft patch. This is not another recession."
Stocks, Commodities Rebound
The S&P 500 has recovered almost all of its loss after slumping as much as 7.2 percent from the end of April through June 15 amid disappointing economic data. The benchmark gauge of U.S. stocks has trimmed its loss since April 29 to less than 0.8 percent. The S&P GSCI Index of commodities has also rebounded, climbing 7.5 percent after tumbling 15 percent from April 29 through June 27.
"People are becoming aware that a lot of the negative issues are not quite as foreboding as they seemed to be a little while ago," Laszlo Birinyi, president of Birinyi Associates Inc. in Westport, Connecticut, said in an interview on Bloomberg Television. "We think there's still more to come. You still haven't gotten to the point where people are really positive. We still haven't gotten to the point, as I like to tell people, where my phone doesn't stop ringing."
The gain in the S&P 500 today was led by retailers, banks, technology companies and commodity producers. Target Corp., Limited Brands Inc. and Gap Inc. advanced at least 2.7 percent after last month's sales surpassed analysts' projections.
Banks Rally
JPMorgan Chase & Co. and Bank of America Corp. climbed more than 1.6 percent to help send the Dow Jones Industrial Average up 93.47 points, or 0.7 percent, to 12,719.49. The two banks and three other U.S. mortgage servicers are in advanced talks to resolve state and federal claims over faulty foreclosures, according to two people briefed on the matter. Negotiators tentatively set a July 13 target for a settlement, which may exceed $20 billion, the people said.
Economists forecast that the U.S. added 105,000 jobs last month, according to the median estimate in a Bloomberg survey before tomorrow's Labor Department report. The median estimate of economists called for an advance of 70,000 in the ADP report. Jobless claims fell by 14,000 to 418,000 in the week ended July 2, Labor Department figures showed, compared with the median forecast for a drop to 420,000.
Sugar Rallies
Raw sugar jumped 6.6 percent, the most in nine months, to 29.52 cents a pound on signs that output will decline in Brazil. Heating oil and gasoline also climbed more than 3.8 percent to help lead gains in 21 of 24 commodities tracked by the S&P GSCI index. Oil rose 2.1 percent to a three-week high of $98.67 a barrel in New York following the ADP report and a drop in U.S. crude supplies.
About three stocks advanced for every one that fell in the Stoxx 600. Man Group Plc climbed 3.6 percent to a one-month high as the world's biggest hedge fund manager reported increased assets.
Government notes from Europe's most-indebted nations declined as ECB measures to accommodate recently-downgraded Portuguese bonds failed to fully alleviate concern the debt crisis is spreading.
Yields on Portuguese and Irish two-year notes remained near records even after ECB President Jean-Claude Trichet said in Frankfurt today that policy makers will ease Portugal's access to emergency funds by suspending its minimum credit-rating threshold on Portuguese bonds after Moody's Investors Service lowered the country's debt to junk.
Europe Debt Yields
Portugal's two-year yield was up 75 basis points, or 0.75 percentage point, at 17.50 percent after earlier climbing as much as 154 basis points, according to Bloomberg generic rates. Irish two-year yields were up 30 points at 15.61 percent.
Credit-default swaps insuring Portugal's debt jumped 51 basis points to a record 988.27 as of the market close in London. Swaps on Ireland rose 16 basis points to an all-time high of 859.015, while Greece surged 28 basis points to a record 2,146.74, according to CMA.
The euro erased its decline against the dollar after Trichet signaled he may raise interest rates again. The ECB increased its benchmark rate by 25 basis points to 1.5 percent today, the second increase in three months.
Pound Slips
The pound depreciated against 14 of 16 major peers, losing 0.2 percent to $1.5968, after the Bank of England kept its main rate at a record low 0.5 percent. The dollar weakened against 11 of 16 major peers.
The MSCI Emerging Markets Index gained 0.6 percent, advancing for the first time in three days. Russia's Micex Index jumped 2.1 percent as oil rose and Bank of America Corp. said it favored coal and gold producers. The Shanghai Composite Index fell 0.6 percent after the central bank raised interest rates for a third time this year. The Thai baht appreciated 0.5 percent against the dollar after incoming Prime Minister Yingluck Shinawatra said her government intended to let the currency strengthen.
An index of world food prices climbed last month, staying close to the all-time high reading of 238 in February. The gauge of 55 food commodities rose to 234 points in June from 231 points in May, the United Nations' Food and Agriculture Organization said.
Before it's here, it's on the Bloomberg Terminal.
LEARN MORE