U.K. House Prices Rise 1.2% in June From May, Halifax Says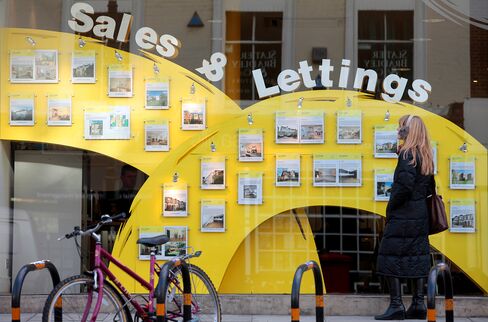 U.K. house prices rose the most in eight months in June as a lack of supply of homes for sale supported values.
Prices increased 1.2 percent from the previous month, when they gained a revised 0.4 percent, the mortgage unit of Lloyds Banking Group Plc said in a statement in London today. The June increase was the biggest since October. From a year earlier, prices fell 1.6 percent to an average 163,049 pounds ($261,107).
"Low interest rates, an increase in the number of people in employment and some tightening in market conditions earlier in the year are likely to have been the main factors behind the recent improvement in price trends," Martin Ellis, a Halifax economist, said in the statement. "The market is, however, likely to continue to face significant headwinds."
While the Bank of England will probably keep its benchmark interest rate at a record low tomorrow, mortgage approvals remain at about half their average over the last decade as banks tighten lending conditions. Demand is being kept in check by soaring inflation and the impact of government budget cuts on consumer confidence.
In the three months through June, values fell 0.5 percent from the previous quarter and were down 3.5 percent from a year earlier.
Recent reports show U.K. housing-market data remain mixed. Nationwide Building Society said last week that home values were little changed in June as a continued squeeze on consumers and an "unspectacular" economic outlook subdued demand for property.