Norway Oil Fund Agrees on $1 Billion Property Deal With Axa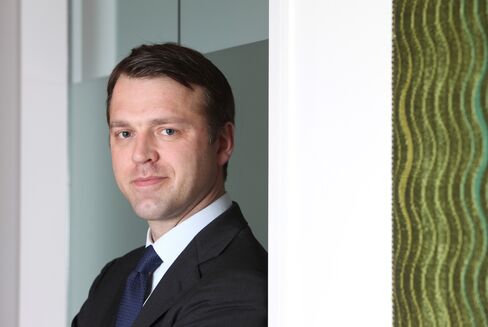 Norway's sovereign wealth fund agreed to buy 50 percent in seven properties in Paris for 702 million euros ($1 billion) from Axa SA, as part of a plan to add at least $25 billion in real estate assets to boost returns.
The $570 billion Government Pension Fund Global will form a joint venture with Axa Real Estate, a unit of the Paris-based insurance company, to own 156,000 square meters (1.68 million square feet) of mainly office properties, the Oslo-based investor said today. The fund expects the transaction to close in the third quarter.
"We intend to hold these for quite some time," Karsten Kallevig, head of real estate at Norges Bank Investment Management, which oversees the fund, said at press conference in Paris. "Our strategy is to focus on larger, more transparent, liquid centers. Those are London, Paris, and some German cities. Over time, we will look at other markets."
The fund last year got approval to put 5 percent of its capital in real estate, moving away from bonds to help it meet a 4 percent annual return target. It earlier this year said the next property purchases would be in France and Germany after completing a 452 million-pound ($723 million) deal for a 25 percent stake in the London Regent Street shopping area.
Being 'Helpful'
While the fund is now starting to look at German cities, it isn't "done" with London and Paris, Kallevig said. There will be opportunities in 2013 and 2014 when many real estate loans made before the financial crisis will mature, Kallevig said.
"If you look at the amount of loans being written in Europe right now, and you look at the amount of debt coming due, there's no way it can be covered," he said. "We are not back to the good old days. There are people with good assets and too much debt and maybe we can be helpful."
Returns on French property investment were 9.97 percent last year -- about the same as the 10-year average -- after two years of losses, according to an index from Investment Property Databank Ltd. The residential market is stalling as buyers are deterred by record prices following two years of gains that outstripped London and New York. Home values in the French capital rose about 20 percent last year, the biggest increase since at least 1991, the Paris Chamber of Notaries estimates.
Champs-Elysees
The properties include 12-14 on Rond Point des Champs-Elysees, Opus 12 in La Defense, as well as the Meudon Campus.
The joint venture will "allow AXA France Insurance Companies to reallocate capital and diversify into other European markets, especially the U.K. and Germany," said Pierre Vaquier, chief executive of AXA Real Estate, in a statement.
Norway's oil fund is mandated to hold 60 percent in equities, 35 percent in fixed-income and 5 percent in real estate. It has been taking on more risk since its initial capital infusion in 1996, adding stocks in 1998 and emerging markets in 2000.
Long-term, the fund will have to invest outside London, Paris and Germany. "Eventually we are going to have to spread out if we are to place 5 percent of $600 billion, but right now it's a blanket no," Kallevig said.
Norway, a nation of 4.9 million people, generates money for the fund from taxes on oil and gas, ownership of petroleum fields and dividends from its 67 percent stake in Statoil ASA, the country's largest energy company.
A sovereign wealth fund is a state-owned fund with assets such as stocks, bonds and real estate.
Before it's here, it's on the Bloomberg Terminal.
LEARN MORE