Microsoft, Baidu to Expand Web-Search Partnership in China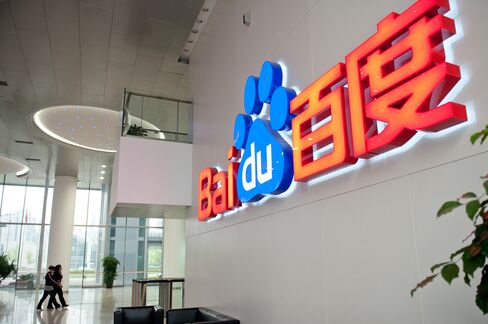 Microsoft Corp. and Baidu Inc. agreed to bolster their Internet-search partnership in China as the companies seek to gain users from Google Inc. in the world's biggest Internet market.
The agreement will let Baidu users see English search results generated by the U.S. company's Bing technology to users in China, Viola Wang, a spokeswoman at Microsoft's MSN venture in China, said by phone today. A service jointly offered by the companies will start this year, Baidu said in an e-mailed statement today.
Baidu, based in Beijing, is expanding outside its main business of Chinese-language search, after fending off Google in China. Microsoft, which is gaining users for Bing in the U.S., is building on its partnership with Baidu after ending a search-engine agreement with China's Alibaba Group Holdings Ltd.
"This is not good news for Google," said Jake Li, who rates Baidu shares "accumulate" at Guotai Junan Securities in Shenzhen. Most Chinese Internet users currently prefer Google's English-language search results over Baidu, whose service will be improved by the partnership with Microsoft, he said.
Google declined to comment.
Google, owner of the world's most popular search engine, accounted for 19.2 percent of China's search market by revenue in the first quarter, down from 19.6 percent three months earlier, according to research firm Analysys International. Google's figures includes revenue generated from its local sites and international services, according to Analysys.
Market-Share Losses
Increased demand from Chinese companies marketing on international websites such as the English-language Google.com helped Google post increased revenue in China in 2010, Daniel Alegre, president for Asia-Pacific at Google, said in December.
Google has lost market share to Baidu in China since the Mountain View, California-based company pulled its Google.cn search-engine out of the country last year, according to data from Analysys. Baidu increased its share to 75.8 percent from 75.5 percent in the first quarter, while Microsoft Bing's market share is less than 1 percent, according to Analysys.
Baidu had an existing agreement with Bing for some mobile-phone users in China, Haoyu Shen, senior vice-president at Baidu, said in May. Baidu is working on efforts to expand overseas, and its developing products in 12 foreign languages, Shen said at the time.
Alibaba stopped offering Microsoft Bing on its eTao search service, Justine Chao, a spokeswoman at Alibaba, said in May.
Before it's here, it's on the Bloomberg Terminal.
LEARN MORE