LinkedIn Surges After Analysts Assign Buy Recommendations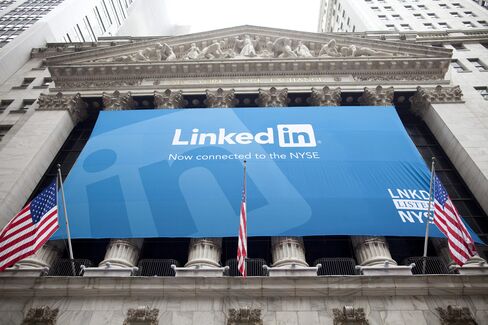 LinkedIn Corp., the biggest professional-networking website, jumped 12 percent in New York trading after Bank of America Corp., JPMorgan Chase & Co., Morgan Stanley and UBS AG said investors should buy the stock.
LinkedIn rose $9.18 to $85.56 at 4 p.m. in New York Stock Exchange composite trading. Shares climbed as high as $86.79 earlier in the session. Today's gains add to the stock's 9.2 percent jump yesterday, marking the biggest two-day increase since the week of its debut.
The company's initial public offering last month helped open the floodgates to a wave of technology IPOs, making for the biggest year in new Internet stocks since the dot-com bubble burst in 2000. LinkedIn's large membership and fast growth make it an attractive company, Brian Pitz, a New York-based analyst at UBS, said today in a research note.
"LinkedIn could transform the hiring industry through viral growth of its already massive, socially connected platform," Pitz wrote. "The size and attractive demographics of the users are a primary, fundamental competitive advantage for the company and it represents a significant barrier to entry for the competition."
LinkedIn's top underwriters -- Bank of America, JPMorgan and Morgan Stanley -- all initiated coverage of the stock with positive ratings today.
Bank of America predicts the shares will climb to $92, while JPMorgan has a price target of $85. Morgan Stanley projects $88. UBS, which also assigned a "buy" rating, expects the stock to increase to $90.
Social-Media Excitement
LinkedIn's shares have gained 90 percent since they were priced at $45 in an IPO May 18. Mountain View, California-based LinkedIn made less than 10 percent of its stock available in the public offering.
The low number of shares offered and public excitement over social-media companies may be contributing to the stock's rapid gains, said Michael Alexander, an analyst at Montrose Securities International in San Francisco.
Alexander has a $62 price target for the shares and is the lone analyst with a "sell" rating, according to Bloomberg data.
"People are naturally excited about social networking," he said. "But I think when you look at the numbers, the valuation is high by any measure and there's very little room for error."
LinkedIn has already signed up many of the college-educated U.S. adults who are its target market, Alexander said. And while there is opportunity for growth outside the U.S., the company generates much less revenue abroad, he said.
Alexander also predicted that competition for users and revenue will increase among professional-networking sites.
"Job seekers, job hunters and business development professionals will all utilize multiple channels so long as the results are productive," he wrote in a research note today. "However, we do believe increased competition will reduce pricing power for LinkedIn."
Before it's here, it's on the Bloomberg Terminal.
LEARN MORE