Stocks, Euro Advance as Treasuries Decline Amid Greek Optimism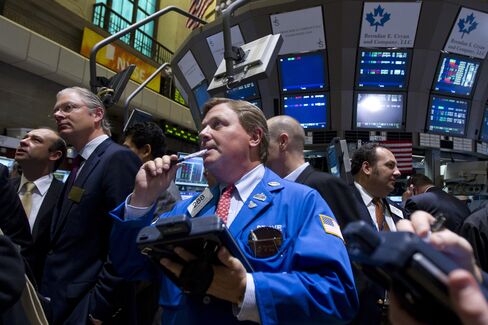 Stocks gained, erasing the MSCI All-Country World Index's 2011 loss, while the euro rose and Treasuries tumbled amid speculation Europe will take action to prevent a Greek default. Commodities surged the most this month.
The MSCI equity gauge added 1.1 percent to 333.09 at 4 p.m. in New York, and the Standard & Poor's 500 Index rallied 1.3 percent. Yields on 10-year Treasuries rose above 3 percent for the first time in almost a week after a government auction. The euro strengthened 0.6 percent to $1.4367. The S&P GSCI Index of 24 commodities surged 2.2 percent as crude oil futures jumped the most in almost six weeks.
Germany's biggest banks and insurers will meet with the Finance Ministry in Berlin tomorrow as they seek to reach an agreement on their contribution to a Greek aid package, two people with knowledge of the matter said. The MSCI stock index fell 4.3 percent through yesterday after the extra yield investors demand to own Greek 10-year debt instead of similar German bonds exceeded 1,000 basis points on April 15.
"With the German banks on board, you find the solution which alleviates some of the European debt problems," said Tom Wirth, senior investment officer for Chemung Canal Trust Co., which manages $1.6 billion in Elmira, New York. "If you can get beyond that sovereign crisis, then confidence comes back and we can see a rally in risk assets."
Greek Prime Minister George Papandreou's 78 billion euro ($111 billion) plan to cut spending and sell assets is set for a vote in parliament tomorrow. German and French lenders are the biggest European holders of Greek debt and their participation in the plan is key to the European Union goal of getting banks to roll over at least 30 billion euros of bonds.
Nike, Energy Stocks
U.S. shares also advanced after Nike Inc. beat earnings estimates. The world's largest sporting-goods company climbed 10 percent, the most since October 2008, as sales increased in North America.
Energy, consumer discretionary and raw-materials companies had the biggest gains among 10 industries in the S&P 500, with energy rallying the most with a 2.7 percent advance. Since the index bottomed on March 16, defensive sectors such as health-care, telecommunications and utilities have risen the most as investors sought havens on speculation growth is slowing. About 6.1 billion shares changed hands on U.S. exchanges at 4:42 p.m., 14 percent less than the three-month average through yesterday.
Adidas AG, the world's second-largest sporting-goods maker, rose 3.9 percent. Cable & Wireless Worldwide Plc tumbled 14 percent after the company said annual profit will miss estimates and Chief Executive Officer Jim Marsh resigned.
Broken Losing Streak
U.S. stocks advanced yesterday, breaking a three-day losing streak for the S&P 500, as regulators issued capital rules to safeguard the global financial system and technology companies rallied. While shares rallied during the first half of the quarter, they plunged after economic data trailed estimates.
The S&P 500 lost 5.5 percent between April 29 and yesterday. The retreat coincided with a decline in the Citigroup Economic Surprise Index for the U.S. to minus 117, meaning reports were lagging behind the median economist projections in Bloomberg surveys by the most since January 2009. The measure has rebounded to minus 99.4.
Stocks in the U.S. rose today even after data showed home prices fell by the most in 17 months and confidence among American consumers unexpectedly fell to a seven-month low. The S&P/Case-Shiller index of property values in 20 cities fell 4 percent from April 2010, the biggest drop since November 2009. The Conference Board's consumer confidence index decreased to 58.5 from a revised 61.7 reading in May that was higher than previously estimated.
Options Trade
A single bearish options trade on an exchange-traded fund of U.S. builders and home-furnishings companies lifted put volume to a six-month high following the home prices report. A block of 30,000 September $18 puts to sell the SPDR S&P Homebuilders ETF changed hands at 11:10 a.m. in New York, the equivalent of six times the full-day average over the last month. The ETF climbed 1.2 percent to $18.14 at 4 p.m.
Treasuries extended declines, with five-year note yields up the most since January, as optimism for a Greek bailout discouraged demand at a $35 billion auction of five-year notes.
The securities drew a yield of 1.615 percent, compared with the average forecast of 1.580 percent in a Bloomberg News survey. It was the second of three note auctions this week totaling $99 billion. The yield at yesterday's auction of two-year notes drew the lowest demand in more than three years. The U.S. will sell $29 billion of seven-year notes tomorrow.
Oil Soars
Crude oil erased yesterday's losses, soaring 2.5 percent to settle at $92.89 a barrel. Gold rose for the first time in four days, gaining 0.3 percent. Silver jumped 0.2 percent, raw sugar climbed 4.3 percent and copper advanced 1 percent.
The euro gained 0.6 percent against the dollar, recovering from an earlier decline of 0.4 percent. The yen fell against all of its 16 major counterparts monitored by Bloomberg, losing 0.3 percent against the dollar. The pound weakened against most of its peers after a report showed U.K. first-quarter gross domestic product was revised to 1.6 percent growth from a year earlier versus 1.8 percent previously.
The MSCI Emerging Markets Index rose 0.8 percent. Turkey's ISE National 100 Index advanced 1.4 percent after JPMorgan Chase & Co. lifted its rating on the market to "neutral." The won strengthened 0.3 percent against the U.S. dollar after the current-account surplus increased to a seven-month high.