N.Y. Senate Will Vote on Same-Sex Marriage Bill, Skelos Says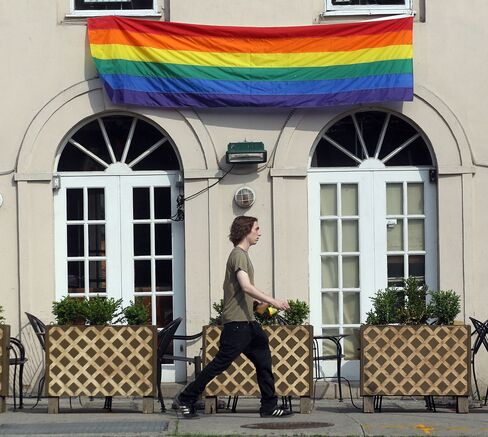 New York Senate Majority Leader Dean Skelos said a bill backed by Governor Andrew Cuomo that would legalize same-sex marriage will be brought to the floor for a vote, ending almost two weeks of deliberation as supporters and opponents of the measure held vigils in the Capitol.
The decision by the Republican caucus paves the way for a vote as soon as tonight. If passed, New York would become the sixth and most-populous U.S. state to allow gay couples to wed. The Marriage Equality Act would amend state law to bar the denial of marriage licenses based on gender. It wouldn't compel religious institutions to perform such marriages.
Skelos issued a statement following an eight-hour conference in Albany to discuss amendments to the bill that provide additional protections to religious institutions. Half of the Senate's 62 members have expressed their intention to vote in favor, leaving it one vote short. The Democratic-controlled Assembly passed the bill 80-63 last week.
"The entire Senate Republican conference was insistent that amendments be made to the governor's original bill in order to protect the rights of religious institutions and not-for-profits with religious affiliations," Skelos, a Republican from Rockville Centre on suburban Long Island, said in the statement. "This is a very difficult issue and it will be a vote of conscience for every member of the Senate."
Top Priority
Mark Hansen, a spokesman for Skelos, declined to specify when a vote would be held. There are "a few other bills" and a committee meeting before debate on the measure will begin, he said in an e-mail.
Religious organizations wouldn't be required to "provide services, accommodations, advantages, facilities, goods or privileges for the solemnization or celebration of marriage," the bill says. Any such refusal "shall not create any civil claim or cause of action or result in any state or local government action to penalize, withhold benefits, or discriminate against" the organizations.
The entire act would be invalidated if a court strikes down any part of it, the bill says.
Cuomo, a 53-year-old Democrat, has made marriage equality one of three priorities in his first six months in office. The Legislature approved his ethics law for public officials on June 3. Skelos and Assembly Speaker Sheldon Silver have said they agree on his third goal, a property-tax cap, on which they may vote tonight.
Sixth State
Iowa, Vermont, New Hampshire, Massachusetts and Connecticut issue marriage licenses to same-sex couples, as does Washington, D.C., according to the Washington-based Human Rights Campaign, which advocates equal rights for gay, bisexual and transgender people. New York, along with Maryland, recognizes such marriages from other jurisdictions. With 19.4 million residents, New York is the third most-populous state.
Cuomo met with gay-rights advocates, delivered speeches and held private conferences with legislators in a bid to build momentum for the measure in the face of vocal opposition from Catholic Archbishop Timothy Dolan and other traditional-marriage supporters. Change of heart last week from three Democrats and two Republicans who helped defeat a similar bill in 2009 seemed to signal a vote was imminent. Cuomo had said that he wouldn't push for a vote unless he was confident it would pass.
New York City Mayor Michael Bloomberg, who has compared the fight for gay-marriage rights to the civil-rights battles of the 1960s, visited Albany twice in the past six weeks to help Cuomo in his lobbying efforts. The mayor is founder and majority owner of Bloomberg News parent Bloomberg LP.
Swarming the Capitol
Advocacy groups from both sides of the debate have swarmed the Capitol in recent weeks, filling the halls outside the Senate chamber. Adversaries stood beside one another, holding signs that read "Defend Biblical Marriage" and "'I Do' Support Marriage Equality" as they jockeyed to make their chants and songs the loudest.
The cause also attracted a cadre of celebrities. "Sex and the City" actress Cynthia Nixon, New York Rangers hockey player Sean Avery and Food Network chef Mario Batali walked the Capitol halls to support the measure. Former New York Giants wide receiver David Tyree spoke out against it.
"To remain a global economic leader, New York must compete for intellectual capital, and marriage equality is one more way to attract the best and the brightest, regardless of sexual orientation," John Mack, chairman of Morgan Stanley, wrote in an op-ed earlier this month.
Economic Impact
A law approving same-sex nuptials would provide $142 million in economic benefit to New York City and $184 million to the state during the three years following its enactment, a 2007 report from the New York City comptroller's office found. The state would collect about $8 million more in taxes and fees, and save more than $100 million in health-care outlays. The city would collect about $7 million in taxes and fees and experience no impact on outlays, the report estimated.
Greater economic security resulting from marriage may spark more home-buying and generate more tax revenue, it said. Many of the largest private employers based in New York already offer health benefits to same-sex domestic partners.
Companies that offer spousal and family benefits may incur higher costs for health insurance, according to the report. It would cost about $11 million more annually for companies located in New York City and $21 million for those elsewhere.
Same-sex domestic partners of state and city agency employees already receive health benefits, making it "unlikely that the public sector would incur additional costs due to spousal health benefits" if same-sex marriage is legalized, the report said. The same is true of pension costs, it said.
A Siena College poll found that 55 percent of New York voters supported the legalization of same-sex marriage, while 40 percent were opposed and 5 percent were undeclared. The poll of 819 registered voters was conducted by telephone June 5-8 and had a margin of error of plus or minus 3.4 percentage points.
Before it's here, it's on the Bloomberg Terminal.
LEARN MORE