U.S. Stocks Decline on European Woes as Jobless Claims Increase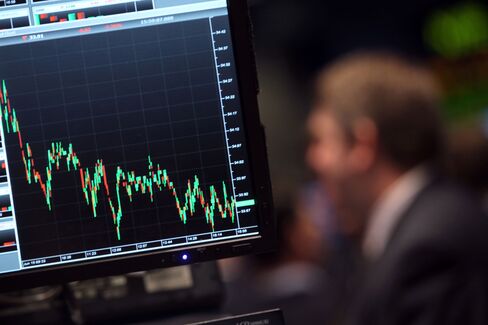 U.S. stocks fell, sending the Standard & Poor's 500 Index down for a second day, as concern grew that Europe's debt crisis will hurt banks and an increase in jobless claims added to signs the economy is slowing.
JPMorgan Chase & Co. and Wells Fargo & Co. dropped at least 1.2 percent as European Central Bank President Jean-Claude Trichet said the debt crisis threatens to infect banks. Chevron Corp. and Exxon Mobil Corp. slid more than 1.6 percent as oil tumbled. Stocks pared losses on reports that austerity measures proposed by Greece to win a bailout were endorsed by officials from the European Union and the International Monetary Fund.
The S&P 500 declined 0.3 percent to 1,283.50 at 4 p.m. in New York, after earlier falling as much as 1.9 percent. The Dow Jones Industrial Average retreated 59.67 points, or 0.5 percent, to 12,050 today. About 8.3 billion shares changed hands on U.S. exchanges, 17 percent more than the three-month average.
"It's discouraging," said Randy Bateman, chief investment officer of Huntington Asset Management in Columbus, Ohio, which oversees $14.8 billion. "The Band-Aid being placed isn't really to bail out Greece. It's to bail out the banks that hold Greek paper. If you lead people to think that their banks are going to be insolvent, that creates more problems."
The benchmark gauge of U.S. stocks fell 4.6 percent this month amid concern that Greece will default on its debt and weaker-than-expected economic reports. The S&P 500 was still up 2.1 percent this year amid government stimulus measures and better-than-expected corporate earnings.
Flashing 'Red'
Global stocks tumbled today as Trichet said risk signals for financial stability in the euro area are flashing "red" as the debt crisis threatens to infect banks.
"On a personal basis I would say 'yes, it is red'," Trichet said late yesterday in Frankfurt after a meeting of the European Systemic Risk Board, referring to the group's planned "dashboard" to monitor risks. "The message of the board is that" the link between debt problems and banks "is the most serious threat to financial stability in the European Union."
Measures proposed by Greek Finance Minister Evangelos Venizelos to complete a 78 billion-euro ($111 billion) austerity package required to win a bailout were endorsed by officials from the European Union and International Monetary Fund, said a person familiar with the matter.
A "solidarity levy" of between 1 percent and 5 percent would apply to all Greek wage earners, with members of parliament paying the top rate, Venizelos said at a news conference in Athens today. Self-employed Greeks will have to pay a separate charge estimated at around 300 euros a year on average, he said.
'Put to Bed'
"It would be nice to put that European crisis behind us," said John Carey, a Boston-based money manager at Pioneer Investments, which oversees about $250 billion. "Some market participants may be reassured by the dedication of the European countries to addressing the issues. It may be they patch together some near-term way of addressing it. I'm not terribly hopeful that they can put this to bed any time soon."
Stocks also fell as applications for jobless benefits increased by 9,000 to 429,000 last week, Labor Department figures showed, exceeding the highest estimate in a Bloomberg News survey of economists. Purchases of new U.S. houses fell in May for the first time in three months, showing the industry is struggling to gain momentum. Sales dropped 2.1 percent to a 319,000 annual pace last month, figures from the Commerce Department showed.
Ending QE2
"We're just ending QE2 and the intent of that was to build employment and sustain the economy," Huntington's Bateman said. "That hasn't accomplished half of those objectives."
The S&P 500 yesterday snapped a four-day rally after the Federal Reserve lowered its forecast for economic growth and said it will end its $600 billion bond-purchase program this month as planned. The second round of so-called quantitative easing, nicknamed "QE2" by investors, helped propel a 23 percent rally in the S&P 500 from when Fed Chairman Ben S. Bernanke foreshadowed the plan on Aug. 27.
The S&P 500 traded today near its average price of the last 200 days of 1,262.65, a level monitored by analysts who study charts to make forecasts. A decline below the 200-day moving average could herald more losses, according to Schaeffer's Investment Research.
"This is a key level," said Ryan Detrick, senior technical strategist at Schaeffer's in Cincinnati. "With all of the uncertainty and all the things that are out there, it makes it that much more important. Fear is definitely coming back."
Volatility Jumps
The Chicago Board Options Exchange Volatility Index, which measures the cost of using options as insurance against declines in the S&P 500, jumped 4.2 percent to 19.29.
The KBW Bank Index declined 1.1 percent as 21 of its 24 stocks retreated. JPMorgan retreated 1.5 percent to $40.07. Wells Fargo dropped 1.2 percent to $27.04.
Energy producers declined. Oil tumbled, erasing its gains for the year, after the International Energy Agency said its members would release crude from strategic reserves.
Chevron, the second-largest U.S. oil company, dropped 1.7 percent to $99.36. Exxon Mobil retreated 1.7 percent to $78.44.
The Bloomberg U.S. Airlines Index of 11 stocks rallied 3.7 percent amid expectations for lower costs as oil fell. US Airways Group Inc. gained 5.1 percent to $8.91. AMR Corp. added 5.2 percent to $6.05.
Bed Bath & Beyond Inc. rose 5.3 percent to $56.93. The home furnishings retailer said profit will rise 15 percent to 20 percent in the year ending February 2012, increasing its estimate from a range of 10 percent to 15 percent.
Bristol-Myers Squibb Co. jumped 5.7 percent to $29.33. The pharmaceutical company's blood thinner apixaban, being developed with Pfizer Inc., prevented more strokes with less major bleeding than traditional treatment in patients with irregular heartbeats in a key study. Pfizer rose 1.8 percent to $20.65.
Before it's here, it's on the Bloomberg Terminal.
LEARN MORE