Rolls-Royce Reaches Engine Settlement With Qantas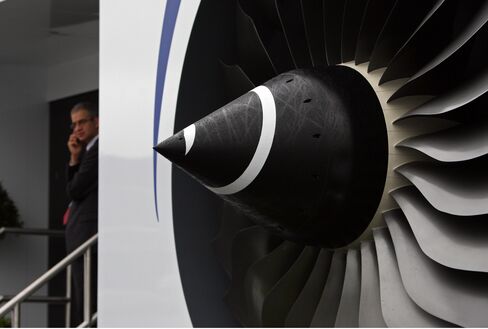 (Corrects financial impact of settlement in third paragraph.)
June 22 (Bloomberg) -- Rolls-Royce Group Plc, the world's second-largest aircraft engine maker, reached a settlement with Qantas Airways Ltd. over the disruption to its fleet after a mid-air engine failure last year.
The settlement's "profit and loss impact" in the fiscal year ending this month is A$95 million ($101 million), Qantas said in a statement today. The terms of the agreement are confidential, and Qantas will drop legal proceedings, the Sydney-based airline said.
Rolls-Royce's total costs from the incident were 56 million pounds ($90 million) in 2010, "with some small additional costs in 2011," Rolls-Royce said in an e-mailed statement today.
"The whole industry will breathe a sigh of relief," Sandy Morris, an analyst in London at Royal Bank of Scotland Group Plc, said by e-mail. "Qantas starting court proceedings was an unusual and troubling step."
The settlement may help ease concerns that the engine failure would damage the company's reputation. Rolls-Royce is pushing to catch up on supplying engines for Airbus SAS's A380 following the engine explosion last November, which forced Rolls-Royce to divert engines from new customers to existing customers, Tom Williams, Airbus's head of programs, said in an interview at the Paris Air Show.
Delivery Plans
Airbus's production of A380 planes with Rolls-Royce's Trent engines will be "tight" until the end of the first quarter of 2012, Williams said. "I don't see that endangering delivery plans for this year," he added.
Rolls-Royce shares fell 0.1 percent to 600 pence at 3:48 p.m. in London, giving the company a market value of 11.2 billion pounds.
Australia's flagship carrier grounded its Airbus A380 fleet in November for 23 days in response to a failure of a Rolls-Royce Trent 900 engine that forced an emergency landing in Singapore on Nov. 4.
The blowout was caused by the failure of a "specific component in the turbine," London-based Rolls-Royce said in November. That failure caused an oil fire on the A380, which led to the release of a turbine disc.
The engine explosion was the most significant safety issue an A380 had faced since the aircraft began passenger flights in 2007, and it prompted intense scrutiny of Rolls-Royce engines.
Airbus, based in Toulouse, France, is a unit of European Aeronautic, Defence & Space Co.
To contact the reporter on this story: Sabine Pirone in London at spirone@bloomberg.net; Robert Fenner in Melbourne at rfenner@bloomberg.net.
To contact the editor responsible for this story: Benedikt Kammel at bkammel@bloomberg.net; Neil Denslow at ndenslow@bloomberg.net.