U.S. Stocks Rally as Juncker Says Greek Solution Will Be Found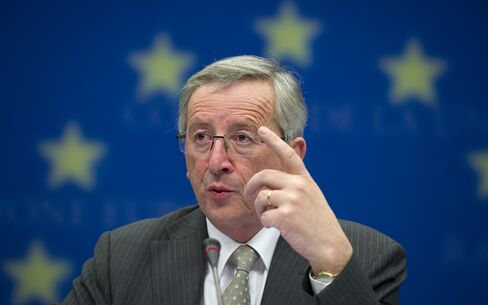 June 20 (Bloomberg) -- U.S. stocks rallied, sending the Standard & Poor's 500 Index up for a third straight day, as Luxembourg's Jean-Claude Juncker assured investors that a solution will be found to Greece's debt crisis.
Caterpillar Inc., the world's biggest maker of construction equipment, climbed 2.3 percent as Raymond James & Associates raised its rating. Biogen Idec Inc. jumped 4.1 percent after ISI Group Inc. recommended buying shares of the largest maker of multiple sclerosis medicines. Wal-Mart Stores Inc. increased 0.4 percent after the U.S. Supreme Court rejected an effort to sue the world's largest retailer for discrimination.
The S&P 500, which has declined for six of the past seven weeks, advanced 0.5 percent to 1,278.36 at 4 p.m. in New York. The Dow Jones Industrial Average gained 76.02 points, or 0.6 percent, to 12,080.38, also rising for a third straight day.
"It's critical that we hold in here," said Bruce McCain, who helps oversee $22 billion as chief investment strategist at the private-banking unit of KeyCorp in Cleveland. "There's anxiety about the European debt crisis. If they can kick the can down the road, there will be more upside potential than downside risk. The market is oversold."
The S&P 500 snapped a six-week slump on June 17, preventing the longest decline since March 2001. The gauge retreated 6.3 percent from this year's high at the end of April amid weaker-than-estimated economic data and concern about Europe's debt crisis. The index is still up 1.7 percent in 2011 on government stimulus measures and better-than-expected earnings.
'Enthusiastic'
Global stocks reversed losses after Juncker, who leads the group of euro-area finance ministers, said he doesn't believe Italy is in danger amid the euro area's debt crisis. Private investors will be present in any second rescue package for Greece, Juncker told reporters in Luxembourg today, though he said he doesn't know if they'll be "enthusiastic."
Still, the International Monetary Fund isn't negotiating a second rescue package for Greece while it weighs whether to approve the next payment of the country's initial program, acting IMF head John Lipsky said.
"It's quite a conundrum," said Hayes Miller, the Boston-based head of asset allocation in North America at Baring Asset Management Inc., which oversees $51.6 billion. "The European debt crisis overhang is going to be here for a while. Besides, we're going to have positive economic growth, but it's going to be anemic. That's not enough to put people back to work."
Goldman Sachs Group Inc. cut its forecast for second-quarter U.S. growth to 2 percent from 3 percent, according to a June 17 report by Sven Jari Stehn, an economist for the company in New York.
"Frustratingly Slow"
Fed Chairman Ben S. Bernanke has been among those forecasting that the recent slowdown in growth will prove temporary as commodity prices retreat. At the same time, the central bank should maintain record stimulus to bolster a "frustratingly slow" recovery, he said this month. Officials are scheduled to meet in Washington on June 21-22 to determine the course of policy.
Today's rally in stocks also happened after the S&P 500 got close to its average price over the last 200 days, a level monitored by analysts and traders who study charts to make forecasts. The index approached its 200-day moving average of almost 1,259 on June 17, creating buying opportunities, according to Christopher Verrone, head of technical analysis at New York-based Strategas Research Partners.
"It makes sense to look for a bounce to develop," he said. "At these levels, the risk reward on playing the long side begins to look very favorable."
Caterpillar Rallies
Caterpillar rose the most in the Dow, rallying 2.3 percent to $98.18. Raymond James raised its recommendation to "strong buy" from "outperform."
Health-care companies had the biggest gain in the S&P 500 within 10 industries, rising 1 percent as a group.
Biogen gained 4.1 percent to $98.60. ISI Group raised its recommendation to "buy" from "hold," saying Biogen can quadruple earnings per share during the next six to seven years.
Wal-Mart added 0.4 percent to $53.04. The justices, dividing 5-4, said the lawyers pressing the case failed to point to a common corporate policy that led to gender discrimination against workers at thousands of Wal-Mart and Sam's Club stores across the country. The workers "provide no convincing proof of a companywide discriminatory pay and promotion policy," Justice Antonin Scalia wrote for the majority.
Banks Slump
A gauge of banks in the S&P 500 fell 0.9 percent, the most among 24 industries.
PNC Financial Services Group Inc. slumped 2 percent to $56.66. The sixth-largest U.S. bank by deposits agreed to pay $3.62 billion in cash and stock for Royal Bank of Canada's U.S. retail banking unit and credit-card assets. PNC has the option to pay as much as $1 billion of the purchase price in stock, Pittsburgh-based PNC said today in a statement. The deal is expected to add to PNC's earnings by the end of 2013 or sooner depending on how much of the transaction is paid in stock.
Other banks fell. Wells Fargo & Co., the largest U.S. home lender, dropped 1.4 percent to $26.95. JPMorgan Chase & Co. and Bank of America Corp. had the two biggest declines in the Dow, retreating at least 0.7 percent.
For the second time since the bull market began, profits are surging and stocks are falling. S&P 500 companies will earn 18 percent more this year than in 2010, according to the average estimate of more than 9,000 analysts compiled by Bloomberg. Higher profits haven't stopped the gauge from falling 6.8 percent since April 29. Even if companies posted no growth, price-earnings ratios would be lower than on 96 percent of days in the past two decades.
Challenge to Investors
The divergence between profit forecasts and economic indicators shows the challenge to investors after the S&P 500 gained 88 percent from a 12-year low in March 2009.
"The market is not willing to pay for future growth," said Nigel Holland, who helps oversee $516 billion at Legal & General Group Plc in London. "Provided there is better data, it will stabilize," he said. "The market probably has room to rise 10 percent by year-end."
The Chicago Board Options Exchange Volatility Index, which measures the cost of using options as insurance against declines in the S&P 500, tumbled 8.5 percent, the most since March 21, to 19.99.
To contact the reporters on this story: Rita Nazareth in New York at rnazareth@bloomberg.net; Cecile Vannucci in New York at cvannucci1@bloomberg.net
To contact the editor responsible for this story: Nick Baker at nbaker7@bloomberg.net