Jobless Claims in U.S. Declined by 16,000 Last Week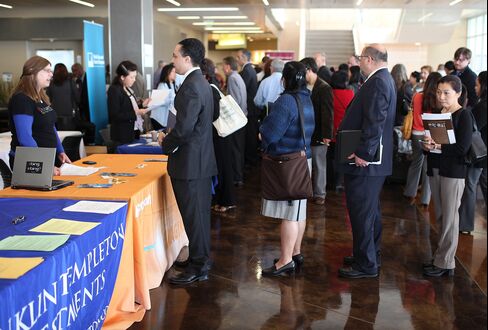 Fewer Americans than forecast filed applications for unemployment benefits last week, indicating the pickup in firings that began in April is abating.
Jobless claims declined by 16,000 to 414,000 in the week ended June 11, Labor Department figures showed today in Washington. Economists surveyed by Bloomberg News projected 420,000 filings, according to the median forecast. The number of people on unemployment benefit rolls and those receiving extended payments decreased.
Further declines in dismissals followed by gains in hiring would help sustain consumer spending, which accounts for about 70 percent of the economy. While payrolls have been climbing, a jobless rate above 9 percent underscores the need for a pickup in employment that will spur an expansion entering its third year.
Claims are "still high but it seems we're heading in the right direction," said Jennifer Lee, a senior economist at BMO Capital Markets in Toronto. "Companies are not ready to ramp up hiring until they're more confident the recovery is on firmer footing."
The median forecast was based on a survey of 46 economists. Estimates ranged from 408,000 to 435,000. The Labor Department revised the prior week's figure to 430,000 from the 427,000 initially reported.
Housing Starts
Housing starts in the U.S. increased more than forecast in May, led by a jump in the West as other parts of the country languished. Work began on 560,000 houses at an annual pace, up 3.5 percent from the prior month and exceeding the 545,000 median forecast of economists surveyed by Bloomberg, figures from the Commerce Department showed today. Building permits, a sign of future construction, also increased.
Stock-index futures trimmed earlier losses after the reports. The contract on the Standard & Poor's 500 Index expiring in September fell 0.1 percent to 1,258.4 at 8:54 a.m. in New York after being down as much as 0.5 percent. Treasury securities rose, sending the yield on the benchmark 10-year note down to 2.93 percent from 2.97 percent late yesterday.
There were no special events affecting the claims data last week, a Labor Department spokesman said as the figures were released.
Recent economic data suggest the economy is slowing, with manufacturing surveys signaling a deceleration in output. At the same time, gasoline prices that neared $4 a gallon last month have restrained consumer confidence and spending.
Slower Job Growth
Payrolls grew by 54,000 workers last month, the smallest gain in eight months, after increasing by 232,000 in April, Labor Department data showed on June 3. The jobless rate rose to 9.1 percent from 9 percent.
Today's data showed the four-week moving average, a less volatile measure than the weekly claims figures, held at 424,750 last week, the lowest level since April 23.
"Claims need to fall below 400,000 before we see a noticeable acceleration in job growth," said Ryan Sweet, a senior economist at Moody's Analytics Inc. in West Chester, Pennsylvania.
The number of people continuing to receive jobless benefits dropped by 21,000 in the week ended June 4 to 3.68 million, the lowest since April 16.
The continuing claims figure does not include the number of Americans receiving extended benefits under federal programs.
Emergency Benefits
Those who've used up their traditional benefits and are now collecting emergency and extended payments decreased by about 115,000 to 3.89 million in the week ended May 28.
The unemployment rate among people eligible for benefits, which tends to track the jobless rate, held at 2.9 percent, today's report showed.
Thirty-three states and territories reported a decrease in claims, while 20 reported an increase. These data are reported with a one-week lag.
Initial jobless claims reflect weekly firings and tend to fall as job growth -- measured by the monthly non-farm payrolls report -- accelerates.
State and local governments are among employers accelerating job cuts as they rein in ballooning deficits.
Florida Governor Rick Scott, a Republican, signed a fiscal 2012 budget May 26 that will eliminate 4,529 state jobs.
State tax collections are 11 percent below their peak, according to a March 9 report of the Center on Budget and Policy Priorities in Washington, after the longest recession since World War II reduced tax receipts.
Ford Motor Co.
Some companies are selectively paring staff. Ford Motor Co. last week said it plans to fire 150 New York state workers who make body panels for the soon-to-be-discontinued Lincoln Town Car.
The workers at Ford's stamping plant in Buffalo will lose their jobs in September, according to a filing with the New York Department of Labor. The cuts represent 23 percent of the 61-year-old factory's 651 hourly workers, according to Ford's website.
New Brunswick, New Jersey-based Johnson & Johnson yesterday said it plans to cut 900 to 1,000 jobs as it expects to record after-tax charges in the second quarter as a result of restructuring plans announced by a subsidiary.
Lockheed Martin Corp.'s space systems unit plans to cut 1,200 jobs by the end of the year. The unit employs about 16,000 workers.
"In today's economic environment, we have two choices: make painful decisions now or pay a greater price down the road," Joanne Maguire, executive vice president, Lockheed Martin Space Systems, said in a statement yesterday. "This is a difficult but necessary action to improve efficiencies and make our business more competitive."