Bruins Lead Canucks 3-0 After 2nd Period in Stanley Cup Game 7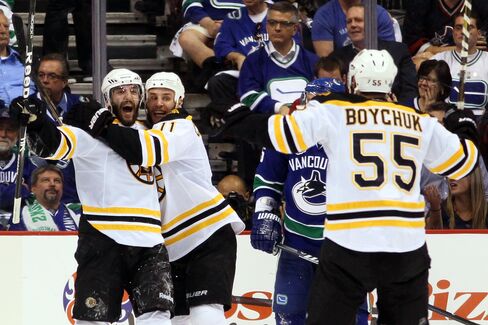 The Boston Bruins lead the Vancouver Canucks 3-0 after the second period in the deciding game of the National Hockey League's Stanley Cup Final.
Boston's Patrice Bergeron redirected Brad Marchand's center off goal tender Roberto Luongo's right-hand post and into the net after 14 minutes, 37 seconds of the game at Rogers Arena in Vancouver.
Rookie Marchand got his 10th goal of the playoffs 12:13 into the second period when he took the puck behind the Canucks' net before slipping it past the sprawling Luongo into the net.
Bergeron made it 3-0 with a short-handed goal with 2:35 remaining in the second period after Boston's Zdeno Chara got a two-minute penalty for interference.
The team that scored first won each of the previous six games in the series. The host team has won 12 of 15 previous Stanley Cup Final deciders.
The Canucks lost on their previous trips to the championship series in 1982 and 1994. The Bruins have been beaten five times in the Stanley Cup Final, most recently in 1990, since they collected the last of their five NHL titles in 1972.
Before it's here, it's on the Bloomberg Terminal.
LEARN MORE