U.S.'s Afghan Nation-Building May Fail: Senate Report Says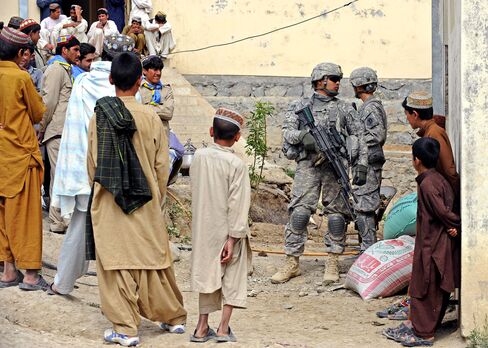 Almost $19 billion in U.S. aid to stabilize Afghanistan may be having the opposite effect by promoting corruption and undermining the Afghan government, a U.S. Senate report says.
As the White House prepares to withdraw some troops from Afghanistan this year and end the U.S. combat role by 2014, "the evidence that stabilization programs promote stability in Afghanistan is limited," said the 51-page report by Democratic majority members of the Senate Foreign Relations Committee. Much of the U.S. spending in Afghanistan since 2002 has been on projects, including schools, clinics and roads, that the Afghan government will be unable to maintain, it said.
With 97 percent of the country's gross domestic product generated by spending on foreign troops and aid efforts, "Afghanistan could suffer a severe economic depression when foreign troops leave in 2014 unless the proper planning begins now," the report's authors concluded.
Many of their criticisms echo years-old complaints by President Hamid Karzai, notably that most international aid is delivered through foreign companies or non-government organizations whose big budgets drain personnel and capacities from the government. Karzai says layers of foreign contractors absorb much of the aid and form a part of the corruption that has helped to undermine his administration.
Doctors as Translators
"Medical doctors or engineers don't work for the government in their profession; they work as interpreters for the NGOs," said Tooryalai Wesa, Karzai's appointee as governor of the southern province of Kandahar, where U.S.-led forces last year forced Taliban guerrillas to abandon outright control of many rural districts.
The State Department's deputy secretary, Thomas Nides, said in a letter to Senator John Kerry, the Massachusetts Democrat who is the committee chairman, that the government has "work to do to overcome the operational challenges we face in Afghanistan."
"We have already made progress in improving our ability to safeguard U.S. government funds," Nides wrote. He cited a group formed for vetting all non-U.S. government contractors and work by Karzai's government toward meeting its anti-corruption commitments.
Administration officials also recognized the need for "other key steps, such as the need to pass a firm anti-corruption law," he wrote.
School Enrollment
Foreign development companies and organizations offer salaries 10 times greater than the "$100 or $200 a month at the most" that the government can afford to pay, Wesa said yesterday in an interview at an international conference in Montreal.
The report praised U.S. aid donations that have backed Afghan programs such as one that funds villages in building small projects of their choosing, including local clinics, bridges or hydro-power generators. Successes from international aid in Afghanistan include "a sevenfold increase in the number of children attending school and significant improvements in health care," it said.
While the U.S. has targeted its aid heavily at southern and eastern provinces that are strongholds of the Taliban, the effort has failed to build governments there. The 80 percent of spending by the U.S. Agency for International Development that goes to the south and east is being used mostly "for short-term stabilization programs instead of longer term development projects," the report said.
Defense Groups
In Kandahar, the most politically important of the southern provinces, local government for years has existed only on paper. In its rural districts, which are analogous to U.S. counties and have populations of as many as 80,000 people, "we just had a district governor with a police chief; there were no other representatives," Wesa said.
Wesa is focusing on building administrations in four of the province's 17 districts, choosing those that surround the provincial capital, Kandahar city. Now, "I have 20 to 30 employees of the government," including health and development workers, in each of those four districts, he said.
To establish a police presence in rural areas, Wesa and other governors last year hired village men as "local police" who are given assault rifles, pickup trucks and three weeks' training to serve as local defense groups against the Taliban.
Jail Break
"The disadvantage is that the insurgents may have penetrated the system," sending guerrillas to join the village-based units, Wesa said.
Taliban still use their penetration of government institutions to strike in Kandahar. A suicide bomber in a police uniform killed the provincial police chief at his headquarters on April 15.
On April 25, Taliban completed an almost 400-meter tunnel into the city's main prison and used it to free about 500 fellow guerrillas in what officials said was an inside job. The operation freed more than 100 of the key lower and mid-level commanders whose capture has helped weaken the Taliban in the past year, according to analysts such as Bill Roggio of the U.S.-based Long War Journal, which monitors the conflict.
As many as 80 escapees have been recaptured, and about 15 people, including prison employees, have been arrested in the case, Wesa said.
Before it's here, it's on the Bloomberg Terminal.
LEARN MORE