Merkel's Cabinet Backs Nuclear Shutdown, Wins Support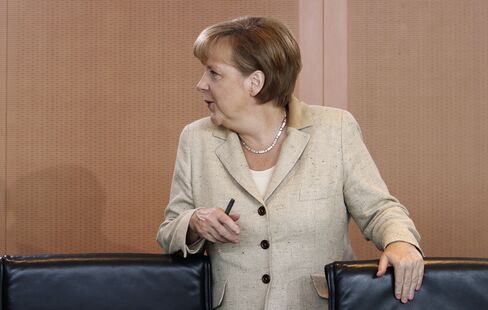 Chancellor Angela Merkel's Cabinet backed plans to close Germany's nuclear power plants by 2022 as the main opposition party signaled its support for the energy overhaul, easing the way for the legislation to pass parliament.
"A consensus over the nuclear phase-out is possible," Thomas Oppermann, parliamentary group leader for the Social Democrats, said on ARD television today. After extending reactor running times last year, Merkel has performed "a 180-degree turn" and reverted to a policy pioneered by the SPD, he said. "We can support it if this holds and is lasting."
Ministers meeting in Berlin today agreed on the energy switch that will make Germany the biggest nation to swear off nuclear power in favor of renewable sources after this year's meltdown in Japan. To fill the gap, the government is investing in offshore wind, pursuing carbon capture and storage technology and easing the way for new power grids to handle output from renewable sources. It also aims to make available 500 million euros ($730 million) to compensate industry for any electricity price increases.
Nordex SE, a German wind-turbine maker, surged as much as 7.5 percent in Frankfurt trading today and was up 2.2 percent at 6.80 euros at 1:35 p.m. The stock rose the most in two months last week as the coalition announced the nuclear exit. Centrotec Sustainable AG, a maker of energy-saving boilers, fell 0.2 percent to 20.06 euros after rising as much as 1.7 percent.
EON AG, RWE AG
EON AG and RWE AG, Germany's largest utilities, had their share price estimates reduced 10 percent by Commerzbank AG "to reflect potential additional burdens" related to the government's decision to exit nuclear power. Dusseldorf-based EON dropped 2.5 percent to 18.37 euros as of 1:34 p.m., while RWE of Essen fell 1 percent to 37.80 euros.
The package of 10 bills approved today will go to the lower house of parliament, the Bundestag, for a first reading on June 9, with a final reading and vote due on June 30, the government said. The upper house, or Bundesrat, will vote on the energy plans on July 8, the last day it meets before the summer recess.
"The government's decision still needs to be agreed by parliament, and while this could lead to further changes at the margin we think the main points of the package will pass unopposed," Mark Lewis, a Deutsche Bank AG analyst, wrote in a June 3 note to clients.
German utilities will add natural-gas-fired power plants to help offset the shortfall in nuclear capacity and the country's portfolio of generators will have higher fuel costs, according to the Deutsche Bank analysts.
Power Lines
To allow the transport of more wind-generated electricity in Germany's north to industrial centers in the south, the government plans to cut average planning and construction time for power lines to four years from 10 years, Economy Minister Philipp Roesler told reporters in Berlin today.
Nuclear plants supplied some 22 percent of German power in 2010, while renewable sources provided 17 percent, the Economy Ministry said. The government wants the share of renewables to rise to at least 35 percent by 2020, Environment Minister Norbert Roettgen said at the briefing with Roesler.
"I'm convinced that decisions taken by the government today will be a milestone in the economic and societal development of our country," Roettgen said. "We're moving from a decade-old source of conflict about nuclear energy to a consensus in society."
Swiss Exit
Europe is split on the future of nuclear power, with France and the U.K. planning more reactors while Switzerland set an exit date and Italy extended a moratorium on plans to re-enter atomic energy. Tens of thousands of protesters have taken to the streets across Germany after the nuclear incident in Japan.
Merkel said June 3 after meeting with leaders of the country's 16 states that the country's seven oldest nuclear reactors, which have been shut since March when the government declared a moratorium after the Fukushima disaster, will be closed permanently. Vattenfall AB's Kruemmel plant will also stay shut.
Each of the nine remaining nuclear reactors still in operation will be assigned specific dates to shut down as the country phases out atomic power in stages over the next 11 years, Roettgen said. One of the seven oldest plants will be kept in "cold reserve" to prevent blackouts during the transition, and will close by 2022.