Resourcehouse Said to Consider Cutting Hong Kong IPO Price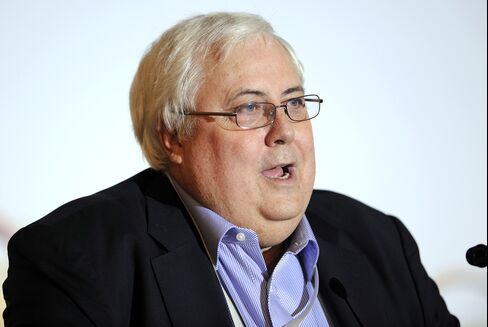 Resourcehouse Ltd., the Australian coal and iron-ore company seeking to raise as much as $3.6 billion in a Hong Kong share sale, may cut the price of the offering, two people with knowledge of the matter said.
The company may sell shares below a price range of HK$4.48 to HK$4.93 marketed to investors after failing to get orders for all the stock, the people said, declining to be identified as the process is private. Andrew Crook, an outside spokesman for Resourcehouse owner Clive Palmer, wasn't immediately available to comment.
Any cut, which would take proceeds below $3.3 billion, would come after Palmer, 57, had already postponed the offering at least three times since 2009. It would also come after iron ore prices dropped 12 percent from their peak in China this year and a plunge on global stock markets this week.
"It's not good timing with markets sliding but that's the risk you take with an IPO," said Lucinda Chan, division director and head of Asian business at Macquarie Private Wealth in Sydney, said by phone. Investors may also be concerned by the structure of the initial public offering, Chan said.
The IPO would deliver payments of as much as A$1.1 billion ($1.2 billion) to Palmer's closely held companies, including A$930 million over the three years to 2014. The payments, which include A$250 million a year toward the cost of constructing a port, would be made before the Brisbane, Australia-based company is forecast to make a profit in 2014 or 2015.
Iron Ore
Resourcehouse wants to develop an iron ore mine in Western Australia that will cost at least A$2.7 billion and an $8.6 billion coal mine in Australia's Queensland state.
Iron ore prices in China have dropped from this year's peak of $191.90 a metric ton on Feb. 16 to close yesterday at $168.80.
Hong Kong IPOs have raised $8.9 billion so far this year, up 55 percent a year earlier, according to data compiled by Bloomberg. The number of initial share sales rose to 45 this year from 23 in the year-earlier period, the data show.
The company planned to sell at least 5.7 billion shares. Palmer, a 57-year-old law school dropout who made his fortune in real estate, will retain a 53.67 percent stake if an over allotment option to sell 857 million more isn't exercised. The shares are scheduled to start trading June 10.
Royalty Payments
Palmer, ranked as Australia's fifth-richest man with a fortune of A$5.05 billion according to BRW magazine's rich list published last month, has pulled the IPO at least three times since first announcing plans in 2009.
Once Resourcehouse's mines start production, Palmer will receive annual payments of A$25 million in coal royalties and A$15 million a year in iron ore royalties. Mineralogy Pty and Waratah Coal Inc., both owned by Palmer, remain the owners of the mines and Resourcehouse has an agreement to extract specific quantities.
The number of basic material companies worldwide conducting IPOs this year has risen by 33 percent, according to data compiled by Bloomberg. There has been $17.3 billion raised so far this year, up 77 percent on last year. Commodity trader Glencore International Plc's $9.8 billion raising is the biggest in the sector so far.
Commodities posted the biggest monthly drop in a year last month as the sovereign-debt crisis in Europe and accelerating inflation in China fanned speculation the global economic growth will slow.
Debt Raising
China Railway Group Ltd. and Metallurgical Corp. of China Ltd. have both agreed to invest about $200 million in Resourcehouse.
BOC International Holdings Ltd., HSBC Holdings Plc, Royal Bank of Scotland Group Plc and UBS AG are managing the sale.
Resourcehouse wants at least one Chinese company to provide or arrange debt to fund about 70 percent of the cost of the building the initial stage of the China First iron ore project, the Brisbane, Australia-based company said in the prospectus. Any financing deal needs the approval of Mineralogy.
Before it's here, it's on the Bloomberg Terminal.
LEARN MORE