Merkel in India Along With Siemens to Match China Trade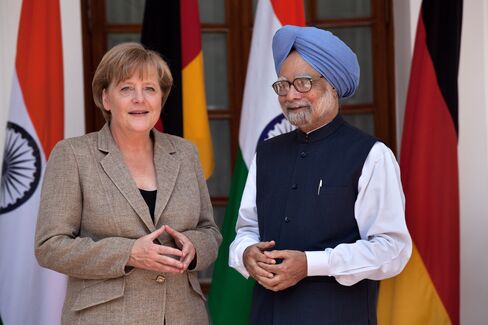 Chancellor Angela Merkel and executives from Siemens AG and ThyssenKrupp AG are in India today seeking to tap a growing middle class and boost bilateral trade that is about a ninth of Germany's commerce with China.
Merkel, who is also traveling with seven government ministers, will spend a day in India, Asia's second-fastest growing economy, during which officials say she is lobbying for greater access for German companies in sectors such as insurance. She held talks with Indian Prime Minister Manmohan Singh and also meets the president of the ruling Congress party, Sonia Gandhi.
"India is a destination right now that no large foreign company can afford to miss," said Jagannadham Thunuguntla, chief strategist at SMC Global Securities Ltd. in New Delhi, adding that opportunities are particularly attractive for infrastructure, energy and consumer goods companies. "Everyone is increasingly fighting to get a part of the business here."
Nearly 75 percent of the 175 German firms operating in India said the economy will expand above 8 percent for the next three years, according to a survey conducted by the Indo-German Chamber of Commerce this month. More than half expect sales to rise more than 20 percent in the year ending in March.
"Our big players such as Siemens and Bosch have made gigantic investments in India, but clearly, there's still a lot of potential," said Dirk Matter, regional director of the German-Indian Chamber of Commerce in Dusseldorf. "But if I look back to the time when I started, in the early nineties, the phone's clearly ringing more often nowadays."
Trade Target
Trade between India and Germany is on track to reach a target of 20 billion euros by 2012, Singh told reporters today after talks with Merkel. He said they also discussed ways to improve security in Afghanistan and changes to make the United Nations Security Council more representative.
India is the third-most attractive retail market for global companies among the 30 largest emerging markets, U.S. consulting group AT Kearney said in a June report. The growing middle class, expanding economy and increasingly brand-conscious population will help push retail sales up by 35 percent over the next three years, the consultant said.
Germany's specialization in banking and insurance, sectors in which India restricts foreign ownership, has held back business. German trade with India was 15 billion euros ($21 billion) in 2010, compared with about 130 billion euros with China, German government figures show.
Insurance Cap
Merkel, on a three-day visit to Asia, leaves for talks with Singapore's Prime Minister Lee Hsien Loong tomorrow. Business leaders on the visit include Siemens Chief Executive Officer Peter Loescher, ThyssenKrupp's CEO Heinrich Hiesinger and Kurt Bock, CEO of BASF SE.
During the trip, the German government will press India to pass an insurance bill that raises a cap on foreign investment from 26 percent to 49 percent, German Ambassador to India Thomas Matussek said at a press conference May 27.
Munich-based Allianz SE, Europe's biggest insurer, wants to boost its stake in its Indian joint venture Bajaj Allianz General Insurance Company Ltd., Manuel Bauer, the board member overseeing its growth markets told Handelsblatt this month.
"I am very bullish that we will see the same development that we have seen in the Germany-China relationship," Matussek said. China opened up earlier "but the interesting thing is that if you draw the trade graph with India and push it along the time axis you can see exactly the same growth," he said.
Boeing, Lockheed
Merkel said today she didn't discuss with Singh India's plans to purchase 126 warplanes in the world's biggest fighter-jet deal in 15 years. European Aeronautic, Defence & Space Co.'s Eurofighter, jointly manufactured by Germany, Spain, Italy and the U.K., has been shortlisted along with France's Dassault Aviation SA for a contract that may be worth $11 billion.
"We are not trying to influence this process," Merkel told reporters in New Delhi. "We wish there to be a very transparent process but we are aware that we have a good product and we will wait and see."
India dropped Boeing Co., Lockheed Martin Corp., Sweden's Saab AB and Russia's OAO United Aircraft Corp. last month after completing technical evaluations.
Merkel this evening will receive the Jawaharlal Nehru Award for International Understanding, whose previous winners include Mother Teresa in 1969 and Nobel Peace Prize winner Aung San Suu Kyi in 1993. Zimbabwe President Robert Mugabe won the award in 1989 and former Brazilian President Luiz Inacio Lula da Silva in 2006.
An annual award for contributions to international understanding in honor of India's first prime minister, the winner receives a $220,000 cash prize, according to the website of India's Ministry of External Affairs.