Home Prices in U.S. Dropped 5.5% in First Quarter, FHFA Says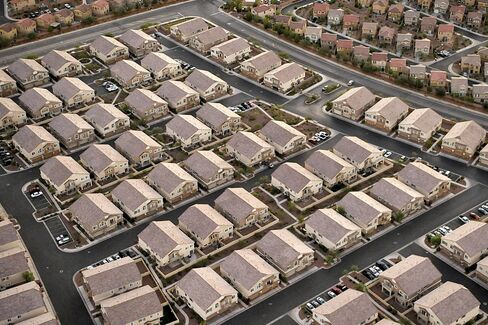 U.S. home prices dropped 5.5 percent in the first quarter from a year earlier, the biggest decline in almost two years, as sales of discounted foreclosures undermined real estate values.
Prices fell 2.5 percent from the fourth quarter, the Washington-based Federal Housing Finance Agency said today in a report. Economists projected a 1.2 percent drop from the previous three months, according to the median of five estimates in a Bloomberg survey.
The FHFA's measure, based on properties with loans backed by mortgage financiers Fannie Mae or Freddie Mac, has fallen for 15 straight quarters as lenders seize homes and sell them at cut-rate prices that drag down overall values. Foreclosures and short sales, in which banks agree to let properties sell for less than their loan balances, have accounted for about 38 percent of transactions this year, based on the monthly average of data from the National Association of Realtors.
"Dumping foreclosures on the market and selling them at distressed prices affects the whole real estate market," said Richard DeKaser, an economist at Parthenon Group in Boston. "It puts downward pressure on prices, even for homes that aren't in foreclosure."
Foreclosure Discounts
Foreclosures typically sell at a 28 percent discount to non-distressed properties, according to Zillow Inc., a Seattle-based real estate company.
Idaho had the biggest drop in prices during the first quarter from a year earlier, at 16 percent, the FHFA said. Arizona prices tumbled 12 percent, and Oregon and Georgia were down 10 percent.
New Jersey home prices decreased 5.1 percent from a year earlier, and New York's fell 3.1 percent. Massachusetts and Connecticut had 4 percent declines.
Only three states had price gains, led by Alaska, at 2.7 percent. West Virginia followed, at 2.2 percent, and prices in North Dakota were up 1.1 percent, according to the report.
Fannie, Freddie Loans
The FHFA measures changes in home values using repeat-sales data on single-family properties with loans backed by Fannie Mae or Freddie Mac. The report leaves out properties sold in all-cash transactions that are common in foreclosure deals, though it does register the erosion of home values in the general market caused by foreclosure discounts.
About 6.4 million mortgages were either delinquent or in foreclosure in April, according to Lender Processing Services Inc., a Jacksonville, Florida-based mortgage-transaction and data firm. Sales of previously owned homes fell 0.8 percent to a 5.05 million annual pace in April, the National Association of Realtors said last week.
Today's FHFA report doesn't include a dollar value for homes. The U.S. median price for a single-family home was $158,700 in the first quarter, according to the Realtors.
Before it's here, it's on the Bloomberg Terminal.
LEARN MORE