Lloyds, RBS Among 14 U.K. Banks on Moody's Downgrade Review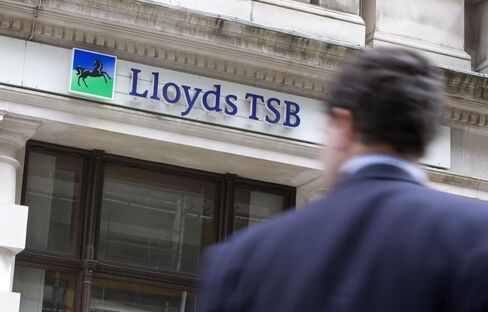 Lloyds Banking Group Plc and Royal Bank of Scotland Group Plc are among 14 U.K. lenders whose debt Moody's Investors Service is considering downgrading because the withdrawal of government support may increase their credit risk.
Santander U.K. Plc and customer-owned lenders including Nationwide Building Society also had their debt ratings put on review for a possible downgrade, Moody's said in a statement today. Lloyds and RBS and Santander U.K.'s debt is rated Aa3 and Nationwide's Aa3/P-1 by Moody's.
British banks are trying to wean themselves off government assistance after receiving about 1 trillion pounds ($1.6 trillion) in capital and guarantees following the collapse of Lehman Brothers Holdings Inc. in 2008. Government support has helped to lift larger U.K. lenders' ratings by two to five steps and smaller lenders by about one to five levels, Moody's said. Regulators have been trying to devise rules that will allow banks to fail in future without turning to the taxpayer.
"The effect of this review will be to align Moody's ratings with the market," Hank Calenti, head of bank credit research at Societe Generale SA in London, said in note to clients today. "This is priced in the market."
The five-member FTSE 350 Banks index declined 0.7 percent by the close of trading in London. Lloyds, 41 percent government owned, declined 2.2 percent to 49.74 pence, bringing its decline for the year to 24 percent. RBS, the recipient of the biggest government rescue, slipped 1.1 percent to 40.4 pence.
Public Purse
The reassessment followed guidance from U.K. authorities "that banks that fail in the future should not expect capital injections from the public purse," Elisabeth Rudman, a senior credit officer at Moody's, said in the statement. It "is not driven by either a deterioration in the financial strength of the banking system or that of the government."
British banks benefit from an "implicit expectation" that the taxpayer will rescue them, a panel of lawmakers said in April. The Independent Commission on Banking recommended that month the country's biggest lenders should implement plans for an orderly bankruptcy. The panel said banks should put their consumer operations into a separately capitalized subsidiary within the holding company so that they could continue operating while their investment banking activities can fail safely.
'Best in Europe'
"While there is certainly a fair amount of credibility to Moody's actions, we also note that the capital position of the U.K. bank's is among the best in Europe," Joseph Dickerson, an analyst at Banco Espirito Santo de Investimento SA in London, wrote in a note to investors today. "Direct reliance on government liquidity schemes is coming down."
Lloyds cut its use of the central bank's liquidity scheme by 26 billion pounds in the first quarter of 2011 to 70 billion pounds, Dickerson wrote.
The other banks to have debt ratings put on review for a downgrade were the U.K. unit of Bank of Ireland Plc, Co-Operative Bank Plc, Coventry Building Society, Newcastle Building Society, Norwich & Peterborough Building Society, Nottingham Building Society, Principality Building Society, Skipton Building Society, West Bromwich Building Society and Yorkshire Building Society.
Several of the smaller customer-owned lenders are likely to lose their investment grade rating, Calenti said.
The Aa2 senior debt rating of HSBC Holdings Plc, Europe's biggest lender, was affirmed with a negative outlook. The outlook on Barclays Plc's senior debt and deposit ratings was changed to negative from stable, Moody's said.
'Higher Funding Costs'
"The impact will be, once again, higher funding costs," Arturo de Frias, an analyst at Evolution Securities Ltd. in London, wrote in a note to investors today. "Funding costs for banks will only go in one direction."
Politicians and business groups have criticized British lenders for failing to boost credit and fuel the nation's economy even after receiving government support.
Lloyds, Barclays, HSBC, RBS and Santander agreed in February to make credit available to businesses and foster demand for loans to aid economic recovery. The country's five biggest banks lent small- and medium-sized companies 16.8 billion pounds in the first quarter, putting them on course to miss targets agreed with the government, figures published by the Bank of England yesterday showed.
Before it's here, it's on the Bloomberg Terminal.
LEARN MORE