China 'Favorable' on Lagarde Leading IMF, France's Baroin Says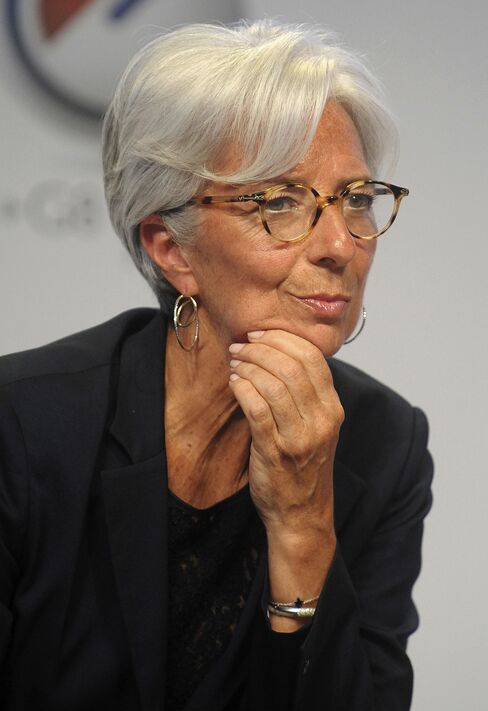 China is "favorable" on the prospect of Christine Lagarde leading the International Monetary Fund, French government spokesman Francois Baroin said, indicating support for her may build beyond Europe.
In an interview with Europe1 radio, Baroin said he didn't know the U.S.'s position on who should succeed Dominique Strauss-Kahn, who resigned last week. Baroin is also France's budget minister, working alongside Lagarde, who is the nation's finance minister.
An endorsement by China would be "not based on personal interest but on what the world needs right now," said Rob Carnell, chief international economist at ING Financial Markets in London. "One of the biggest problems facing the global financial system right now is the peripheral European debt crisis and you need someone who knows the individuals and the issues at stake. Personally I think she is the right choice."
Lagarde, 55, emerged as the leading contender to replace Strauss-Kahn after Germany, Italy and Sweden expressed support for her candidacy. While developing nations have called for an end to Europe's 65-year hold on the job, they have so far failed to unite behind one nominee.
China hasn't publicly commented on any candidacy for the IMF job. Spokespeople for the foreign and finance ministries didn't respond to faxed requests for comment yesterday. Foreign ministry spokeswoman Jiang Yu told reporters in Beijing May 19 that the IMF's management should be chosen on the basis of "impartiality" and "merit," and that developing nations should be represented.
Criminal Charges
Strauss-Kahn resigned as managing director of the IMF to defend himself against criminal charges including attempted rape. The institution said this week it aims to select his successor by June 30. France has supplied four of the 10 IMF chiefs so far, including three of the past five.
Mexico has nominated its central bank governor, Agustin Carstens, while Thailand and the Philippines backed Singapore's Finance Minister Tharman Shanmugaratnam for the job. Russia and South Africa are supporting policy makers from their own parts of the world.
Brazil, Russia, India and China, known as the BRIC countries, are holding consultations on finding a candidate, Arkady Dvorkovich, Russian President Dmitry Medvedev's economic aide, said today. Leaders from the Group of Eight nations won't discuss the matter at their meeting this week though informal consultations may be held, he told reporters.
John Lipsky, the IMF's acting managing director, said yesterday that Lagarde would make an "excellent" head.
Rescue Operations
The IMF is co-funding bailout plans for Greece, Ireland and Portugal with the European Union. A fluent English speaker, Lagarde's negotiating abilities helped clinch agreement on the euro area's sovereign bailout fund announced in the early hours of May 10 last year, according to a person who was there.
Nevertheless, her chances of securing the role may hinge on how she resolved a two-decade-old dispute involving a supporter of President Nicolas Sarkozy. At the time, Lagarde was a partner with the Chicago-based law firm Baker & McKenzie LLP, 12 years before she joined the government.
France's Cour de Justice de la Republique, which oversees ministers' actions in office, has until June 10 to decide whether to investigate if Lagarde abused her powers in agreeing in 2007 to send the case to arbitration. It resulted in a 385 million-euro ($550 million) award to Bernard Tapie, a former Socialist minister who endorsed Sarkozy's presidential effort.
Before it's here, it's on the Bloomberg Terminal.
LEARN MORE