U.S. Stocks Advance as Decline in Jobless Claims Boosts Optimism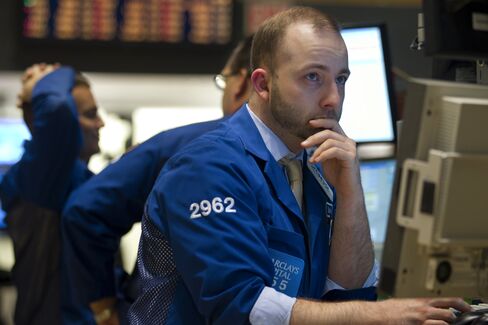 U.S. stocks advanced, sending the Standard & Poor's 500 Index higher for a second straight day, as a government report showing a bigger-than-forecast drop in jobless claims bolstered optimism about the economic recovery.
LinkedIn Corp., the largest professional-networking website, more than doubled in the first day of trading after its initial public offering. Thermo Fisher Scientific Inc. jumped 4.2 percent after agreeing to buy Phadia AB for about $3.5 billion to grow in testing for allergies and autoimmune diseases. Intel Corp., KLA-Tencor Corp. and Applied Materials Inc. slumped at least 1.1 percent as Goldman Sachs Group Inc. cut their ratings amid increased competition and excess supply.
The S&P 500 advanced 0.2 percent to 1,343.60 at 4 p.m. in New York after yesterday posting the biggest gain in three weeks. The Dow Jones Industrial Average gained 45.14 points, or 0.4 percent, to 12,605.32, erasing an earlier 27-point decline.
"The rally will accelerate," said Philip Orlando, the New York-based chief equity market strategist at Federated Investors Inc., which oversees $358.2 billion. "We had an excellent jobless claims number, which tells me that we're going to see a solid jobs report. The Fed has indicated that it will be vigilant and watching the pace of jobs recovery. I don't believe we'll see a QE3. Still, we'll continue with easy policy."
Government Stimulus Measures
The S&P 500 has risen 6.8 percent in 2011 amid higher-than estimated earnings and government stimulus measures. Chairman Ben S. Bernanke and the Federal Open Market Committee plan to complete a $600 billion bond purchase program, known as quantitative easing or "QE" on Wall Street, in June while holding interest rates "exceptionally low" for an "extended period," according to a Fed statement last month. They have yet to settle on a plan for withdrawing stimulus.
Stock futures rose before the start of regular trading as a report showed that fewer Americans than forecast filed applications for unemployment benefits last week. Jobless claims declined by 29,000 to 409,000 in the week ended May 14. The median estimate of economists in a Bloomberg News survey called for a drop to 420,000.
Earlier today, stocks turned lower after a report showed that sales of existing homes unexpectedly declined in April, indicating the industry is struggling to gain traction as the economy expands. Separate figures showed that manufacturing in the Philadelphia unexpectedly grew in May at the slowest pace in seven months, a sign the world's largest economy may get less of a boost from the industry that led it out of the recession.
Temporary Setbacks
The index of U.S. leading indicators fell in April after nine months of gains, depressed by a pickup in jobless claims that reflects temporary setbacks including auto-plant shutdowns. The Bloomberg Consumer Comfort Index declined to minus 49.4 in the period to May 15, the worst reading since August, from the prior week's minus 46.9.
"There's not much to get excited about," said Hayes Miller, the Boston-based head of asset allocation in North America at Baring Asset Management Inc., which oversees $51.6 billion. "We've seen some net negative surprises in recent economic indicators. People are questioning if this is only a downward blip. Chances are we'll work through this. For the time being, we've increased the defensiveness of our portfolio."
LinkedIn more than doubled, surging 109 percent to $94.25. The Mountain View, California-based company sold 7.84 million shares at $45 each, according to a statement released yesterday. The company had raised the proposed range for the share sale on May 17, to $42 to $45 each from $32 to $35. The sale raised $352.8 million. The ticker symbol is LNKD.
Thermo Fisher Jumps
Thermo Fisher Scientific jumped 4.2 percent to $65.38. Thermo is buying Phadia from Cinven Ltd., a London-based private equity firm, and expects the deal to close in the fourth quarter, the Waltham, Massachusetts-based company said in a statement today. The agreement will immediately add to adjusted profit and contribute as much as 30 cents a share next year, Thermo said.
BlackRock Inc. rallied 2.5 percent to $198.10. Bank of America Corp., the largest U.S. lender by assets, agreed to sell its remaining stake in BlackRock back to the world's biggest money manager for about $2.5 billion. Bank of America acquired a 34 percent stake in BlackRock when it took over Merrill Lynch & Co. in 2009 and has been gradually reducing its holdings.
The deal dissolves the last of what once had been a 49.8 percent stake in BlackRock acquired by Merrill Lynch in September 2006, in exchange for the brokerage's fund-management unit. The transaction will be completed about June 1, BlackRock said. The stock will be retired, which will immediately boost BlackRock's earning per share, the statement said.
Stronger Revenue Growth
Global per-share earnings will rise 18 percent this year, faster than an earlier forecast, amid stronger revenue growth and sustained margins, according to Citigroup Inc. Earnings per share, or EPS, are estimated to increase 11 percent in 2012 and 9 percent in 2013, analysts led by Robert Buckland, Citigroup's chief global strategist, wrote in a report yesterday.
"Companies are generating faster revenue growth than we originally expected," Buckland said in the report. "In addition, cautious cost management means that current margins are at least sustainable for now."
Intel slumped 1.4 percent to $23.54. Goldman Sachs lowered its rating on the world's largest chipmaker, to "sell" from "neutral" yesterday. The bank said its analysis shows that processors out-shipped PCs by about 10 percent in the first quarter. It said Intel's longer-term threat is from tablets such as Apple Inc.'s iPad, which run on ARM-based chips, eating into the PC market.
'Cannibalistic'
"We are most concerned about the impact of tablets, as we continue to believe that roughly one-third of tablets are cannibalistic to PCs," Goldman Sachs's statement said.
Goldman Sachs downgraded KLA to "sell" from "neutral," citing its vulnerability to weakness at Intel. Applied Materials was cut to "neutral" from "buy" because of lower 2012 capital spending by chip makers. The bank said orders for semiconductors are likely to decline in the next six quarters.
KLA dropped 3.8 percent to $41.21, while Applied Materials slid 1.2 percent to $14.33.
Big Lots Inc. tumbled 11 percent, the most since December 2008, to $33.77. The Wall Street Journal said yesterday that bids from buyout firms came in lower than anticipated. Timothy Johnson, a spokesman for the Columbus, Ohio-based company, declined to comment.
Before it's here, it's on the Bloomberg Terminal.
LEARN MORE