SAC Says Cohen Ex-Wife Met With Fairfax Attorneys Before Suit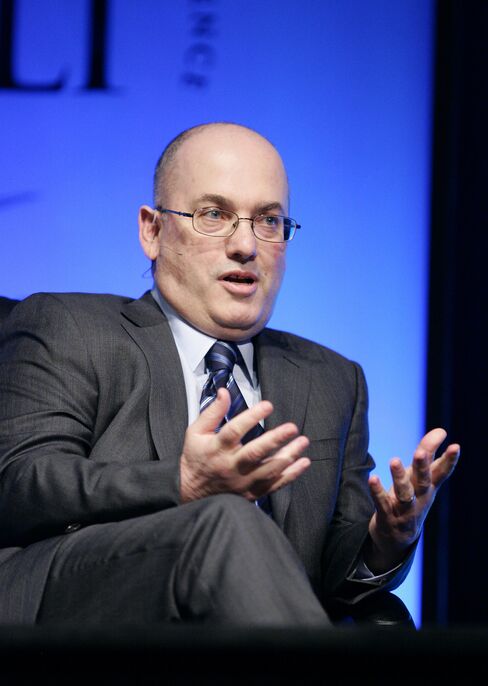 SAC Capital Advisors LP alleges the ex-wife of founder Steven A. Cohen met with lawyers for Fairfax Financial Holdings Ltd. before suing him over claims he cheated her out of money in their 1990 divorce, court papers show.
SAC Capital, in a March 2 filing unsealed yesterday in a Fairfax lawsuit against it and other hedge funds, said that the Canadian insurer or its lawyers may have been involved in Patricia Cohen's suit.
"SAC has learned from reliable sources that Patricia Cohen in fact met with counsel for Fairfax prior to filing that lawsuit," SAC said in the filing.
Fairfax, in its 2006 lawsuit in state court in Morristown, New Jersey, accuses SAC Capital and other hedge funds of conspiring to spread negative information about Toronto-based Fairfax because they were betting its stock price would decline. The funds, including Stamford, Connecticut-based SAC Capital, have denied the accusation.
"Neither Fairfax nor its lawyers had anything to do with Patricia Cohen's lawsuit, and only learned about it from news reports," Michael Bowe, a lawyer for Fairfax at Kasowitz Benson Torres & Friedman LLP in Manhattan, said in an e-mail. "Suggestions otherwise sound paranoid."
Jonathan Gasthalter, an SAC Capital spokesman, declined to comment. SAC Capital has about $13 billion under management.
Howard W. Foster, a lawyer for Patricia Cohen at Foster PC in Chicago, declined to comment. She has appealed the March 30 dismissal of her suit in federal court in Manhattan.
'Racketeering Scheme'
In the suit, she said SAC Capital was "the product of an ongoing racketeering scheme" that has engaged in insider trading, bank fraud, money laundering and other misconduct.
SAC Capital in March 2 motions sought permission to conduct sworn interviews with a Fairfax representative and Patricia Cohen about any communications between her and the company.
Stephen M. Orlofsky, the court-appointed "discovery master" deciding evidence-sharing disputes in the New Jersey case, denied the hedge fund's request to interview the Fairfax representative about Patricia Cohen in a May 11 order. He denied the request to interview Patricia Cohen on April 1, according to the order.
SAC Capital appealed the denial of its request to interview Patricia Cohen, according to Orlofsky, a former federal judge in New Jersey and a partner with Blank Rome LLP in Princeton. The appeal is pending.
Fairfax Representative
In its request to interview a Fairfax representative, SAC Capital said it also wanted to learn about communications concerning the hedge fund or the New Jersey litigation between Fairfax and federal or state regulators, the U.S. Department of Justice, the investment group CFA Institute or "any congressperson or other lawmaker," according to Orlofsky's order. Orlofsky said he's allowing that discovery.
SAC Capital wants to ask about the communications because one of its defenses in the case is that Fairfax is "guilty of the exact same improper conduct that apparently forms the basis for this suit against SAC" by spreading false information about the hedge fund, according to the order.
Orlofsky said Patricia Cohen's testimony wouldn't be relevant to that defense.
'Personal Animus'
SAC Capital has done nothing to harm Fairfax, and its lawsuit may stem from "the extraordinary personal animus that Fairfax and its counsel appear to harbor, without basis, toward" Steven Cohen, the hedge fund said in its request to interview Patricia Cohen.
"Perhaps the most remarkable evidence of Fairfax's and/or its counsel's animus toward Mr. Cohen is their possible involvement in a recent lawsuit filed against Mr. Cohen by the woman from whom he was separated more than 20 years ago," according to the filing.
"Information that plaintiffs sought to insert themselves into a high-profile litigation involving Mr. Cohen's former wife or to induce such litigation, surely a bizarre choice for a large and sophisticated public company, whether intended simply to harass Mr. Cohen or for some other reason, would be evidence of improper behavior by" Fairfax, the hedge fund said.
The case is Fairfax Financial Holdings Ltd. v. SAC Capital Management LLC, L-2032-06, Superior Court of New Jersey, Morris County (Morristown). Patricia Cohen's case is Cohen v. Cohen, 11-1390, U.S. Court of Appeals for the Second Circuit (New York) and 09-cv-10230, U.S. District Court, Southern District of New York (Manhattan).
Before it's here, it's on the Bloomberg Terminal.
LEARN MORE