Germany and France Powered Euro-Area Growth in First Quarter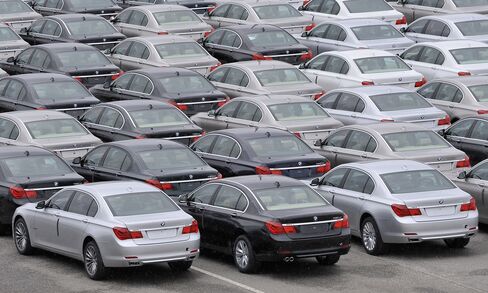 Germany and France powered economic growth in the euro area in the first quarter as booming exports fueled domestic spending in the bloc's core, offsetting turmoil sparked by sovereign debt woes in Greece, Ireland and Portugal.
German gross domestic product jumped 1.5 percent from the fourth quarter and French GDP rose 1 percent, exceeding economists' median forecasts of 0.9 percent and 0.6 percent respectively. Growth in the 17-nation euro region accelerated to 0.8 percent from 0.3 percent, the European Union's statistics office in Luxembourg said, twice the comparable U.S. growth rate of 0.4 percent and more than the median 0.6 percent forecast in a Bloomberg News survey.
Expansion in the two largest economies using the euro is putting pressure on the European Central Bank to keep raising interest rates even as the debt crisis afflicting peripheral countries worsens. Portugal's economy contracted for a second quarter, indicating the country is in recession as the government cuts spending and raises taxes to narrow its budget deficit.
"The marked overall improvement in euro-zone growth in the first quarter masked major ongoing divergences in the performances of the individual economies," said Howard Archer, chief European economist at IHS Global Insight in London. "We very much doubt that the euro zone can sustain the first-quarter rate of growth for long."
Hong Kong, Austria
The euro traded at $1.4307 at 12:05 p.m. in Frankfurt, up from $1.4229 before the German data were published. Hong Kong's economy also surpassed expectations in the first quarter, expanding 2.8 percent from the previous three months, a government report showed today.
Austria's economy grew 1 percent in the first quarter, Holland's expanded 0.9 percent and Spain's notched 0.3 percent growth. In Greece, GDP rose 0.8 percent after dropping 2.8 percent in the fourth quarter, Eurostat said. Portugal's economy shrank 0.7 percent.
Faster growth in the biggest euro-area nations increases the risk that workers will demand higher wages to compensate for soaring energy and food costs.
The ECB increased borrowing costs for the first time in almost three years in April in a bid to curb price pressures, lifting its benchmark rate to 1.25 percent from a record low of 1 percent. Euro-area inflation will average 2.6 percent this year instead of a previously projected 2.2 percent, the Brussels-based European Commission said today.
Broader Growth
From a year earlier, German GDP surged 5.2 percent, the biggest increase recorded since reunification two decades ago. The government predicts growth of 2.6 percent this year after last year's record 3.6 percent expansion.
"The recovery has become more broad-based," said Andreas Scheuerle, an economist at Dekabank in Frankfurt. "While the German economy certainly won't keep this fantastic pace, the outlook is pretty rosy."
Germany's growth figures are "fantastic," said Alexander Krueger, head of capital-market analysis at Bankhaus Lampe KG in Dusseldorf. "We expect full-year growth of more than 3 percent. The skies are blue right now for the German economy."
Company investment, construction and household consumption all contributed to German growth. With exports and imports both expanding, net trade made a smaller contribution than domestic demand, today's report said. In France, export growth accelerated to 1.4 percent from 0.3 percent in the previous quarter and household spending gained 0.6 percent, Paris-based statistics office Insee said.
Export Boom
German exports surged 7.3 percent in March to the highest monthly value since records began in 1950, and industrial production increased for a third month. At 7.1 percent, unemployment is at a 19-year low.
Bayerische Motoren Werke AG, the world's largest maker of luxury vehicles, in the first quarter earned more money per car than ever before in its 95-year history, the company said May 4. BASF SE, the world's biggest chemical company, last week reported first-quarter profit that beat analysts' estimates.
"If anything, the risks for German growth are on the upside," said James Nixon, chief European economist at Societe Generale SA in London. "Germany has done its homework, has put in place some painful reforms and is benefiting now."
'Huge Divergences'
Some countries are still struggling to revive their economies after the region's debt crisis forced governments to toughen austerity measures. Greece's credit rating was cut two levels this week to B from BB- by Standard & Poor's, which said further reductions are possible as the risk of default rises.
"There are still huge divergences within the euro zone and we suspect that growth even in the core will slow during the course of this year as the export boom fades and the fiscal squeeze takes hold," said Jonathan Loynes, European economist at Capital Economics Ltd in London. "Accordingly, while we now expect euro-zone GDP to grow by 1.5 percent this year -- and 2 percent is quite possible -- we don't expect that to prevent the fiscal crisis from continuing to deepen."
Before it's here, it's on the Bloomberg Terminal.
LEARN MORE