Toyota Expanding U.S. Auto Incentives as Output Recovers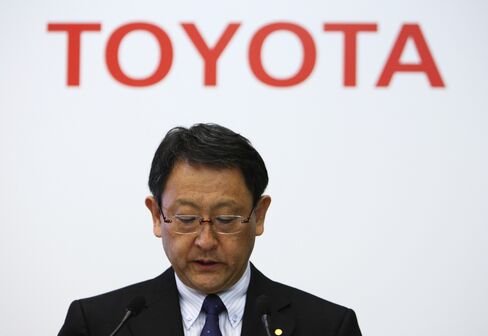 Toyota Motor Corp., Japan's largest automaker, plans to add new incentives on some U.S. models after saying production at North American plants is rebounding at a faster pace than it expected.
"In light of the improved supply outlook and our assessment of current market conditions, we will be offering enhanced incentives on a number of our core models including Camry, Corolla, Highlander, Avalon, Venza and Sienna," Steve Curtis, a spokesman, said today in an e-mail, without elaborating.
The programs will vary among regions and additional details may be released in advertisements this weekend, he said.
Toyota, slowed by limited parts supplies since Japan's record earthquake in March, said yesterday that plants in the U.S., Canada and Mexico will operate at about 70 percent of normal levels starting in June, compared with about 30 percent in May. Production of models covered by the new incentive plan may return to full speed next month, Toyota said.
Toyota, the world's largest carmaker, said yesterday the March 11 earthquake and tsunami contributed to a 77 percent drop in net income for the quarter ended March 31. The company also said global production may recover faster than its initial forecast of as late as December, with only about 30 parts still in short supply, down from 150 last month.
Bob Carter, Toyota's group vice president of U.S. sales, said last week the company's incentives would be limited mainly to the Tundra pickup and a 1.9 percent interest rate on Camry sedans, because of limited inventory for other models.
Vehicle Supplies
While supplies of North American-built models may improve, Toyota may be adding the sales promotions to counter a perception they've run out of inventory, said Jesse Toprak, vice president of industry trends at TrueCar.com in Santa Monica, California, which tracks sales and price trends.
"You're dealing with a problem where consumers assume they don't have any cars to sell," Toprak said. "There's clearly going to be somewhat less pressure on dealer inventory than initially expected, but there are still going to be shortages of some models for several weeks."
Toyota's U.S. sales unit is based in Torrance, California. The company's America depositary receipts, each representing two ordinary shares, rose $2.17, or 2.7 percent, to $83.63 at 4:15 p.m. in New York Stock Exchange composite trading.
Before it's here, it's on the Bloomberg Terminal.
LEARN MORE