Heat Defeat Celtics to Clinch NBA Playoff Series, Thunder Win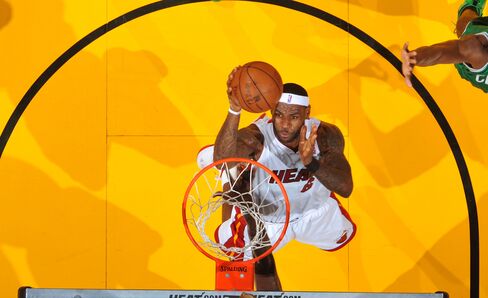 May 12 (Bloomberg) -- The Miami Heat scored 16 unanswered points at the end of the fourth quarter to beat the Boston Celtics 97-87 and clinch their National Basketball Association playoff series.
Also last night, the Oklahoma City Thunder defeated the Memphis Grizzlies 99-72 to lead their best-of-seven Western Conference semifinal by three games to two.
LeBron James scored the last 10 points and had two 3-pointers in the closing four minutes at AmericanAirlines Arena in Miami as the Heat took control to finish off their Eastern Conference series by four games to one.
"They make you fight for everything," James said. "You can never take the foot off the gas. You can never take a second off against that team."
Miami will play the Chicago Bulls or Atlanta Hawks for a place in the NBA Finals. That series resumes today with the Bulls leading 3-2 in games.
It's the first time Miami has reached the conference finals since its championship-winning run in 2006. The series win avenges a first-round exit to the Celtics in last year's playoffs.
The Celtics led 87-81 with 4 minutes, 15 seconds left in the game.
Dwyane Wade began Miami's run with a free throw. James Jones added a 24-foot 3-pointer and Miami tied it on a Chris Bosh dunk. James followed with a pair of 3-pointers and two field goals to secure the win.
Wade led the Heat with 34 points and 10 rebounds, James contributed 33 points and Bosh had 14 points and 11 rebounds.
Ray Allen had 18 points for the Celtics, while Kevin Garnett had 15 points and 11 rebounds.
At Oklahoma City Arena, Kevin Durant scored 19 points and Daequan Cook added 18 to lead the Thunder, who travel to Memphis for Game 6 tomorrow.
Marc Gasol was the high scorer for the Grizzlies with 15 points.
To contact the reporter on this story: Nancy Kercheval in Washington at nkercheval@bloomberg.net
To contact the editor responsible for this story: Michael Sillup at msillup@bloomberg.net