U.K. House Prices Fall Most in Seven Months, Halifax Says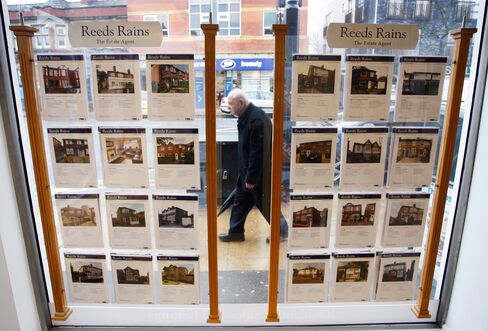 U.K. house prices fell the most in seven months in April as signs of a fading economic recovery and tighter lending conditions dented property demand, Halifax reported today.
Values fell 1.4 percent from March to an average 160,395 pounds ($262,839), Halifax, the mortgage unit of Lloyds Banking Group Plc said in a statement in London today. From a year earlier, prices were down 4.9 percent.
Britain's housing-market data has been mixed this year as weakening consumer confidence curbs demand for homes, while a lack of supply and record-low interest rates help prop up values. The Bank of England last week kept its key interest rate at a record low of 0.5 percent.
"Weak confidence amongst households, partly due to uncertainty over the economic outlook, is constraining housing demand," Martin Ellis, a Halifax economist, said in the statement. "Signs of a modest tightening in housing-market conditions, a relatively low burden of servicing mortgage debt and an increase in the number of people in employment are all likely to be providing support for house prices."
In the three months through April, prices were 3.7 percent lower compared with a year earlier, Halifax said. The current average home price is 4 percent above its April 2009 low and 20 percent below its August 2007 peak.
The pound rose 0.1 percent to $1.6385 as of 9:26 a.m. in London. It fell 2 percent last week, the most since November.
Recovery Concerns
Britain's economic recovery is showing signs of faltering, with growth in services and manufacturing slowing in April. The Confederation of British Industry said today the U.K. economy will expand at a slower pace than previously forecast this year. Gross domestic product will rise by 1.7 percent in 2011 compared with a February prediction of 1.8 percent, it said.
U.K. mortgage approvals were little changed in March as a squeeze on consumers' incomes curbed demand for home loans, according to the Bank of England data. Halifax said there are signs that house sales are "stabilizing, albeit at a level lower than the historical average." A survey of first-time buyers by Rightmove Plc today showed that Britons purchasing their first home have become less pessimistic about property prices, with 33 percent forecasting a gain over the coming year.
Nationwide Building Society said last week that house prices fell in April for the first time in three months. Hometrack, a London-based property researcher, said prices were unchanged in April.
Before it's here, it's on the Bloomberg Terminal.
LEARN MORE