King Gains Ammunition From Data as BOE Keeps Rate at Record Low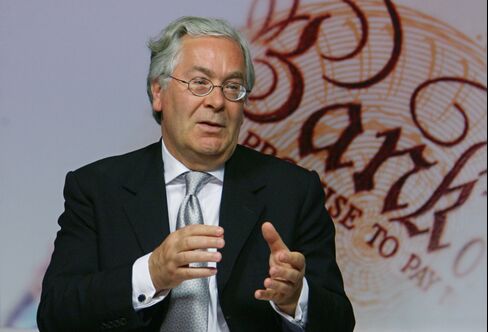 Bank of England Governor Mervyn King has gained more ammunition in his battle to keep interest rates at a record low after reports suggested the economy isn't yet strong enough for a withdrawal of emergency stimulus.
The bank kept its benchmark rate at 0.5 percent today, as forecast by all 43 economists in a Bloomberg News survey. It also maintained its bond-purchase program at 200 billion pounds ($330 billion). King defeated calls last month from three policy makers to tighten policy to tame inflation that's twice the central bank's 2 percent target.
U.K. services and manufacturing growth slowed in April, and gross-domestic-product data last week showed the economy stagnated over the past six months. While the central bank forecasts that inflation may accelerate to at least 5 percent in the coming months, signs of a sluggish recovery have prompted investors to push back bets on the first interest-rate increase.
"We've had some disappointing numbers on the real economy and I think the Bank of England and most analysts would say it's not clear whether this is a temporary blip," Peter Dixon, an economist at Commerzbank AG in London, said in a telephone interview. "It makes sense for the bank to hold off making any decisions until it has a clearer idea of where we're going."
The pound was little changed against the dollar after the announcement and traded at $1.6492 as of 12:47 p.m. in London. The yield on the 10-year government note rose 3 basis points to 3.4 percent.
Weak Data
Data on April 27 showed the U.K. economy is struggling to regain momentum, with GDP rising 0.5 percent in the first quarter, barely enough to erase a contraction in the previous three months.
An gauge of services fell to 54.3 in April from 57.1 in March, Markit Economics Ltd. said in a report today. A manufacturing index also declined, and Markit said the gauges indicate quarterly GDP growth of 0.4 percent, "clearly a disappointment for the Bank of England and the government." The recovery may be further restrained as the government cuts spending to narrow the budget deficit and household pay growth lags behind inflation.
"The slew of disappointing data over the past few weeks ensured that any lingering chance of a hike today had evaporated," said Hetal Mehta, an economist at Daiwa Capital Markets Europe in London. She pushed back her forecast for the central bank to raise its key rate to the first quarter of 2012 from a previous prediction of August.
ECB, Fed
The European Central Bank, whose policy makers are meeting in Helsinki, kept its key rate unchanged at 1.25 percent today after raising it by a quarter percentage point on April 7.
The global monetary easing seen during the financial crisis and the recession is reversing. About a third of the 31 central banks tracked by JPMorgan Chase & Co. have raised rates since the start of April and more than half have done so this year. Policy makers in the Philippines and Malaysia both increased their benchmarks today.
The Federal Reserve nevertheless last week retained its pledge to keep rates "exceptionally low" for an "extended period" to aid the economy. The Bank of England may be on a similar path, according to investors, who have pushed back bets on the first rate increase to December, according to data compiled by Tullett Prebon Plc. A quarter-point rate rise by July had been priced in a month ago.
New Forecasts
U.K. policy makers made their decision today using new forecasts, which King will publish on May 11. The National Institute for Economic and Social Research lowered its 2011 growth forecast today to 1.4 percent from 1.5 percent and raised its inflation projection to 4.5 percent from 3.8 percent.
Niesr, whose clients include the central bank, sees inflation slowing to 1.9 percent in 2012.
"Sentiment and economic performance is being affected by concerns over austerity measures and cost inflation," Lloyds Banking Group Plc, Britain's biggest mortgage lender, said in a statement today. It also said the economy has been "subdued."
Consumer confidence slumped last month to its weakest level since the depth of the recession in February 2009, GfK NOP Ltd. said last week. Vocalink said today that annual wage growth in the three months through April was 1.2 percent, less than a third of the rate of inflation.
"The combined effects of the public-sector deficit cuts and continued inflation in essential commodities are all likely to restrain growth in consumer spending generally," Next Plc, the U.K.'s second-largest fashion retailer, said yesterday.
Minutes
Minutes of today's decision will be published on May 18. The report on April's meeting showed Andrew Sentance, whose term finishes at the end of the month, maintained a call to raise the key rate a half point to 1 percent, while Martin Weale and Chief Economist Spencer Dale wanted a quarter-point increase. The majority, including King, voted for no change.
While consumer-price growth eased to 4 percent in March, the Monetary Policy Committee said on April 20 it sees a "significant risk" that it will accelerate to above 5 percent in the coming months.
"We see little risk of second-round price effects given the lackluster performance of the labor market," said James Knightley, an economist at ING Financial Markets in London. "It seems to us that November is probably the earliest that the BOE will raise interest rates."