Bruins Defeat Flyers 3-2 in Overtime to Lead NHL Playoff 2-0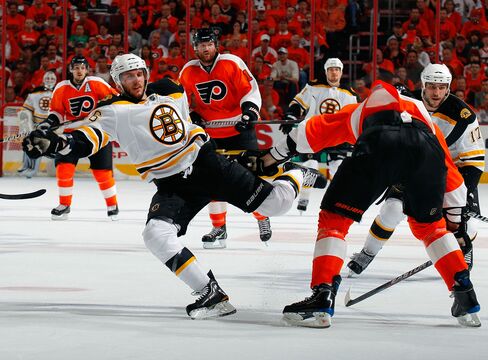 The Boston Bruins recovered from an early two-goal deficit to defeat the Philadelphia Flyers 3-2 in overtime and take a 2-0 lead in games in their National Hockey League playoff series.
David Krejci scored after 14 minutes of overtime at the Wells Fargo Center in Philadelphia last night to win the game for the Bruins, who captured the first two games of the second-round series on the road.
James van Riemsdyk scored twice in the first 10 minutes of the opening period for the Flyers. Boston responded with goals by Chris Kelly and Brad Marchand in an 85-second span midway through the first period, and the teams then remained scoreless until overtime.
The best-of-seven series resumes tomorrow with Game 3 at TD Garden in Boston.
Tonight, the Tampa Bay Lightning seek to take a 3-0 lead in games against the top-seeded Washington Capitals in the Eastern Conference, while the Vancouver Canucks and Nashville Predators are tied at a game apiece ahead of Game 3 in their Western Conference series.
Before it's here, it's on the Bloomberg Terminal.
LEARN MORE