ADM Profit Increase 37% as Food-Ingredient Demand Climbs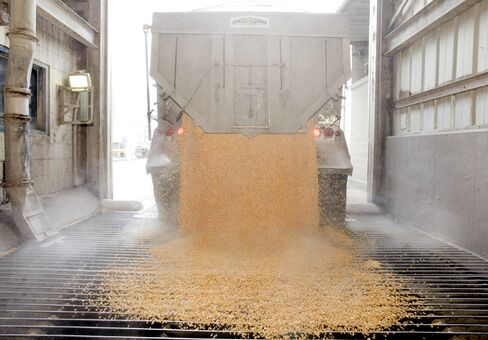 May 3 (Bloomberg) -- Archer Daniels Midland Co., the world's largest grain processor, posted a 37 percent increase in fiscal third-quarter profit as food-ingredient demand climbed.
Net income rose to $578 million, or 86 cents a share, in the three months through March, from $421 million, or 65 cents, a year earlier, the Decatur, Illinois-based company said today in a statement. The average estimate of 12 analysts surveyed by Bloomberg was for profit of 85 cents a share. Sales advanced 33 percent to $20.1 billion from $15.1 billion.
Operating profit in the corn-processing unit jumped 96 percent to $204 million because of rising demand for food and feed ingredients such as lysine, ADM said. The agricultural-services unit, ADM's biggest by sales, was the main disappointment, with profit rising 3.6 percent to $171 million, said Terry Bivens, a New York-based analyst at JPMorgan Chase & Co.
"Corn processing and oilseed processing were areas of strength this quarter, while the challenging and volatile global markets weighed on ag services," Bivens said today in a report, referring to agricultural services. He rates the shares "neutral."
ADM dropped $2.49, or 6.7 percent, to $34.51 at 4 p.m. in New York Stock Exchange composite trading, the biggest decline since May 5, 2009. The shares have gained 15 percent this year.
Operating profit at the oilseed-processing unit rose 26 percent to $512 million.
"Global demand for crops and agricultural products remains strong," Chief Executive Officer Patricia Woertz said in the statement.
Net income included a negative 5-cent-a-share impact related to 44 million new common shares to be issued on June 1, ADM said.
To contact the reporter on this story: Jack Kaskey in Houston at jkaskey@bloomberg.net
To contact the editor responsible for this story: Simon Casey at scasey4@bloomberg.net