Kate Abandons Modernity, Steps Back in Time to Marry Her Prince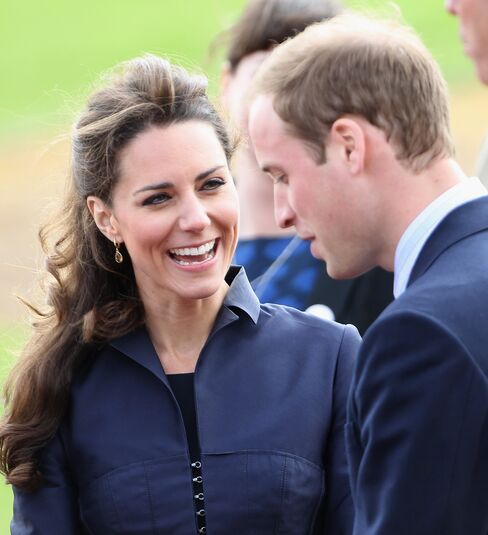 Kate Middleton went to university, got a job and moved in with her boyfriend. From that modern background, she'll step back in time tomorrow when she marries Prince William.
Middleton will wed the second-in-line to the throne at Westminster Abbey in London at 11 a.m. in front of a worldwide television audience of 2 billion. When William becomes Britain's monarch, she will be queen. It's the U.K.'s biggest royal event since the funeral in 1997 of William's mother, Diana, who failed to cope with the pressures that came with being the wife of the next king.
The bride is the first woman from outside royalty or the aristocracy to marry so close to the throne for 350 years. The daughter of an ex-air hostess, she'll be the first future royal consort with a degree. Even so, she's been preparing to be a princess and to deal with the scrutiny since they began dating in 2003. Now she takes on a job that includes producing the next royal heir.
Middleton "knows exactly what she is getting into," said Hugo Vickers, the author of "Elizabeth, The Queen Mother," a biography of William's great-grandmother and an adviser on the Oscar-winning movie, "The King's Speech." "She has had seven or eight years to think about it and she's very well educated."
The prince, who's 28, encountered 29-year-old Middleton when they were students at St. Andrews University in Scotland. She graduated in art history; he has a degree in geography.
Party Pieces
Middleton -- baptized Catherine Elizabeth -- is the eldest child of Michael and Carole Middleton, who met when both worked for British Airways Plc. They set up Party Pieces, a company supplying party accessories. Described in the U.K. press as self-made millionaires, they haven't disclosed how wealthy they are.
The family has lived in the village of Bucklebury in Berkshire, about 50 miles (80 kilometers) west of London, where Party Pieces is based, for the past 30 years. Michael Middleton is originally from Leeds in northern England, while Carole is from the west London suburbs.
After leaving university, Kate worked part-time as a junior buyer for the women's fashion chain Jigsaw before quitting that job for her parents' company. In 2008, she launched First Birthdays, a sister brand to Party Pieces. Her role within the family business included catalogue design and production, marketing and photography, according to Prince William's office.
William -- blond, blue-eyed and 6 feet 3 inches (1.91 meters) tall -- is a flight lieutenant in the Royal Air Force. With a fortune of 28 million pounds ($46 million) according to the Sunday Times Rich List, he was one of the world's most eligible bachelors.
Back to Ethelberht
Four generations of the House of Windsor have reigned over Britain since Edward VII ascended the throne in 1901 after the death of his mother, Victoria. His son, George V, changed the name of the ruling family during World War I from the German Saxe-Coburg-Gotha.
The earliest monarch named on the royal family's website is Ethelberht, who ruled Kent from around 560 to 616 and was the first English king to convert to Christianity.
That long history is littered with royal wives who were unable to live up to the ideal, whatever their background.
Middleton "is essentially pursuing and achieving a very old-fashioned view of happily-ever-after, one that hasn't worked out well for many princesses from Anne Boleyn to Diana," Peggy Orenstein, a San Francisco-based commentator on women's affairs and author of "Cinderella Ate My Daughter," a book about many young girls' obsession with fairytale princesses, said in an e-mail exchange.
Off With Her Head
Anne Boleyn, the second wife of King Henry VIII, was beheaded in 1536 on charges of treason, adultery and incest after failing to produce a male heir.
Diana Spencer, an aristocrat who married William's father, Prince Charles, in 1981, found the public scrutiny intolerable and suffered from eating disorders. The marriage ended in divorce and she died at age 36 after a car crash in Paris, pursued by paparazzi photographers.
Sarah Ferguson married Charles's brother, Prince Andrew, in 1986 and divorced 10 years later.
Diana and Sarah "were not going into it blind either but they were not well educated," Vickers said in a telephone interview. "Kate has a degree."
William first became enamored of his future bride when she modeled a see-through dress at a university charity fashion show in 2002. The couple were just friends before the prince, who paid 200 pounds for a front-row seat, saw her sashaying down the runway. The knitted lace outfit sold on March 17 this year at an auction in London for 78,000 pounds.
'Waity Katie'
The pair failed to announce their engagement for many years, confounding media predictions. As a result, she was nicknamed "Waity Katie" by British tabloid newspapers. Later she moved to rural North Wales to live with William near his air-force base.
"I wanted to give her a chance to see in and to back out if she needed to before it all got too much," William said in a television interview when the engagement was announced on Nov. 17. "I'm trying to learn from lessons done in the past and I just wanted to give her the best chance to settle in and to see what happens on the other side."
For all the modern approach, the prince and his bride-to-be won't be breaking the mold, according to Claudia Joseph, author of "Kate: The Making of a Princess."
'Very Old-Fashioned'
"They are a very traditional couple -- their manners, the way they behave," Joseph said in a telephone interview. "They look very old-fashioned compared to the current vogue for current reality television stars."
The Archbishop of Canterbury, Rowan Williams, who will marry the couple tomorrow, said he'd been struck by the way they had approached the marriage.
"William and Catherine are making this commitment very much in the public eye and they're sensible, realistic young people," the archbishop said in a statement released by his office last week. "They know what the cost of that might be."
Middleton's real work -- the role of queens and princesses down the centuries -- will start after she walks down the aisle later this month.
"One of her great duties apart from making her husband happy is to produce the next generation of the House of Windsor," Vickers said.
Middleton's middle-class background may not be that much of a hindrance as she enters the royal arena fully, in Vickers's view.
"The way the queen copes with the contrasts of life is that when she is not being the queen or entertaining officially she feeds the dogs herself and watches the TV," he said. "She uses Tupperware and rides her horses. She is not on a millionaire's yacht. The royal family do lead quite a middle-class life."
Before it's here, it's on the Bloomberg Terminal.
LEARN MORE