Sales of Existing Homes in U.S. Probably Increased in March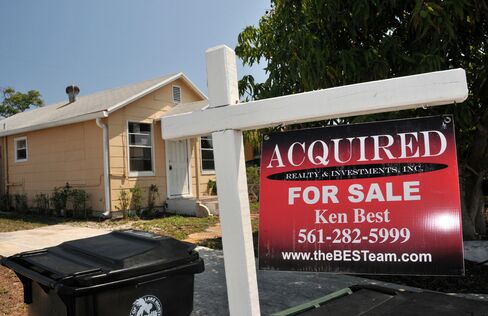 A gain in U.S. sales of existing homes during March probably failed to make up for a drop the previous month, a sign that the housing market is struggling to rebound, economists said before a report today.
Purchases rose 2.5 percent to a 5 million annual rate after dropping 9.6 percent in February, according to the median forecast of 74 economists surveyed by Bloomberg News. Sales in January of existing homes, which make up 90 percent of the market, climbed to the highest level in eight months as buyers used all-cash transactions to obtain distressed properties.
Housing may remain a weak link in the economic recovery that began in June 2009 as unemployment, falling property values and stricter loan rules push foreclosures to record levels. At the same time, a drop in prices has made houses more affordable, a sign demand may not fall much more.
"We're on a recovery track, it's just going to be slower than we would all like," said Robert Dye, a senior economist at PNC Financial Services Group Inc. in Pittsburgh. "Credit constraints are working against home sales right now. By the end of this year, we'll start to feel like we've turned a corner."
The National Association of Realtors' data are due at 10 a.m. in Washington. Economists' estimates ranged from 4.59 million to 5.4 million.
The figures would underscore the Federal Reserve's view that the housing market "continues to be depressed" even as the rest of the economy improves.
Median Price
The drop in purchases in February sent the median price of existing homes to the lowest level since 2002. Distressed properties accounted for 39 percent of sales, and the share of all cash transactions was 33 percent, the highest since at least August 2008, when the agents' group began tracking the monthly figure.
CoreLogic Inc. last month estimated that about 1.8 million homes were delinquent or in foreclosure, a so-called "shadow inventory" set to add to the 3.5 million existing homes already on the market.
A glut of unsold properties may push prices down further, a disincentive for homebuilders to break ground on new homes.
A report from the Commerce Department yesterday showed builders began work on 549,000 houses at an annual rate in March, up from 512,000 the previous month. The increase followed a 19 percent plunge in February that was the biggest drop since 1984.
Homebuilders have underperformed the broader stock market. The Standard & Poor's Supercomposite Homebuilder Index has gained 3.6 percent so far this year, compared with a 4.4 percent increase for the broader S&P 500 Index.
Builder Loss
KB Home, the Los Angeles-based homebuilder that targets first-time buyers, this month reported a bigger-than-expected loss for the quarter ended Feb. 28 as orders plunged.
"We do not anticipate a net profit for 2011," Chief Executive Officer Jeffrey Mezger said during a conference call with analysts on April 5. "The economy is continuing to improve. Even so, this recovery has yet to include significant job growth and has not spilled over into housing."
Builders overall are not optimistic. The National Association of Home Builders' confidence fell to 16 this month, according to the group's gauge released this week. A reading under 50 means a majority of builders view conditions as poor.
                        Bloomberg Survey

================================================================
                             Exist    Exist
                             Homes    Homes
                              Mlns     MOM%
================================================================

Date of Release              04/20    04/20
Observation Period           March    March
----------------------------------------------------------------
Median                        5.00     2.5%
Average                       5.01     2.6%
High Forecast                 5.40    10.7%
Low Forecast                  4.59    -5.9%
Number of Participants          74       74
Previous                      4.88    -9.6%
----------------------------------------------------------------
4CAST Ltd.                    5.05     3.5%
ABN Amro Inc.                 5.03     3.0%
Action Economics              5.05     3.5%
Aletti Gestielle SGR          5.00     2.5%
Ameriprise Financial Inc      4.95     1.4%
Banesto                       5.40    10.7%
Bank of Tokyo- Mitsubishi     4.95     1.4%
Barclays Capital              5.05     3.5%
BBVA                          4.95     1.4%
BMO Capital Markets           4.98     2.1%
BNP Paribas                   5.00     2.5%
BofA Merrill Lynch Resear     5.00     2.5%
Briefing.com                  5.15     5.5%
Capital Economics             5.00     2.5%
CIBC World Markets            5.00     2.5%
Citi                          5.00     2.5%
ClearView Economics           5.00     2.5%
Commerzbank AG                5.00     2.5%
Credit Agricole CIB           5.10     4.5%
Credit Suisse                 4.86    -0.4%
Daiwa Securities America      4.75    -2.7%
Danske Bank                   5.00     2.5%
DekaBank                      5.00     2.5%
Desjardins Group              5.05     3.5%
Deutsche Bank Securities      5.00     2.5%
Fact & Opinion Economics      5.00     2.5%
First Trust Advisors          5.01     2.7%
FTN Financial                 5.00     2.5%
Goldman, Sachs & Co.          4.59    -5.9%
Helaba                        5.00     2.5%
HSBC Markets                  5.10     4.5%
Hugh Johnson Advisors         5.20     6.6%
IDEAglobal                    5.10     4.5%
IHS Global Insight            4.93     1.0%
Informa Global Markets        5.05     3.5%
ING Financial Markets         5.00     2.5%
Insight Economics             5.10     4.5%
Intesa-SanPaulo               5.10     4.5%
J.P. Morgan Chase             4.95     1.4%
Janney Montgomery Scott L     4.96     1.6%
Jefferies & Co.               5.15     5.5%
Landesbank Berlin             5.00     2.5%
Landesbank BW                 5.03     3.1%
Manulife Asset Management     4.95     1.4%
Maria Fiorini Ramirez Inc     5.00     2.5%
MET Capital Advisors          5.00     2.5%
MF Global                     4.93     1.0%
Moody's Analytics             5.08     4.1%
Morgan Stanley & Co.          5.20     6.6%
National Bank Financial       4.99     2.3%
Natixis                       4.98     2.1%
Nomura Securities Intl.       5.00     2.5%
OSK Group/DMG                 4.95     1.4%
Parthenon Group               4.88     0.0%
Pierpont Securities LLC       5.00     2.5%
PineBridge Investments        5.10     4.5%
PNC Bank                      5.00     2.5%
Raiffeisenbank Internatio     5.00     2.5%
Raymond James                 5.00     2.5%
RBC Capital Markets           4.80    -1.6%
RBS Securities Inc.           5.15     5.5%
Scotia Capital                5.10     4.5%
Societe Generale              5.07     3.9%
Standard Chartered            4.64    -5.0%
State Street Global Marke     5.07     3.9%
Stone & McCarthy Research     5.10     4.5%
TD Securities                 4.95     1.4%
UBS                           5.00     2.4%
UniCredit Research            5.00     2.5%
University of Maryland        5.00     2.5%
Wells Fargo & Co.             4.98     2.1%
WestLB AG                     5.00     2.5%
Westpac Banking Co.           5.08     4.0%
Wrightson ICAP                5.05     3.5%
================================================================