LVMH, Burberry Lead Luxury Stocks' Gain on Sales Increases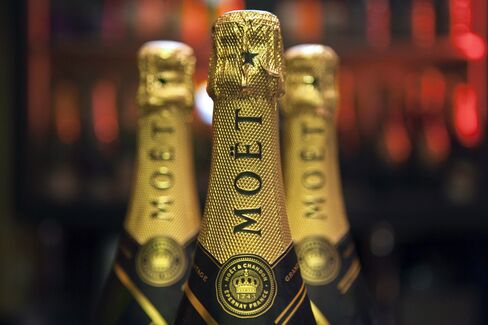 LVMH Moet Hennessy Louis Vuitton SA and Burberry Group Plc led European luxury-goods stocks higher as their quarterly sales beat analysts' estimates and eased concern that last month's earthquake in Japan will hurt growth.
LVMH, the world's largest maker of luxury goods, climbed 5.45 euros, or 5 percent, to 115.20 euros, in Paris trading, the biggest jump since May 10 last year. Burberry, the U.K.'s largest luxury retailer, rose 69 pence, or 6 percent, to 1,215 pence in London, the highest closing price since the company's July 2002 initial public offering.
The sales reports point to continued appetite for leather handbags, champagne and trench coats and suggest Japan's crisis won't stall the industry's global rebound. Burberry raised its earnings forecast and Chief Executive Officer Angela Ahrendts said she was "confident" the London-based company would outperform peers. LVMH cited an "excellent start to the year."
"There ought to be some initial fears allayed over Japan," said John Guy, an analyst at Royal Bank of Scotland Group in London.
Demand for luxury goods has revived since the global recession of 2009 as wealthy consumers regained confidence and retailers replenished inventories. Analysts cut estimates for some companies last month after the March 11 earthquake and tsunami in Japan left almost 28,000 people dead or missing and triggered the world's worst nuclear crisis in a quarter century.
Japan is the world's second-largest market for luxury goods after the U.S., accounting for 11 percent of the total, according to consulting firm Bain & Co.
'Setting the Tone'
Revenue at LVMH rose 17 percent to 5.25 billion euros ($7.5 billion) last quarter, the Paris-based company said in a statement yesterday. That compared with the 4.98 billion-euro average estimate of six analysts compiled by Bloomberg. Excluding acquisitions and currency shifts, sales climbed 14 percent. Japan accounts for about 8 percent of the luxury-goods maker's total revenue. Sales in the country fell 9 percent in the quarter and 25 percent in March.
"We had a very strong first quarter despite the adverse situation in Japan," LVMH Chief Financial Officer Jean-Jacques Guiony said on a conference call. Though conditions remain very uncertain, "our hope is that Japan will be able to overcome the situation as quickly as possible."
'Strong Momentum'
The French company, which announced plans in March to acquire Bulgari SpA, the world's third-largest jeweler, said it aims "to increase once again in 2011 its leadership of the global high-quality products market." Sales in the U.S., Europe and Asia showed "strong momentum."
"LVMH numbers should set the tone and the bar for other luxury names reporting in coming weeks," Rogerio Fujimori, an analyst at Credit Suisse in London, wrote in a note to clients.
Bulgari said separately today that first-quarter sales rose 28 percent at current exchange rates to 253.8 million euros. Sales in Japan rose 11 percent, the Rome-based jeweler said.
Burberry said today that revenue in the fiscal fourth quarter ended March 31 rose 32 percent to 390 million pounds ($636 million). The average estimate of three analysts compiled by Bloomberg was for sales of 351.3 million pounds. The revenue growth was driven by retail sales in China and the numbers exclude Spain, where Burberry closed a warehouse and stopped making a local collection last year.
Top of Range
The retailer, which gets less than 2 percent of sales in Japan, raised its full-year earnings guidance. Adjusted pretax profit was probably at the top end of estimates, between 279 million pounds and 300 million pounds, Chief Financial Officer Stacey Cartwright said. In January, she said the range would amount to 250 million pounds to 290 million pounds.
"While the luxury industry faces global challenges in the year ahead, we remain confident in our team's ability to outperform," Burberry's Ahrendts said in the statement.