Tepco to Begin Compensating Evacuees After Nuclear Disaster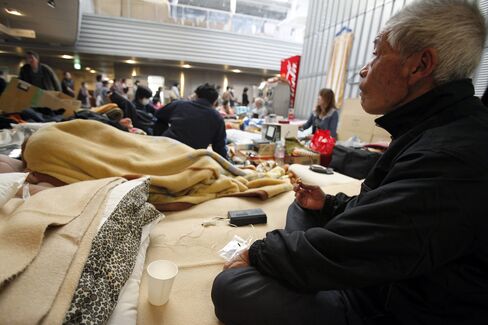 April 15 (Bloomberg) -- Tokyo Electric Power Co. offered 50 billion yen ($600 million) as initial payment to evacuees as the utility at the center of the worst nuclear disaster since Chernobyl begins compensating for damages.
The company offered 1 million yen per family and 750,000 yen for each single-person household within 30 kilometers (19 miles) of the Fukushima Dai-Ichi plant, President Masataka Shimizu said in Tokyo today. About 50,000 families will receive the aid, he said. Payments should go out before Japan's Golden Week holidays that begin April 29, Chief Cabinet Secretary Yukio Edano said.
Tokyo Electric may cut salaries for executives and eliminate jobs as it braces for the financial toll from the March 11 earthquake and tsunami that knocked out cooling systems at the plant. The company, the worst performer on the MSCI World Index this year, faces compensation claims of as much as 11 trillion yen if the crisis persists for two years, Bank of America Corp.'s Merrill Lynch said last month.
"This is just a temporary payment aimed at immediate support, a more detailed plan still has to be discussed based on visits to the affected areas," Shimizu said. "We are aiming to make this payment fair and speedy."
Tokaimura Incident
Hisao Torii, a 40-year old owner of a retail store 25 kilometers from the Dai-Ichi plant, said he was disappointed by the lack of details.
"I expected to hear more about how to apply for this money and when we can have it, which still isn't clear," said Torii. "There are a lot of people in immediate need of cash, so for them this is welcome news."
Before the Fukushima crisis, Japan's most serious accident was the 1999 radiation leak at Tokaimura in Ibaraki prefecture, about 70 miles northeast of Tokyo. The International Atomic Energy Agency classified the severity of the incident as Level 4, or an "accident with local consequences" involving "a minor release of radioactive material." Fukushima's severity was raised to 7, the highest level, this week.
At the Tokaimura plant, more than 600 people were exposed to radiation after employees inadvertently started a nuclear chain reaction while processing nuclear fuel. Two employees of JCO Co., a wholly owned subsidiary of Sumitomo Metal & Mining Co. in charge of the facility, died from exposure to radiation.
JCO had paid out 14.7 billion yen to settle almost 8,000 claims from accident victims as of March 2003. Six JCO employees received suspended jail sentences, while the company was fined 1 million yen.
Worst-Case Scenario
Tepco dropped 6.2 percent to close at 469 yen on the Tokyo Stock Exchange, extending its decline this year to 76 percent. The benchmark Nikkei 225 Stock Average retreated 0.7 percent.
Under a "worst-case" scenario, Tepco would be unable to absorb its losses even after a capital reduction and debt-to-equity swap of state-guaranteed debt, Yusuke Ueda, a credit analyst at Merrill, wrote in a report March 29. The utility may face claims of less than 1 trillion yen if the crisis is resolved within two months and as much as 3 trillion yen if it takes about six months, Ueda wrote.
Should claims reach 10 trillion yen to 11 trillion yen, bankruptcy laws may be invoked, Ueda wrote. Still, it's "very unlikely" Tepco will go bankrupt because of its importance as a provider of electricity, he wrote.
The number of people eligible for compensation in Fukushima is likely to be 100 times that of Tokaimura accident, Ueda wrote in a March 24 report.
Japan's Nuclear and Industrial Safety Agency earlier this week raised the severity rating of the nuclear crisis to the highest level 7, matching the 1986 Chernobyl incident. The accident previously was rated a 5 on the global scale, the same as the 1979 partial meltdown at Three Mile Island in Pennsylvania.
To contact the reporters on this story: Michio Nakayama in Tokyo at mnakayama4@bloomberg.net; Pavel Alpeyev in Tokyo at palpeyev@bloomberg.net
To contact the editor responsible for this story: Young-Sam Cho at ycho2@bloomberg.net