World's 50 Best Restaurant Awards Draw Leading Chefs to London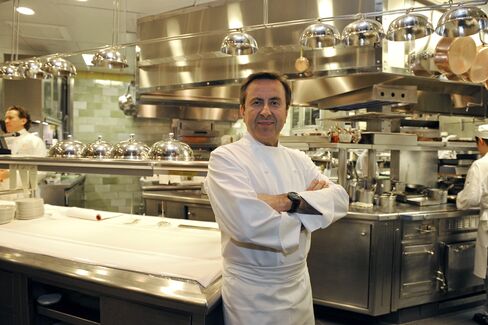 Daniel Boulud and Thomas Keller are among the chefs expected from the U.S., along with Rene Redzepi from Denmark and others from across the globe, for the S. Pellegrino World's 50 Best Restaurants awards in London.
As many as 40 of the world's top 50 establishments will be be represented at the Guildhall on Monday evening in an event that has become a key date in the culinary calendar.
"I'd be surprised if there's another event that brings together so many leading chefs in one place at the same time," said William Drew, editor of Restaurant magazine, which created the awards. "Part of the intention is that it brings so many chefs together to talk about food."
Redzepi's Noma, in Copenhagen, won last year, followed by Ferran Adria's El Bulli, north of Barcelona, which came first in 2002 and from 2006 through 2009, and has been in the top three every year since the awards started in 2002. Adria said in an interview in March that he doesn't plan to attend this year because El Bulli will close on July 30.
The notion of a best restaurant is problematic, and a list compiled from the rankings of 837 food critics, chefs and restaurateurs may lack coherence. Yet that doesn't diminish the importance of the awards.
"It's only a list based on the views of 800 people who eat too much, but they are people who know what they're talking about," said Observer critic Jay Rayner, who heads the U.K. judging panel, of which I am a member.
Adria is turning El Bulli into an institute of culinary creativity, and only those invited will be able to eat there.
French Laundry
The only other restaurants to have taken the top spot are Keller's French Laundry (2003 and 2004) and Heston Blumenthal's Fat Duck (2005). While I have no idea who will win this year, my guess would be Noma, for three reasons: It's a great restaurant; Redzepi is a popular chef whose creativity is admired; award voters have been lining up to visit.
If you're planning on dining out in London on Monday, your chef is less likely than usual to be there. Many attend the awards, and the final of the Roux Scholarship, the U.K.'s foremost culinary challenge, falls on the same evening. Noma's victory last year underlined the competition's importance.
"Before then, we often had empty tables for lunch," Redzepi, 33, said in an interview in December. "The day after, we had more than 100,000 people trying to book online, which is an obscene amount of numbers. We have between 20 and 22 tables a day, five days a week, which is about 125 tables a week times four, around 600 tables a month, times 11, which is almost 7,000 tables, so in one day we could have filled our restaurant for almost 15 years. It was a crazy thing."
Members of the voting academy are required to have eaten in the restaurants they nominate within the prior 18 months.
The awards started as a feature in Restaurant. Former editor Joe Warwick said he sent e-mails to journalists and chefs to pick their favorite places. That first year, U.K. venues did well: Gordon Ramsay was second and the Ivy eighth.
Here is last year's Top 50 list:
  1 Noma, Denmark (+2) http://www.noma.dk
  2 El Bulli, Spain (-1) http://www.elbulli.com
  3 The Fat Duck, U.K. (-1) http://www.thefatduck.co.uk
  4 El Celler de Can Roca, Spain (+1)
  http://www.cellercanroca.com
  5 Mugaritz, Spain (-1) http://www.mugaritz.com
  6 Osteria Francescana, Italy (+7)
  http://www.osteriafrancescana.it
  7 Alinea, U.S. (+3) http://www.alinea-restaurant.com
  8 Daniel, U.S. (+33) http://www.danielnyc.com
  9 Arzak, Spain (-1) http://www.arzak.es
 10 Per Se, U.S. (-4) http://www.perseny.com
 11 Le Chateaubriand, France (+29)
 12 La Colombe, South Africa (+26)
 http://www.constantia-uitsig.com
 13 Pierre Gagnaire, France (-4)
 http://www.pierre-gagnaire.com
 14 Hotel de Ville, Switzerland (+2)
 http://www.philippe-rochat.ch
 15 Le Bernardin, U.S. (=) http://www.le-bernardin.com
 16 L'Astrance, France (-5) http://www.lastrance.abemadi.com
 17 Hof van Cleve, Belgium (+9) http://www.hofvancleve.com
 18 D.O.M., Brazil (+6) http://www.domrestaurante.com.br
 19 Oud Sluis, Netherlands (+10) http://www.oudsluis.nl
 20 Le Calandre, Italy (+29) http://www.alajmo.it
 21 Steirereck, Austria (+9)
 http://www.steirereck.at/wien restaurant
 22 Vendome, Germany (+3) http://www.schlossbensberg.com
23 Chez Dominique, Finland (-2) http://www.chezdominique.fi
 24 Les Creations de Narisawa, Japan (-4)
 http://www.narisawa-yoshihiro.com
 25 Mathias Dahlgren, Sweden (+25)
 http://www.mathiasdahlgren.com
 26 Momofuku Ssam Bar, U.S. (+5) http://www.momofuku.com
 27 Quay, Australia (+19) http://www.quay.com.au
 28 Iggy's, Singapore (+17) http://www.iggys.com.sg
 29 L'Atelier de Joel Robuchon, France (-11)
 http://www.joel-robuchon.com
 30 Schloss Schauenstein, Switzerland (New Entry)
 http://www.schauenstein.ch
 31 Le Quartier Francais, South Africa (+6)
 http://www.lequartier.co.za
 32 The French Laundry, U.S. (-20)
 http://www.frenchlaundry.com
 33 Martin Berasategui, Spain (-4)
 http://www.martinberasategui.com
 34 Aqua, Germany (New Entry) http://www.restaurant-aqua.com
 35 Combal Zero, Italy (+7) http://www.combal.org
 36 Dal Pescatore, Italy (+12) http://www.dalpescatore.com
 37 De Librije, Netherlands (New Entry) http://www.librije.com
 38 Tetsuya's, Australia (+21) http://www.tetsyuas.com
 39 Jaan par Andre, Singapore (New Entry)
 http://www.swissotel.com/singapore-stamford
 40 Il Canto, Italy (New Entry)
 http://www.certosadimaggiano.com
 41 Alain Ducasse au Plaza Athenee, France (Re-entry)
 http://www.plaza-athenee-paris.com
 42 Oaxen Krog, Sweden (-10) http://www.oaxenkrog.se
 43 St John, U.K. (-29) http://www.stjohnrestaurant.com
 44 La Maison Troisgros, France (Re-entry)
 http://www.troisgros.fr
 45 wd~50, U.S. (Re-entry) http://www.wd-50.com
 46 Biko, Mexico (New Entry) http://www.biko.com.mx
 47 Die Schwarzwaldstube, Germany (-24)
 http://www.traube-tonbach.de
 48 Nihonryori RyuGin, Japan (New Entry)
 http://www.nihonryori-ryugin.com
 49 Hibiscus, U.K. (New Entry)
 http://www.hibiscusrestaurant.co.uk
 50 Eleven Madison Park, U.S. (New Entry)
 http://www.elevenmadisonpark.com
The next 50:
 51 Maison Pic, France http://www.pic-valence.com
 52 Jean Georges, U.S. http://www.jean-georges.com
 53 L'Atelier de Joel Robuchon, China
 http://www.joel-robuchon.com
 54 Wasabi, India http://www.tajhotels.com
 55 Robuchon A Galera, China http://www.joel-robuchon.com
 56 Bras, France http://www.michel-bras.com
 57 De Karmeliet, Belgium http://www.dekarmeliet.be
 58 Marcus Wareing at the Berkeley, U.K.
 http://www.the-berkeley.co.uk
 59 Lung King Heen, China http://www.fourseasons.com
 60 Rouge, Canada http://www.rougecalgary.com
 61 Etxebarri, Spain http://www.asadoretxebarri.com
 62 Tantris, Germany http://www.tantris.de
 63 Akelarre, Spain http://www.akelarre.net
 64 GasteHaus Klaus Erfort, Germany
 http://www.gaestehaus-erfort.de
 65 Bo Innovation, China http://www.boinnovation.com
 66 Zuma, U.K. http://www.zumarestaurant.com
 67 Marque, Australia http://www.marquerestaurant.com.au
 68 Ruscalleda Sant Pau, Spain http://www.ruscalleda.com
 69 Chez Panisse, U.S. http://www.chezpanisse.com
 70 Quique Dacosta, Spain http://www.quiquedacosta.es
 71 Ristorante Cracco, Italy http://www.ristorantecracco.it
 72 Pujol, Mexico http://www.pujol.com.mx
 73 Attica, Australia http://www.attica.com.au
 74 Rust En Vrede, South Africa http://www.rustenvrede.com
 75 Varvari, Russia http://www.anatolykomm.ru
 76 La Grenouillere France http://www.lagrenouillere.fr
 77 Langdon Hall, Canada http://www.langdonhall.ca
 78 Les Amis, Singapore http://www.lesamis.com.sg
 79 Can Fabes, Spain http://www.canfabes.com
 80 La Gazzetta, France http://www.lagazzetta.fr
 81 Plavi Podrum, Croatia http://www.gastronaut.hr
 82 The River Cafe, U.K. http://www.rivercafe.co.uk
 83 Mirazur, France http://www.mirzazur.fr
 84 Gunther's, Singapore http://www.gunthers.com.sg
 85 Doce Uvas, Russia http://www.doceuvas.ru
 86 Manresa, U.S. http://www.manresarestaurant.com
 87 Enoteca Pinchiorri, Italy
 http://www.http://www.enotecapinchiorri.com
 88 Quintessence, Japan http://www.quintessence.jp
 89 Restavracija JB, Slovenia http://www.//jb-slo.com
 90 Amber, China http://www.mandarinoriental.com
 91 Masa, U.S. http://www.masanyc.com
 92 Le Gavroche, U.K. http://www.le-gavroche.co.uk
 93 Cafe Pushkin, Russia http://www.cafe-pushkin.ru
 94 Semifreddo, Russia http://www.semifreddo-restaurant.com
 95 Alain Ducasse at the Dorchester, U.K.
 http://www.alainducasse-dorchester.com
 96 Cepage by Les Amis, Hong Kong http://www.lesamis.com.sg
 97 La Pergola, Italy 98 Le Louis XV, France
 http://www.alain-ducasse.com
 99 Le Pre Catelan, France http://www.precatelanparis.com
100 Amador, Germany http://www.restaurant-amador.de
(Richard Vines is the chief food critic for Muse, the arts and leisure section of Bloomberg News. Opinions expressed are his own.)