Sun, 3Com Tips Passed in Insider-Trading Scheme, U.S. Says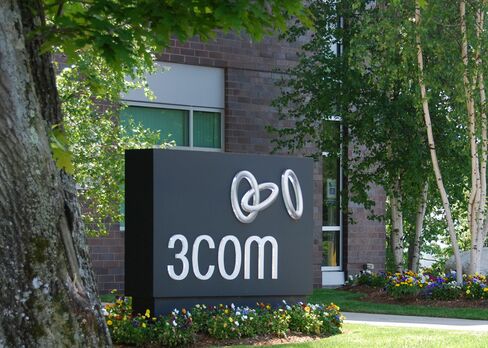 A former Wilson Sonsini Goodrich & Rosati PC attorney passed mergers and acquisition data in an insider-trading scheme that netted more than $32 million in illicit profits since 2006, U.S. prosecutors charged today.
Matthew Kluger stole non-public data on companies including Sun Microsystems Inc., 3Com Corp. and Acxiom Corp., according to a Federal Bureau of Investigation arrest complaint. Kluger passed tips to a middleman who gave them to Garrett Bauer, a stock trader who was arrested today, according to the complaint. Bauer made more than $30 million on the scheme, the middleman more than $875,000, and Kluger more than $500,000, U.S. Attorney Paul Fishman said at a news conference in Newark, New Jersey.
Kluger, who worked in the Washington office of Wilson Sonsini from December 2005 to March 2011, also passed illegal tips when he was an associate at Cravath Swaine & Moore LLP from 1994 to 1997 and at Skadden Arps Slate Meagher & Flom LLP from 1998 to 2001, Fishman said.
The scheme "amounts to nothing short of a highly organized criminal enterprise designed and carried out by industry professionals and fueled by intense greed," Daniel M. Hawke, chief of the U.S. Securities and Exchange Commission market abuse unit, said at the news conference.
"Kluger had access to inside information concerning clients' potential sales and mergers," according to the FBI complaint. "While at Cravath, Skadden and Wilson Sonsini, Kluger repeatedly violated his fiduciary and other duties of trust to the firms and their clients by providing inside information" to Bauer and the conspirator.
N.Y. Condo, Florida Home
The men invested more than $109 million in the scheme and netted more than $32 million in illicit profits, according to the complaint. Bauer bought a $6.65 million condominium in Manhattan, where he conducted his trading, and an $875,000 home in Boca Raton, Florida, the FBI said.
The SEC also filed a civil complaint against Kluger, 50, of Oakton, Virginia, and Bauer, 43, of New York.
Bauer was arrested today in Manhattan and Kluger was arrested at home in Oakton. Bauer appeared today in federal court in Newark, where a magistrate judge ordered him held without bail. Assistant U.S. Attorney Matthew Beck said that he posed a "very significant flight risk" and the case against him is "overwhelming." U.S. agents seized a $20.5 million account and a $37 million Citigroup Inc. account that Bauer controlled, and he told court officials that he had $70 million in assets, Beck said.
Beck said the case involves "three of the most prominent law firms in the nation." He said the probe has shown "there is actually a fourth law firm included in this case," and the size of the illicit profits will "significantly increase."
ATM Machine
Bauer would regularly stand at an ATM machine in Manhattan and take out the maximum of $5,000 from each of six accounts to draw cash for the scheme, the prosecutor said. He also obtained millions of dollars from a third party on "multiple occasions" to help him execute trades, the prosecutor said.
U.S. Magistrate Judge Mark Falk said he will have a bail hearing when defense lawyers and the government work out an agreement.
"It does appear as if it is a bailable case," Falk said. He set a preliminary hearing for April 18.
'Vastly Overstated'
After today's hearing, Bauer attorney Donald Derfner said the prosecutor "vastly overstated" the size of accounts that agents seized. "There is still a presumption of innocence," he said.
Kluger appeared without a lawyer today in federal court in Alexandria, Virginia, where U.S. Magistrate Judge Theresa Buchanan ordered him held without bail. The judge set a bail and preliminary hearing for April 8. Kluger asked the judge to appoint a lawyer for him.
Kluger "was careful to steal and disclose information about deals on which he did not personally work, but which he learned about by searching his law firm's computer system," according to the FBI complaint.
Kluger gave that inside data to the middleman, referred to by the FBI as a conspirator, who passed it to Bauer, with instructions on how many shares to buy for Kluger and the conspirator, the FBI said.
Prepaid 'Throwaway' Phones
To avoid detection, the men turned in recent years to pay phones and prepaid cellular "throwaway" phones to discuss illicit trades, the FBI said. When they learned last month that authorities were closing in, all three men "destroyed various pieces of evidence relating to the scheme, including computers, an iPhone and their prepaid cellular phones," the FBI said.
The FBI said Kluger funneled tips before the announcements in May 2006 that Quantum Corp. would buy Advanced Digital Information Corp.; in May 2006 that Silver Lake Partners and Value Act Partners would buy Acxiom Corp.; in June 2007 that Elevation Partners would invest $325 million in Palm Inc.; and in September 2007 that affiliates of Bain Capital Partners LLC would acquire 3Com.
Kluger also supplied tips before announcements in September 2007 that Omniture Inc. would acquire Visual Sciences Inc.; in March 2008 that Ansys Inc. would acquire Ansoft Corp.; in April 2009 that Oracle Corp. would buy Sun; in September 2009 that Adobe Systems Inc. would acquire Omniture Inc.; in November 2009 that Hewlett-Packard Co. would buy 3Com; in August 2009 that Intel Corp. would acquire McAfee Inc.; and in February 2011 that CSR Plc would merge with Zoran Corp., according to the FBI.
The illicit profits in those 11 transactions ranged from $199,248 in the Hewlett-Packard-3Com deal to $11.4 million in the Oracle-Sun deal, according to the FBI complaint.
J&J, IBM
Both men were charged with conspiracy to commit securities fraud, securities fraud, conspiracy to commit money laundering and obstruction of justice. They could face as many as 20 years in prison on the most serious charges.
The FBI also charges Kluger gave inside tips on Johnson & Johnson's 1994 acquisition of Neutrogena Corp.; International Business Machine Corp.'s acquisition in 1995 of Lotus Development Corp.; IBM's purchase in 1996 of Tivoli Systems Inc.; Unilever's 1996 purchase of Helene Curtis Industries Inc.; and America Online Inc.'s acquisition in 1999 of MovieFone Inc.
Agents from the FBI and Internal Revenue Service executed a search warrant at the conspirator's home on March 8 and asked him about suspicious trades and "numerous instances of structuring cash into and out of" his account, according the complaint. He agreed to record Kluger on March 17, Fishman said.
'It Could Get Ugly'
In a phone call cited in the complaint, Kluger "expressed concern that law enforcement could tie him" to the conspirator, "admitted he was the source of the inside information and described obtaining documents from the Wilson Sonsini document system," according to the FBI.
"If they start looking at me and look at my bank records and all that other stuff it could be, it could get ugly," Kluger said on the call, according to the complaint.
The SEC complaint refers to the middleman who passed Kluger's tips to Bauer. In mid-March, as Bauer and Kluger feared they would be caught, they began destroying phones, computers and records, the SEC complaint said.
"Bauer even suggested that the middleman should take the $175,000 in cash proceeds from a recent transaction and 'burn it in a fire,'" according to the SEC. "Kluger also told the middleman, 'as long as Mr. G (Garrett Bauer) keeps his mouth shut and I keep mine and you keep yours, I don't think they're gonna find enough of anything.'"
'I Can't Sleep'
On March 18, Bauer was recorded saying he destroyed a prepaid phone and tossed it in two separate trash cans at a McDonald's restaurant in New York, the FBI said.
"I can't sleep," he said. "I can't sleep. I am waiting for the FBI to ride into my apartment. And I am on edge all night thinking that they're coming."
On March 21, Bauer was recorded saying: "I mean the fact is we did something wrong. So it is not like we are being convicted of doing nothing. We did something wrong here."
Bauer was recorded March 28 saying: "You just feel more comfortable that we talk all on cell phones this entire time. You know. And that there is no way that they could ever be recorded."
Bauer worked from October 1991 to January 1994 at a broker-dealer where the middleman also worked for a portion of the time, according to the SEC. Kluger and the middleman knew each other since at least 1987, and they worked together from 1987 to 1991, a year before Kluger enrolled at New York University School of Law, according to the SEC.
'We Were Shocked'
"We were shocked to learn of the conduct the government has alleged a former employee committed against us and two other prominent law firms," said Courtney Chiang Dorman, a senior vice president at Wilson Sonsini. "We have provided our full support to the federal investigation and will continue to do so. In light of the pending actions by the U.S. Attorney's Office and the SEC, we are not in a position to comment further."
Cravath spokeswoman Robin Shanzer didn't immediately return a phone call and e-mail seeking comment.
"We have strict policies that protect our clients' confidential information, which we monitor closely," Skadden spokesman Brendan Intindola said in a statement. "It would be deeply disappointing if these policies were not followed in this instance. We are cooperating fully with the government."
The criminal case is U.S. v. Garrett Bauer, 11-mj-3536, U.S. District Court, District of New Jersey (Newark). The SEC case is Securities and Exchange Commission v. Matthew H. Kluger and Garrett D. Bauer, U.S. District Court, District of New Jersey (Newark).
Before it's here, it's on the Bloomberg Terminal.
LEARN MORE