Southwest Grounds Five Boeing 737s With Fuselage Cracking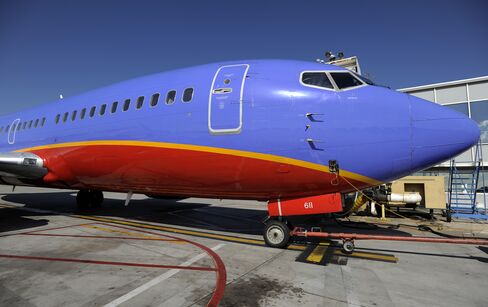 Southwest Airlines Co. grounded five Boeing Co. 737-300 jets for fuselage cracks found during inspections triggered by a plane splitting open during flight.
Checks of 79 737-300s are now complete, a spokeswoman, Brandy King, said today in an e-mail. The airline has said the aircraft found with cracks will remain out of service until a repair plan is crafted with Boeing.
The Federal Aviation Administration said it will issue an emergency directive today requiring U.S. airlines to inspect about 175 older 737s for cracks. The plan covers only planes with more than 30,000 cycles, representing one takeoff and landing, from among about 1,800 of those models in service.
Southwest is the world's largest operator of 737s, with 548, and flies only that plane type. The inspections performed on the 79 737-300s forced the Dallas-based carrier to cancel almost 700 flights through yesterday since April 2, a day after the hole formed in a plane flying over Arizona.
Airlines must make regular checks of planes for metal fatigue, which can occur as jets endure the stress of takeoffs, landings and low outside air pressure of high-altitude flight.
Boeing is issuing its own service bulletin urging carriers to check lap joints on some 737-300s, 737-400s and 737-500s, said Marc Birtel, a spokesman for the Chicago-based planemaker. Those joints are where the aluminum fuselage skin panels overlap and are attached with fasteners.
Safety Board Probe
The National Transportation Safety Board is investigating the incident involving Southwest Flight 812, which had to make an emergency landing in Yuma, Arizona, after the fuselage ripped open. The agency has said the Southwest jet showed signs of fatigue cracking near the hole in the hull.
The NTSB has analyzed Southwest maintenance records and found all inspections on the plane were up to date, and there were no discrepancies and no outstanding maintenance items, board member Robert Sumwalt said in a briefing yesterday. Southwest's fleet consists of 171 737-300s, 25 737-500s and 352 737-700s, according to U.S. regulatory filings.
Flight 812 was bound for Sacramento, California, from Phoenix. A flight attendant and a passenger were injured.
Before it's here, it's on the Bloomberg Terminal.
LEARN MORE