Cephalon Spurns Valeant's $5.7 Billion Hostile Bid as Low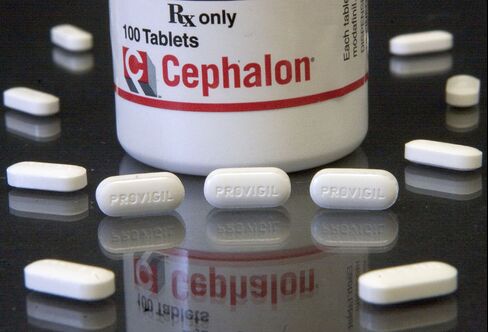 Four months after its founder and chief executive officer passed away, Cephalon Inc. is battling a $5.7 billion hostile bid from Valeant Pharmaceuticals International Inc., saying the offer is too low.
Cephalon rejected Valeant's $73-a-share cash bid yesterday, saying it is "opportunistic" and undervalues the company's marketed and experimental medicines. At that price, the deal would be the cheapest of any drug company takeover of more than $1 billion, according to data compiled by Bloomberg.
Cephalon is probably searching for other buyers, though most potential acquirers have likely evaluated the company already, said Eric Schmidt, an analyst with Cowen & Co. in New York. Schmidt doesn't expect another bidder to emerge since "Cephalon has had a target on its back since Frank Baldino passed away," he said, referring to the founder in an e-mail yesterday. Valeant may need to raise its price to $75 to $80 a share before there's a deal, he said.
"It will take a couple months," Schmidt said. "There will be a dance and courtship and there will be a deal at the end of that process."
Cephalon, based in Frazer, Pennsylvania, fell 35 cents to $77.02 at 4:30 p.m. New York time in Nasdaq Stock Market trading. The shares had lost 19 percent in the 12 months before the Valeant made its bid. Valeant, whose shares more than doubled in that period, dropped $1.59, or 3 percent, to $52.37 on the New York Stock Exchange.
Approaches Rejected
Valeant, based in Mississauga, Ontario, made its offer public March 29, after Cephalon rejected private approaches. The company said it intends to move swiftly and yesterday named a slate of seven directors it is proposing to replace Cephalon's board. Cephalon set a record date of April 8 by when shareholders must own stock to be able to vote on Valeant's proposal.
"We continue to strongly believe that it is in the best interests of both Valeant's and Cephalon's stockholders to resolve this matter quickly, one way or the other," Valeant CEO J. Michael Pearson said in a statement yesterday. "Valeant will move fast. We had hoped that Cephalon would do the same. Now, it will be in the stockholders' hands."
Cephalon reported 2010 revenue of $2.81 billion. The company sells the narcolepsy treatment Provigil, which last year generated sales of $1.12 billion. The medicine faces a loss of patent protection in April 2012. Cephalon is also in late-stage studies on medicines for lupus and pain, it says on its website.
'Significantly Undervalued'
"The Cephalon board believes that your proposed price significantly undervalues Cephalon, its key assets and its prospects," CEO J. Kevin Buchi wrote in a letter to Pearson reprinted in yesterday's statement.
Natalie de Vane, a spokeswoman for Cephalon, yesterday said the company declined to comment further.
Valeant's $73-a-share proposal values Cephalon at 5.3 times earnings before interest, taxes, depreciation and amortization. The deal would still be the cheapest in history even if Valeant raised it to $84, Bloomberg data show. That price would be less than the 6.1 times Ebitda that Little Chalfont, England-based Amersham Plc agreed to pay for Nycomed ASA in July 1997 -- currently the cheapest drug takeover on record, the data show.
Valeant plans to fund the deal with debt and anticipates using cash generated by Provigil and the potential sale of Cephalon assets in western Europe to pay it down, Pearson said at the time it announced the offer.
$6.7 Billion in Debt
To complete the takeover, Valeant will need to raise $6.7 billion in debt, he said. The company had $400.4 million in cash and equivalents versus $3.6 billion in total debt at the end of 2010, data compiled by Bloomberg show.
The company has "received positive feedback from many of the largest stockholders" and is "ready to quickly commence and close our transaction," Pearson said in yesterday's statement. He said last week the offer is "very fair," and that he wouldn't get into a bidding contest.
If Valeant is successful, the acquisition would be the largest hostile takeover in the industry since Sanofi-Aventis SA bid for Genzyme Corp. last year. The French drugmaker offered $18.5 billion in August for the Cambridge, Massachusetts-based biotechnology company before raising its bid to $20.1 billion to secure a deal in February.
Cephalon was founded in 1987 by Baldino, a biotechnology pioneer who died in December of leukemia. When Baldino acquired Provigil in 1993, analysts estimated it would generate no more than $50 million in annual revenue. In 2009, the drug became a blockbuster, surpassing $1 billion in sales.
"When you lose your CEO, it's common business knowledge that you're probably more susceptible to a takeover like this," Cowen's Schmidt said in a telephone interview last week. "Especially when you have a CEO like Frank."
Before it's here, it's on the Bloomberg Terminal.
LEARN MORE