Texas Instruments to Acquire National Semi for $6.5 Billion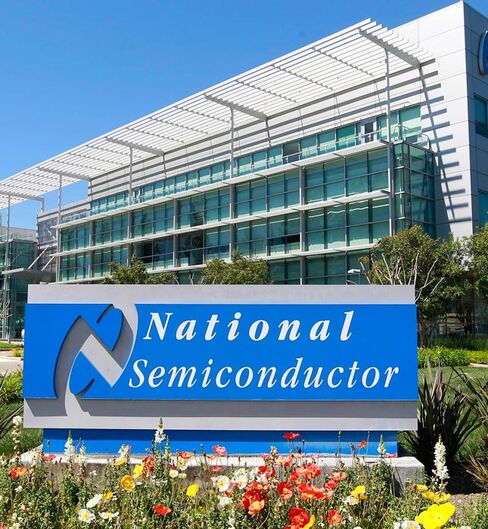 Texas Instruments Inc., the second-largest U.S. chipmaker, agreed to buy National Semiconductor Corp. for about $6.5 billion, its biggest acquisition, to add higher margin analog semiconductors.
National Semiconductor shareholders will get $25 a share in the all-cash transaction, the Dallas-based company said today in a statement. That's a 78 percent premium to National Semiconductor's closing price today of $14.07.
Chief Executive Officer Rich Templeton is deepening the company's focus on analog products after phasing out chips that control radio signals in mobile phones. National Semiconductor has widened its gross margin in recent years as it exited less-profitable businesses to emphasize chips that control power supply to electronics components.
"It's a really strong commentary on the outlook for semis," said Vijay Rakesh, an analyst at Sterne Agee & Leach Inc. in Chicago. "It shows more confidence that longer-term growth is still there and they are willing to pay up for it."
Templeton is paying more than four times the average premium that was paid in the 196 semiconductor acquisitions in the past year, according to Bloomberg data. The average disclosed size of those transactions was $129.8 million.
'Pretty Good Growth'
"At current valuations it looks like they are overpaying, but longer-term it implies they see pretty good growth there," said Rakesh, who recommends buying shares of Texas Instruments.
The transaction will be funded with a combination of existing cash balances and debt, Texas Instruments said. The company had $3.07 billion in cash and short-term investments in the fourth quarter that ended in December.
Morgan Stanley, the financial adviser for Texas Instruments on the deal, is providing $2.5 billion in a bridge loan to the company, according to a person with knowledge of the matter. Jones Day provided legal advice to Texas Instruments. Qatalyst Partners and Goldman Sachs Group Inc. were National Semiconductor's financial advisers. Latham & Watkins LLP acted as legal counsel.
Texas Instruments fell 1 percent to $33.75 in after-hours trading. It lost 12 cents to $34.11 at 4 p.m. on the New York Stock Exchange. National Semiconductor, based in Santa Clara, California, rose to $24.32 in late trading, after dropping 16 cents to $14.07 on the NYSE. The last time it traded at $25 was in November 2007.
'Ripe' Deal
The acquisition bumps Texas Instruments' 2000 purchase of Burr-Brown Corp. for $6.1 billion to its second-largest. Today's deal marks the biggest chip takeover since 2006, when a group of private equity firms, led by Blackstone Group LP bought Freescale Semiconductor Inc. for more than $16 billion.
Analog chips go into products as wide ranging as weapons-guidance systems and kidney-dialysis machines. Together the companies will have a portfolio of 42,000 analog-chip products, and those sales will represent almost half of Texas Instruments' total revenue, the company said.
Texas Instruments and National Semiconductor have some overlap, giving them latitude for cost reductions, according to Doug Freedman, an analyst at Gleacher & Co. who rates both companies a "buy" and doesn't own shares.
"These companies call on the same customer base," said Freedman, who is based in San Francisco. "This one was ripe for the picking."