Wistron Extends Share-Sale After Plan Erodes Its Market Value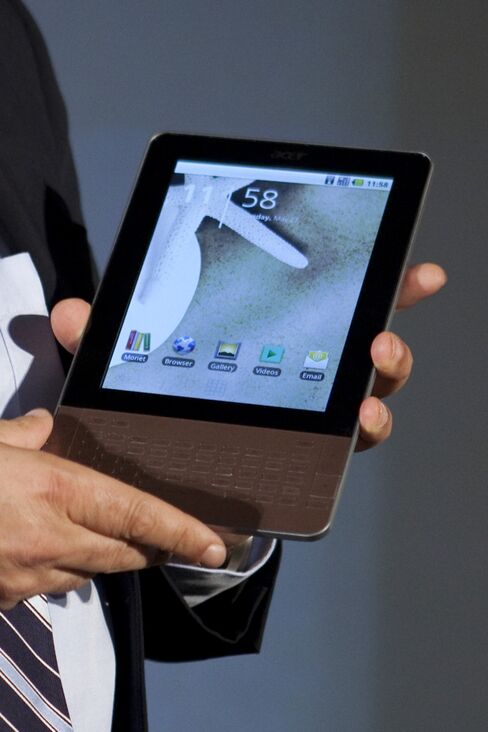 Wistron Corp., a Taiwanese maker of laptop computers for Acer Inc., will extend the deadline of a planned stock sale after losing almost a quarter of its market value since announcing the fund-raising.
Taiwan's financial regulator approved a three-month extension to June 30, Hsinchu, Taiwan-based Wistron said in a statement to the exchange yesterday. Wistron shares have fallen 24 percent since its announcement in December.
Conventional laptops are losing appeal to new devices such as handhelds with touch screens, analysts including Dean Lim at Mirae Asset Securities, said. Companies like Acer, the world's second-largest maker of personal computers, may need to focus more on developing tablet models to boost profit.
"Sentiment isn't very positive on laptop stocks lately," said Bevan Yeh, who doesn't own Wistron shares in the NT$$7 billion fund he helps manage at Prudential Financial Securities Investment Trust Enterprise in Taipei. "It's good to extend the fund-raising" to give the company's share price a chance to move higher, Yeh said.
Wistron aims to raise NT$3.3 billion ($113 million) selling up to 60 million new shares in a secondary public offering, and as much as $292.5 million selling Global Depositary Receipts equivalent to no more than 150 million new shares, according to a Dec. 1 statement. It didn't say where the GDRs will be traded.
Loans, Materials
Proceeds from the sales will go to repay bank loans, purchase raw materials overseas and strengthen Wistron's financial structure, according to Dec. 1 statements.
Wistron posted net income of NT$3.1 billion for the three months ended Dec. 31, unchanged from the fourth quarter of 2009 and down from NT$3.3 billion in the previous quarter.
Shares of the manufacturer, spun off from Acer in 2003, climbed 0.9 percent to NT$47 in Taipei yesterday before it announced the extension. The stock trades at 7.2 times its projected 2011 earnings, compared with 13 times for the benchmark Taiex. Wistron has fallen 21 percent this year, against a 3 percent slide by the index.
Acer, whose stock slumped 37 percent this year, said this week Chief Executive Gianfranco Lanci quit after clashing with board members over strategy.
Wistron also provides manufacturing services for companies other than Acer, building mainly laptop and notebook computers.
Before it's here, it's on the Bloomberg Terminal.
LEARN MORE