Wal-Mart Said to Plan Test of Online Grocery Delivery Service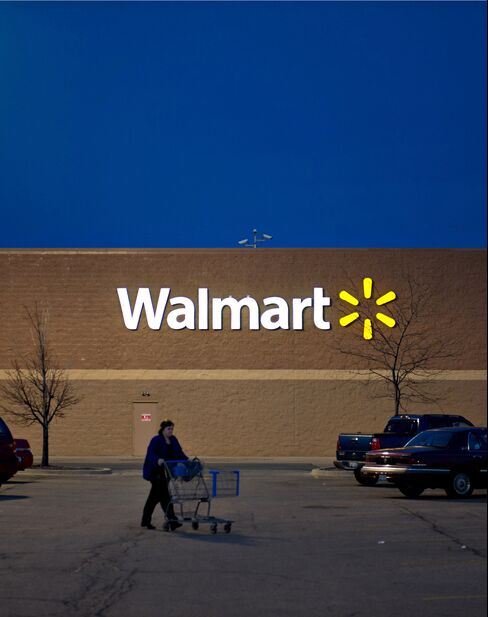 Wal-Mart Stores Inc., the world's largest retailer, plans to test its first fresh grocery delivery service in California, looking online for new sources of revenue growth, said a person familiar with the project.
The Web service, internally dubbed "Project Titan," hasn't yet been approved and may not happen, said the person, who declined to be identified because plans aren't final. If it goes forward, Wal-Mart stores in the San Jose area would fill deliveries for shoppers living nearby, the person said.
"Wal-Mart needs to get more serious about e-commerce, so that would be interesting," Matt Nemer, analyst at Wells Fargo, said in an interview. "Grocery delivery works in urban markets, and they already do it in the U.K., so they have experience." The San Francisco-based analyst rates the shares "market perform."
Wal-Mart is focusing on its online business after seven consecutive quarters of declining sales at U.S. stores open more than a year. Chief Executive Officer Mike Duke also is introducing smaller Express locations to lure shoppers away from grocery stores and rival discounters such as Dollar General Corp. and Target Corp.
Sales at U.S. Wal-Mart stores topped $260 billion in the year ended Jan. 31. Bill Simon, chief of the U.S. operations, said in October that Wal-Mart would test online grocery "in the coming year." The company currently offers grocery delivery in the U.K., Mexico and Japan.
Online Efforts
"There are rumors about our business all the time and we don't comment on them," Ravi Jariwala, a spokesman for Bentonville, Arkansas-based Wal-Mart, said in an interview. "We will continue to evaluate our assortment to determine where to expand and best serve our customers."
To help lead the effort, the retailer transferred Richard Ramsden, who previously headed home shopping for Wal-Mart's Asda division in the U.K., to the headquarters of Walmart.com in Brisbane, California.
Wal-Mart rose 8 cents to $52.13 yesterday in New York Stock Exchange composite trading. The shares have fallen 3.3 percent this year.
Walmart.com, which began operations in 2000, offers more than half a million items, including some not available in its 3,800 U.S. stores, such as hot tubs. Online sales rose as much as 70 percent last year to about $6 billion, according to Nemer.
Last year, Walmart.com expanded its dry grocery assortment to include breakfast items, beverages, snacks and candy. Those products are sold in multi-packs, such as six boxes of Honey Nut Cheerios for $21. At the same time, the site started free same-day pickup of online orders in its stores, which will be available at all locations by June.
Regional Presence
The online grocery industry fractures along regional lines in the U.S., cutting down shipping costs for local purveyors, according to Sucharita Mulpuru, an analyst at Forrester Research. Webvan Group Inc., an early mover in the space, sought bankruptcy protection in 2001 after expanding into 10 U.S. cities in an attempt to gain national scale. Other online-supermarket services, such as PublixDirect, also failed.
"Webvan failed partly because it was unable to match its sales with its delivery costs," Mulpuru, who is based in Cambridge, Massachusetts, said in an interview. "Brick-and-mortar retailers, though, with established brands and a local presence, have the advantage of fulfillment at regional stores."
Peapod, owned by Dutch retailer Koninklijke Ahold NV, is one of the biggest Internet grocers in the U.S., offering home delivery in eight East Coast states as well as in Washington through its Stop & Shop and Giant stores. Founded in 1989, Peapod also delivers to homes in the Midwest through a Chicago warehouse, according to its website.
Safeway Efforts
Safeway.com, a unit of Pleasanton, California-based Safeway Inc., the fourth-largest supermarket chain by stores, also offers Web-based delivery on the West Coast in cities including San Jose, as well as in Philadelphia and Washington. In Seattle, Amazon.com Inc. offers Amazon Fresh, which began as a test project in 2007 and has grown since, keeping costs low by limiting advertising.
U.S. online retail sales grew 13 percent in 2010 to $176 billion, according to Forrester, which predicts they will climb to $279 billion by 2015. Online grocery sales make up about $10 billion of that, according to the research firm.
"Consumers are still hesitant to purchase some grocery products online, and perishable products top that list," said Mulpuru, the Forrester analyst. The shoppers who do buy groceries online are "an attractive demographic," as they spend more money than other Internet shoppers, she said.
Before it's here, it's on the Bloomberg Terminal.
LEARN MORE