Scene Last Night: Vodka Cakes, Moet Boost Traders' Annual Party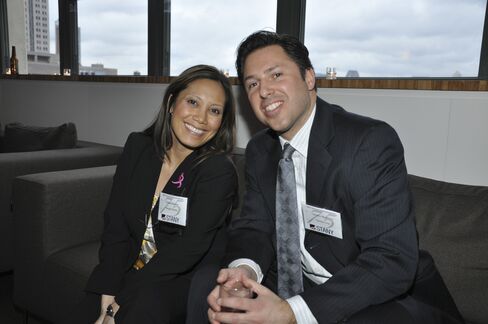 Maintaining stamina was the priority at the mega-schmooze fest organized by the Security Traders Association of New York.
The event Thursday night was at Three Sixty, a Tribeca loft offering views of the city all around. Guests kept at their networking with the help of pasta, fish and beef buffets, as well as vodka-laced cupcakes served atop shot glasses and a party soundtrack with a bias for Prince and the Who.
"We really care about our industry," said Lisa Marie Utasi, a senior equity trader at ClearBridge Advisors and a past chairman and president of the organization. "We want to make markets better. More efficient, transparent," she said.
A series of panels earlier in the day featured Benjamin F. Sylvester, head of U.S. Equity Trading at JP Morgan Asset Management, and R. Cromwell Coulson, president and chief executive of OTC Markets Group.
OTC was handing guests boxes containing two pieces of Jacques Torres chocolate and served with a glass of Moet Champagne. On offer at other booths: a Goldman Sachs Electronic Trading paper cube, a clear rubber ball with the SunGard logo and several varieties of packaged mints.
"I've met some of my closest friends through this organization," said James Schroeder, an executive director at JP Morgan who has been a STANY member, he said, for "at least 20 years."
(Amanda Gordon is a writer and photographer for Muse, the arts and leisure section of Bloomberg News. Any opinions expressed are her own.)