Microsoft's Complaint May Expand Google Antitrust Probe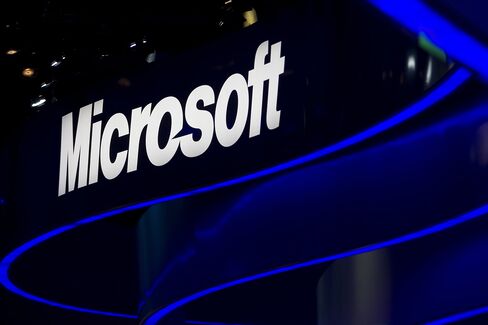 Microsoft Corp.'s antitrust complaint against Google Inc. may expand an existing European Union probe beyond Internet searches to online video and mobile phones.
Google bars rivals from search boxes on websites, hinders advertisers from transferring campaign data between search ad platforms and blocks phones running Microsoft's operating system from working properly with YouTube, Redmond, Washington-based Microsoft said in a blog posting by General Counsel Brad Smith.
The complaint to EU regulators in Brussels threatens to widen a probe started last year after a Microsoft unit and two other rivals last year complained that the company's dominance chokes off advertising revenue. Google has almost 95 percent of the search market in Europe, Microsoft's Smith said, citing data from regulators.
"These allegations cover new and difficult ground and, if Google fights, clearly increase the likelihood of a long investigation," said Matthew Hall, an antitrust lawyer at McGuire Woods LLP in Brussels.
Amelia Torres, a spokeswoman for the European Commission, said the antitrust investigation is "still at the preliminary stage" and that regulators would inform Google about the complaint and "ask for its views on it."
Microsoft fell 22 cents to $25.39 today on the Nasdaq Stock Market. Google rose $4.92 to $586.76.
'Not Surprised'
Google "is not surprised" that Microsoft complained because its advertising subsidiary, Ciao from Bing, also filed a complaint last year, said Al Verney, a spokesman for Mountain View, California-based Google in Brussels.
"We continue to discuss the case with the European Commission and we're happy to explain to anyone how our business works," Verney said in an e-mailed statement today.
Google has blocked Microsoft's access to key data it needs for mobile-phone software to display video content from Google's YouTube site "in the same way that Android phones and iPhones do," Smith said.
"Google has engaged in a broadening pattern of walling off access to content and data that competitors need to provide search results to consumers and to attract advertisers," Smith wrote in the blog posting.
Publisher Data
Besides cordoning off YouTube, Google is also seeking to block access to content owned by book publishers and restricting its own advertisers from accessing the data they put in Google servers as part of ad campaigns, said Microsoft, the world's largest software maker.
Carolina Milanesi, a Gartner Inc. analyst in Egham, U.K., said Microsoft can't afford to have YouTube "as a shortfall of the operating system in the consumers' eye" and "it certainly all adds up to judging the overall experience of the phone."
Microsoft, which has been fined 1.68 billion euros ($2.39 billion) by the EU, and Google have squared off before over EU antitrust probes. In addition to the complaint filed by Microsoft's Ciao from Bing unit, Google in 2009 submitted arguments in an EU case over Microsoft's Web browser.
Microsoft last month joined forces with Nokia Oyj, the world's biggest maker of mobile phones, betting that together the two companies can challenge Google Inc. and Apple Inc. Handsets using Google's Android software compete with Apple's iPhones.
Book Deal
Last week a U.S. judge in New York struck down a Google $125 million settlement with U.S. publishers and authors to create a digital library, saying the deal would be unfair to authors. The timing of the Microsoft complaint comes at "the right moment to direct more ammunition at Google," said Nicolas Petit, a competition law professor at the University of Liege in Belgium.
Google also has signed contracts that block top European websites from distributing rival search boxes, Microsoft said. For example, Microsoft can't distribute some e-mail and document services through certain European telecommunications companies that have contracts with Google because these services make use of Bing search boxes, Smith said.
The EU said in November that it's investigating whether Google's AdSense contracts prevent publishers from striking deals to place ads from other services on their sites. It's also looking at claims Google limits advertisers' ability to move data such as key search terms from AdWords to another service.
Before it's here, it's on the Bloomberg Terminal.
LEARN MORE