Acer CEO Lanci Quits After Clashing With Board on Strategy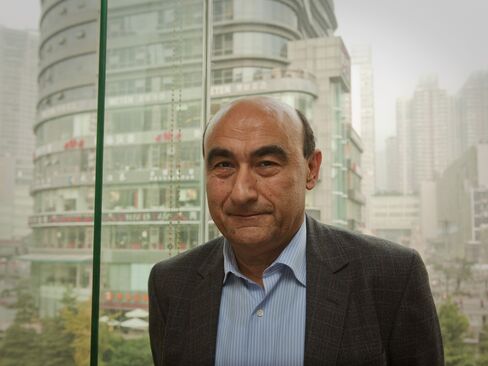 Acer Inc., the world's second-largest maker of personal computers, said Chief Executive Officer Gianfranco Lanci quit after clashing with board members over future strategy.
Lanci, temporarily replaced by Chairman J.T. Wang effective immediately, disagreed with the majority of the board on "future development," the Taipei-based PC maker said in a statement today. The CEO held different views on topics including the importance of growth and branding, it said.
The resignation comes less than a week after the company lowered its sales forecast, which led to a four-day, 18 percent rout of the stock. Analysts at 10 brokerages including Daiwa Securities Group Inc. and Goldman Sachs Group Inc. have lowered their investment ratings on Acer since March 25, citing concerns about earnings.
"The company has been lagging behind in new products such as tablets, and other wireless devices such as smartphones," said Vincent Chen, who rates Acer "sell" at Yuanta Securities Co. in Taipei. "Under Lanci, the company has also lost market share in the small-to-medium business market for PCs, as he had been more focused on the consumer side."
Calls to Lanci's Taipei office weren't answered and e-mails to his Acer account bounced back.
Stock Rout
Acer fell 1.2 percent to close at NT$60 in Taipei before the announcement as the stock headed for its biggest weekly decline since September 2001, when terrorist in the U.S. attacks roiled financial markets. The company said today it plans to buy back 2 percent of outstanding shares.
The computer maker today raised its operating profit margin estimate for the first quarter to 1.5 percent to 2 percent, according Yuanta. The margin for PCs may be lower than in the fourth quarter, though higher than market expectations, Chief Financial Officer Tu Che-min said in an interview, declining to specify figures.
"The board had no choice but to make a decision," Acer founder Stan Shih said in an e-mailed statement. "Faced with the changes in the environment, restructuring and changes are unavoidable processes."
First-quarter sales from PCs may fall about 10 percent from the previous three months because of ''relatively weaker'' demand in Western Europe and the U.S., Acer said March 25. Second-quarter revenue may be little changed from the current quarter even as tablet sales increase, it said then.
Overtaking Dell
Acer overtook Dell Inc. as the world's second-largest maker of PCs in 2009 as the company boosted overseas sales through the acquisitions of Gateway and Packard Bell.
The Italian native, who had been president of the company since 2005, also oversaw Acer as it capitalized on the boom in demand for sub-$500 laptops, known as netbooks, after the worst global financial crisis since World War II prompted consumers to buy cheaper computers.
The focus on netbooks cost Acer last year after Apple Inc. introduced the iPad, which gave consumers an alternative product to a low-end laptop. Acer's market share of the PC market fell to 12.7 percent in the fourth quarter, down from 13.3 percent a year earlier, according to estimates by research firm Gartner Inc.
The Taiwanese company in January reported fourth-quarter profit that missed analysts' estimates after revenue fell 11 percent. Acer said it would start selling its Iconia Touchbook tablet computer this week -- more than a year after the introduction of the Apple iPad.
Texas Instruments
The board and Lanci "placed different levels of importance on scale, growth, customer value creation, brand position enhancement, and on resource allocation and methods of implementation," Acer said.
Lanci, 56, earned a civil engineering degree from the Politecnico of Turin, where he was born. He joined Texas Instruments Inc.'s Italian unit in 1981 and became the manager for the portable computer and printer business in Italy, the Middle East and Africa by age 37, according to Acer's website. In 1997, he was named managing director of Acer Italy after Texas Instruments' portable PC business merged with Acer.
Lanci was promoted to president of the International Operations Business Group in 2003 after heading operations in Europe, the Middle East and Africa, according to Acer.
Wang, born two months before Lanci, became chairman in 2008 after Lanci succeeded him as CEO. Wang has a bachelor's degree in electrical engineering from National Taiwan University and an Executive Master of Business Administration degree from Taiwan's National Cheng-Chi University.
Before it's here, it's on the Bloomberg Terminal.
LEARN MORE