Orders for U.S. Durable Goods Probably Rose in February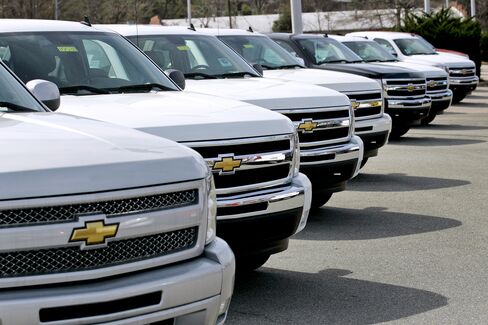 Orders for long-lasting goods probably climbed in February for a second month, pointing to production gains that will keep driving the U.S. recovery, economists said before a report today.
Durable-goods bookings increased 1.2 percent last month after a 3.2 percent gain in January, according to the median projection of economists surveyed by Bloomberg News. Another report may show jobless claims were little changed last week.
Gains in exports, business investment and consumer spending are helping fuel orders at companies such as Texas Instruments Inc. Strength in manufacturing was among reasons the Federal Reserve last week said the economy was on a "firmer footing."
"The manufacturing sector has made a very good recovery," said Robert Brusca, president of Fact & Opinion Economics in New York. "As long as we have continued sales growth, which we do, you would expect to see inventories picking up."
The Commerce Department's report on orders is due at 8:30 a.m. in Washington. Economists' estimates ranged from a decline of 1.6 percent to a gain of 4.5 percent.
A report from the Labor Department at the same time may show the number of applications for jobless benefits fell last week to 383,000 from 385,000 the prior week, according to economists' forecasts.
Consumer confidence last week probably held at the lowest level since August as elevated gasoline prices made Americans pessimistic about the economy. The Bloomberg Consumer Comfort Index held at 48.5 in the period to March 20, economists project the survey will show at 9:45 a.m.
Equipment Orders
Bookings for durable goods excluding transportation equipment like commercial aircraft, which is volatile month to month, may have climbed 2 percent after a 3 percent decline, the Bloomberg survey showed. Capital goods orders climbed 4.3 percent, according to the median projection.
Boeing Co., the largest U.S. maker of aircraft, this month said February orders fell to 21 from 34 in January. Industry data may not correlate precisely with the government statistics on a month-to-month basis.
Auto sales climbed for the past six months. Demand at General Motors Co., Toyota Motor Corp. and Ford Motor Co. in February exceeded analysts' estimates as industrywide sales rose to a 13.38 million annual rate, the most in 18 months.
"We still see good signs of progress despite some of the challenges that do remain in the U.S. market," Donald Johnson, vice president for GM's North America sales, said on a teleconference on March 1. "We're going to see this slow-but-steady growth throughout the year."
Business Spending
Factories, which account for 11 percent of the economy, are likely to remain at the forefront of the recovery as consumers step up spending and businesses replenish inventories and buy new equipment.
"We have seen orders build through the quarter," Ron Slaymaker, vice president of investor relations for Dallas-based Texas Instruments, said on a conference call with analysts March 8. "Based upon what we're seeing through the first two months, we would expect that orders will be up solidly compared to the fourth quarter."
Shares of industrial companies have been outpacing the broader market in the recovery. The Standard & Poor's Machinery Supercomposite Index is up 39 percent in the 12 months ended yesterday, while the S&P 500 is up 11 percent during the same period.
Tax Help
The business spending that helped lead the economy out of recession in mid-2009 may be helped in part by President Barack Obama's
The December tax compromise reached by President Barack Obama and congressional Republicans also included a provision allowing companies to depreciate 100 percent of investments in capital equipment this year and 50 percent in 2011. The incentive may give business investment, which helped lead the economy out of recession in mid-2009, an additional boost.
Demand from fast-growing countries like China and Brazil is spurring U.S. exports of machinery and consumer goods. America exports in January rose to the highest level on record.
One potential hurdle is the March 11 earthquake and tsunami in Japan, which prompted a nuclear crisis and caused electrical outages. U.S. companies are still trying to gauge the effects of the tragedy on international supply chains.
"Manufacturing activity improved" in 11 of 12 Federal Reserve districts in January and early February, Fed policy makers noted in their March 2 Beige Book survey of regional economies. "Demand from abroad, particularly Asia, was cited by several Districts as a driving force in new orders."
                        Bloomberg Survey

================================================================
                          Durables Durables Cap Goods  Initial
                            Orders Ex-Trans      Core   Claims
                              MOM%     MOM%      MOM%   ,000's
================================================================

Date of Release              03/24    03/24     03/24    03/24
Observation Period            Feb.     Feb.      Feb.   19-Mar
----------------------------------------------------------------
Median                        1.2%     2.0%      4.3%      383
Average                       1.2%     1.8%      3.9%      382
High Forecast                 4.5%     3.5%      8.0%      395
Low Forecast                 -1.6%    -3.5%      0.2%      370
Number of Participants          80       49        13       48
Previous                      3.2%    -3.0%     -6.2%      385
----------------------------------------------------------------
4CAST Ltd.                    0.6%     2.5%      ---       373
ABN Amro Inc.                 1.5%     ---       ---       370
Action Economics              2.0%     2.0%      ---       385
Aletti Gestielle              3.2%     ---       ---       390
Ameriprise Financial          0.9%     2.7%      ---       380
Banesto                       1.0%     ---       ---      ---
Bank of Tokyo- Mitsubishi    -0.3%     ---       ---       388
Bantleon Bank AG              1.5%     2.0%      ---      ---
Barclays Capital              2.0%     1.2%      3.0%      385
Bayerische Landesbank         0.5%     2.0%      ---      ---
BBVA                          0.5%     1.4%      ---       375
BMO Capital Markets           1.0%     1.5%      ---       383
BNP Paribas                   0.9%     ---       ---       390
BofA Merrill Lynch            1.5%     2.7%      ---       380
Briefing.com                  0.2%     0.5%      ---       370
Capital Economics             2.0%     3.0%      ---      ---
CIBC World Markets            1.5%     2.5%      ---      ---
Citi                          2.5%     0.8%      0.2%      380
ClearView Economics           1.0%     ---       ---      ---
Commerzbank AG                2.0%     1.5%      ---       370
Credit Agricole CIB           0.8%     1.6%      ---      ---
Credit Suisse                 1.5%     3.5%      5.0%      380
Daiwa Securities America      1.5%     ---       ---      ---
Danske Bank                   1.1%     ---       ---      ---
DekaBank                      0.5%     2.4%      5.0%     ---
Desjardins Group              2.0%     ---       ---       385
Deutsche Bank Securities      0.0%     0.5%      ---      ---
Deutsche Postbank AG          1.0%     3.0%      ---      ---
DZ Bank                       1.2%     2.4%      ---      ---
Exane                         3.0%    -3.5%      ---      ---
Fact & Opinion Economics      0.4%     ---       ---       385
First Trust Advisors          4.0%     2.8%      ---       378
FTN Financial                 1.0%     1.6%      ---      ---
Goldman, Sachs                2.0%     ---       ---      ---
Helaba                        0.8%     ---       ---       385
High Frequency Economics      1.5%     2.5%      ---       385
HSBC Markets                  0.2%     0.4%      0.2%      385
Hugh Johnson Advisors         0.0%     ---       ---      ---
IDEAglobal                    1.0%     1.5%      ---       390
IHS Global Insight            1.6%     ---       ---      ---
Informa Global Markets        1.4%     ---       ---       390
ING Financial Markets         1.2%     1.6%      ---       395
Insight Economics            -0.5%     ---       ---       385
Intesa-SanPaulo               1.0%     2.6%      ---      ---
J.P. Morgan Chase             3.2%     2.5%      3.9%      380
Janney Montgomery Scott       0.9%     0.5%      ---      ---
Jefferies & Co.               1.2%     ---       ---       384
Landesbank Berlin             0.8%     3.5%      8.0%      375
Landesbank BW                 0.5%     ---       ---       380
Maria Fiorini Ramirez         ---      ---       ---       375
MET Capital Advisors          1.4%     ---       ---      ---
MF Global                     2.5%     2.0%      5.0%      380
Mizuho Securities             0.5%    -1.0%      ---       395
Moody's Analytics             1.9%     2.5%      ---       380
Morgan Keegan                 0.4%     ---       ---      ---
Morgan Stanley                1.3%     ---       ---       380
Natixis                       0.5%     1.5%      ---      ---
Newedge                       1.5%     2.8%      ---      ---
Nomura Securities            -0.1%     ---       ---      ---
Nord/LB                      -0.2%     2.0%      ---       390
OSK Group/DMG                 1.2%     ---       ---      ---
Parthenon Group              -1.6%     1.0%      ---       383
Pierpont Securities           1.0%     ---       ---       385
PineBridge Investments        2.4%     2.0%      ---       370
PNC Bank                      0.5%     ---       ---      ---
Raymond James                 1.6%     2.3%      2.5%     ---
RBC Capital Markets           1.1%     1.9%      3.7%      380
RBS Securities                1.5%     2.0%      4.4%      385
Scotia Capital                1.0%     1.8%      ---       390
Societe Generale              4.5%     3.0%      4.3%      375
Standard Chartered            1.0%     2.0%      ---      ---
State Street Global Markets   0.9%     2.3%      ---       383
Stone & McCarthy Research     1.5%     ---       ---       385
TD Securities                 1.5%     0.5%      ---       375
UBS                           1.5%     2.8%      ---       380
UniCredit Research            0.5%     ---       ---      ---
University of Maryland        2.0%     ---       ---       385
Wells Fargo                   1.3%     1.8%      ---      ---
WestLB AG                     1.0%     ---       ---      ---
Westpac Banking Co.           2.0%     ---       ---      ---
Wrightson ICAP                1.5%     ---       5.0%      385
================================================================