General Mills Sales Fall Below Estimates as Cereal Weakens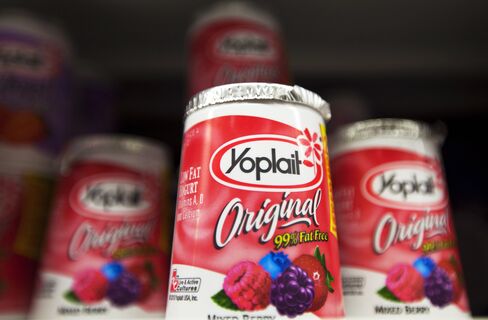 General Mills Inc., the maker of Cheerios, reported third-quarter revenue that missed analysts' projections after cereal sales in the U.S. slumped.
Sales in the period ended Feb. 27 increased 1.6 percent to $3.65 billion,the Minneapolis-based company said today in a statement. That compared with the $3.69 billion average of estimates compiled by Bloomberg.
Revenue from cereal in the U.S. fell 6 percent from a year earlier, when Chief Executive Officer Ken Powell debuted new items like Chocolate Cheerios. The business generates more than $2 billion in sales, making it General Mills's largest.
"The decline in the cereal business stood out to us, and we intend to monitor whether this trend continues over the next few quarters," Erin Lash, an analyst at Morningstar Inc. in Chicago, said in an interview. She recommends holding the shares.
The stock fell 67 cents, or 1.8 percent, to $36.24 at 4 p.m. in New York Stock Exchange composite trading, the most in three months. It has added 1.8 percent this year.
Volatility in commodities markets has posed challenges to the company, Powell, 56, said today on a conference call. General Mill and other food makers face rising costs for raw ingredients like wheat and sugar, leading to price hikes on cereal. The company expects materials costs to rise as much as 5 percent this year, and possibly more in the next.
General Mills, which has the license to distribute Yoplait in the U.S., said sales of the product climbed 1 percent, while snack revenue advanced 14 percent, fueled by Nature Valley bars.
Yoplait Talks
The company is in exclusive talks to buy half of the French yogurt maker from PAI Partners for 810 million euros ($1.15 billion) to expand the brand in developing countries.
The deal, which requires European regulatory approval and consultations with French work councils, should close in the first quarter of fiscal 2012, which begins in June, Powell said.
"This is a unique opportunity to gain access to a terrific global brand," he said. "These opportunities don't come around very often." The Yoplait business is worth $1.5 billion to General Mills, and Powell said industrywide yogurt sales total about $40 billion globally.
Net income in the quarter rose 18 percent to $392.1 million, or 59 cents a share, from $332.5 million, or 48 cents, a year earlier. Excluding the impact of commodity hedges, earnings were 56 cents, matching the average of estimates compiled by Bloomberg. International revenue rose 7.5 percent, fueled by sales in Asia and Europe.
General Mills also reaffirmed its fiscal 2011 profit forecast of $2.46 to $2.48 per share.
Before it's here, it's on the Bloomberg Terminal.
LEARN MORE