Portuguese Government May Collapse Tomorrow, JPMorgan Says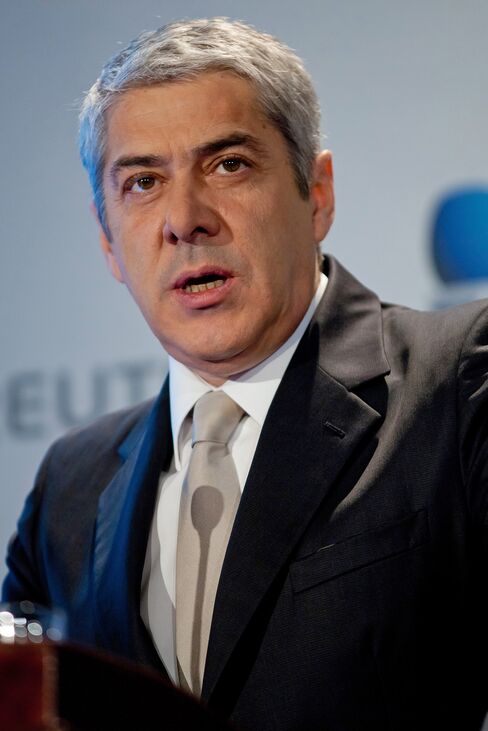 March 22 (Bloomberg) -- Portugal's government may collapse tomorrow as the country's parliament votes on budget cuts that have divided lawmakers, JPMorgan economist Nicola Mai said.
Portuguese Prime Minister Jose Socrates has been attempting to find a compromise with the opposition, "but the opposition does not seem to buy into this," London-based Mai said in a note e-mailed to investors. "The likelihood that the Portuguese government will fall this week looks high. This suggests that the sovereign will likely access" the European Financial Stability Facility "in the near term."
The Portuguese parliament will discuss the stability and growth program at 3 p.m. tomorrow in Lisbon. The Communist Party plans to present a resolution in parliament against the government plan, Bernardino Soares, the party's parliamentary leader, said today.
Socrates had said his government is available to discuss its deficit-cutting measures with opposition parties as he tries to avoid a "political crisis," early elections and the possibility of a bailout. Portugal is raising taxes and implementing the deepest spending cuts in more than three decades, aiming to convince investors it can narrow its budget gap, curb its debt and avoid a bailout.
"If parliament decides on a motion against the stability and growth program, that means the government is not in a condition to make commitments internationally," Socrates said on March 15. "That would mean a political crisis. In my understanding, the consequence of a political crisis is the worsening of the financing risks of our economy and would lead Portugal to request external intervention."
Bond Yields
The spread between Portuguese and German 10-year bond yields widened 10 basis points to 423 basis points today after reaching a euro-era record of 484 on Nov. 11. Ireland in November became the second euro country after Greece to seek a bailout and the first to request aid from the EFSF. Portugal's 10-year bond yield climbed to a euro-era record of 7.70 percent on March 9, according to data compiled by Bloomberg.
To contact the reporter on this story: Joao Lima in Lisbon at jlima1@bloomberg.net. Fergal O'Brien in London at fobrien@bloomberg.net.
To contact the editor responsible for this story: Tim Quinson at tquinson@bloomberg.net.