Qaddafi Cease-Fire Bid Doesn't Deter Allies' Military Moves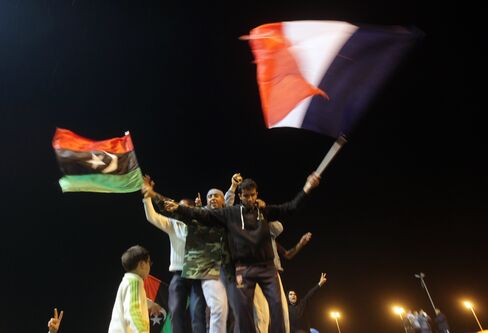 Western allies pressed on with plans for military action against Libya after Muammar Qaddafi's regime declared an immediate cease-fire and said it was willing to talk to rebels.
President Barack Obama set out specific measures Qaddafi must undertake to avert military strikes by the U.S, U.K., France and other allies. He must immediately stop attacks on civilians and halt his advance on Benghazi, the rebel capital. He must pull back from three embattled cities, Ajdabiya, Misrata, and Zawiyah, scenes of deadly and destructive fighting.
Qaddafi must also establish water, gasoline and electricity supplies to all areas, and he must allow humanitarian assistance to "reach the people of Libya," Obama said.
"Let me be clear, these terms are not negotiable," the president said, speaking in the White House.
The United Nations Security Council authorized the use of air attacks and a no-fly zone over Libya to protect civilians from forces loyal to Qaddafi trying to end a monthlong uprising. The resolution, approved yesterday 10-0 with five abstentions, allows the U.S., the U.K., France and Arab nations to "take all necessary measures" to protect civilians.
The UN decision came as leaders in some Middle East countries took steps to combat a renewed upsurge of violence that left dozens dead in Yemen today.
'Stalling Tactic'
Forces loyal to Qaddafi shelled the coastal city of Misrata, east of Tripoli, even after the regime's cease-fire announcement, al-Jazeera television reported, citing witnesses. Twenty-five people have been killed there today, Qatar-based al-Jazeera said, citing medical staff.
The Libyan cease-fire bid "is game-playing and it would be folly for the West to fall for it," Barak Seener, Middle East research fellow at the Royal United Services Institute in London, said in a telephone interview. "It's a stalling tactic and he's attempting to create fissures within the international community."
Obama's remarks on Libya, his first since the passage of a UN Security Council resolution, were made after consultation with U.K. Prime Minister David Cameron and French President Nicolas Sarkozy. The allies are prepared to take military action, Obama said, because of the "potential for mass murder of innocent civilians" by Qaddafi's forces.
Obama said the U.S. and its allies won't use force beyond the goal of protecting civilians and the U.S. won't send ground forces into Libya. He indicated the U.S. will help enable a no-fly zone to be established by the U.K. and France.
Deploying Forces
In London, Cameron told lawmakers the U.K. would "in the coming hours" deploy Panavia Aircraft GmbH Tornado and BAE Systems Plc. Eurofighter Typhoon warplanes, air-to-air refueling craft and surveillance aircraft to enforce the no-fly zone. After Cameron spoke in London, Libyan Foreign Minister Moussa Koussa made the cease-fire announcement in a televised news conference carried by al-Arabiya television.
Oil fell after Libya said it will cease military operations against rebels and begin talks. Crude oil for April delivery dropped 35 cents to settle at $101.07 a barrel on the New York Mercantile Exchange. Futures were up as much as 2.2 percent to $103.66 before the Libyan announcement.
Libyan Pause
Qaddafi's son, Saif al-Islam, signaled after the UN resolution that government troops won't try to enter the rebel stronghold of Benghazi, though they will encircle it, backing away from earlier threats, Agence France-Presse reported. Qaddafi had said he'd "destroy" the opposition movement, recapture Benghazi, a city of 1 million people, and show "no mercy" to "traitors" who don't surrender.
The cease-fire announcement "is a smart tactical move to change the question from helping the rebels to that of regime change," said Jan Techau, director of the Carnegie Endowment for International Peace in Brussels and a former analyst at the North Atlantic Treaty Organization Defense College in Rome and the German Defense Ministry.
"Qaddafi's testing the determination of the West to see if Obama, Sarkozy and Cameron really mean what they say when they demand his removal," Techau said in a telephone interview.
Cameron told Parliament in London that the UN resolution falls short of giving the authority for regime change in Libya, saying "we have to restrict ourselves" even though "almost every leader has actually said the Qaddafi regime has to go."
'A Big If'
Libya's announcement is "a big if," said the European Union foreign-policy chief, Catherine Ashton.
"Everybody will be examining that very carefully," Ashton told reporters in Brussels. "The universal view is that Qaddafi should go, the regime should end."
Cameron said he'll attend a meeting in Paris tomorrow hosted by Sarkozy with the Arab League. Obama said he is sending Secretary of State Hillary Clinton.
Obama called Cameron and Sarkozy last night to discuss enacting the resolution, the White House said in a statement. The three agreed to work closely with Arab and other international partners on enforcing the terms of the resolution and called for an end to the violence against civilians in Libya, the White House said.
NATO members Britain, France, Denmark, Spain and Canada, along with the U.S., have pledged planes to a mission over Libya, according to government statements and press reports, and Qatar said it would participate in the plan.
France has the aircraft carrier Charles de Gaulle, at the Mediterranean port of Toulon, prepared to deploy, Laurent Teisseire, spokesman for the defense ministry said in a telephone interview.
U.S. Forces
The U.S. ordered as many as 1,200 Marines and two Navy vessels, including the amphibious assault ship USS Kearsarge, to the Mediterranean off the Libyan coast, Defense Secretary Robert Gates said March 1. At the time, he said the ships were sent to help with evacuations and for humanitarian relief.
Several destroyers and submarines in the Mediterranean are "available for tasking as required," Admiral Gary Roughead, the Pentagon's chief of naval operations, told a Senate subcommittee on March 16. Submarines carry Raytheon Co. tactical Tomahawk cruise missiles able to strike Libyan air defenses or other targets.
Italy's cabinet approved the use of as many as seven air bases for the operation. Italy will do all it can to enforce a UN no-fly zone over Libya "without any limits," Defense Minister Ignazio La Russa said.
NATO Planning
At Sigonella, Sicily, one of the closest NATO bases to Libya, about 340 miles (550 kilometers) from Tripoli and 465 miles from Benghazi, the U.S. Navy has its own air station. It is the "primary logistical support element for the U.S. Sixth Fleet operations," according to the base website.
NATO agreed to speed up military planning to support a no-fly zone, enforce the UN-mandated arms embargo and provide humanitarian aid. It stopped short of acting on those preparations.
The trans-Atlantic alliance operates a fleet of AWACS surveillance planes that could help monitor the skies over Libya and has a naval taskforce in the Mediterranean Sea that could enforce a blockade of Libya's ports.
Denmark has committed to sending six Lockheed Martin Corp. F-16 fighter planes to help back the no-fly zone, Copenhagen-based newswire Ritzau reported, citing Defense Minister Gitte Lillelund Bech. Canada will deploy six Boeing Co. CF-18 fighter jets, Postmedia News reported, citing unnamed sources.
Spanish Prime Minister Jose Luis Rodriguez Zapatero said in Madrid today he will seek Parliament's approval to deploy air and naval forces to back the UN resolution on Libya and will cede bases in Spain to back the operation.
Arab Participation
Qatar plans to take part in the mission to protect Libyan civilians under the UN resolution, the state-run Qatar News Agency reported today citing a government spokesman.
Turkey, a majority-Muslim member of NATO, doesn't support military intervention in Libya "for the moment," said Selcuk Unal, spokesman for the Foreign Ministry.
NATO member Germany said it wouldn't join any intervention. "German soldiers won't take part in a military mission in Libya," Foreign Minister Guido Westerwelle said.
Leaders across the Middle East are struggling to suppress a renewed surge in unrest, as Arab nations backed the no-fly zone and countries including Qatar indicated they'd participate in the enforcement of the UN resolution.
Pressure for change is fueling regional unrest. Saudi Arabia's King Abdullah ordered increases in government spending, including $67 billion on housing, to prevent protests in his kingdom from gathering pace.
The Saudi leader's order came three days after Saudi forces entered Bahrain to stifle demonstrations in the mostly Shiite country. In Yemen, security forces fired on protesters in Sana'a in the most violent crackdown yet during two months of political unrest.
Before it's here, it's on the Bloomberg Terminal.
LEARN MORE