Buffett Generates $3.7 Billion on 2008 Goldman Sachs Investment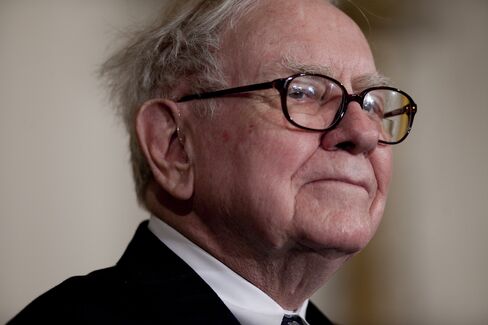 Warren Buffett's Berkshire Hathaway Inc. has made about $3.7 billion, including paper profits, from its $5 billion investment in Goldman Sachs Group Inc. at the depths of the financial crisis in 2008.
Goldman Sachs today said it will pay $5.65 billion to redeem preferred stock it sold to Berkshire. The price includes the original investment, plus a 10 percent premium and first-quarter dividend. Berkshire still holds warrants to buy $5 billion of the New York-based bank's common stock with a strike price of $115 per share, which have generated a paper profit of more than $1.9 billion, data compiled by Bloomberg show.
Buffett invested in Goldman Sachs following the collapse of rival securities firm Lehman Brothers Holdings Inc. Under terms of the deal, Omaha, Nebraska-based Berkshire collected a $500 million annual dividend on the preferred stake. Goldman Sachs closed at $159.96 today on the New York Stock Exchange, compared with $84.39 at the end of 2008.
Goldman Sachs's redemptions are "unwelcome," Buffett said Feb. 26 in his annual letter to shareholders. "After they occur, our earning power will be significantly reduced."